Sexual assault: Bystander prevention, education and changing the social narrative
November 16, 2015
On Wednesday, Nov. 11, Audra Dowling, assistant director of residence life, asked passing students to make a pledge against sexual violence by signing their name and what made them "IUStrong," as a part of week of action for the It's On Us campaign.
Dowling said that one of the main goals of the organization is to create a better culture on campus and to make sure students are aware of the resources available to them.
Stop Sexual Violence at Indiana University is a system-wide initiative to decrease the amount of sexual assaults on IU campuses.
Through this initiative, students can report incidents, get help and support and find out what resources are available to them both on and off campus.
System wide changes
Associate Professor of History Kelly Ryan said that changes are being made to improve the safety, resources and support of sexual assault victims within the IU system.
"Last year, President Obama pushed colleges to start taking sexual assaults on campus seriously," Ryan said.
After this call to action, a committee in which Ryan sat in on provided IU President Michael McRobbie with scholarly supported and tested best practices to enact on campus.
"The university sees this not only as a safe space issue, but it's a retention issue. If people don't feel safe, if they feel that the university is not hearing them, then we don't keep students," she said.
Ryan said that some of these practices that the IU system could enact would include annual surveys of students.
"Since each campus is so unique, with separate problems, we need to have annual surveys sent out so we can figure out what students concerns [are]," Ryan said. The second practice is the creation of a life skills course for students.
"What that involves is a couple of things. One is about positive healthy sexual education," she said.
Lastly, community engagement, oversight and prevention strategies for fraternities and sororities.
"They [greek life] are a great space to spread a message about safe sex and it's also often an issue within those spaces," Ryan said.
Once the committee submitted the report to McRobbie, Ryan said, IU Statewide Sexual Assault Education and Prevention Specialist Mahri Irvine was hired to work on strategy and prevention programs within the IU system.
"She wants to hear from students about what they see on campus and what they need to feel safe," Ryan said.
Irvine said that one of her goals is to understand the underserved and marginalized groups within the IU system to find out who is being left out when it comes to prevention of sexual assault.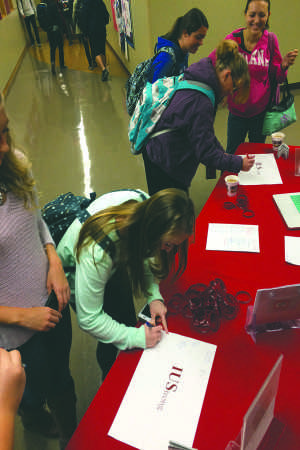 "I work with people at regional campuses to do in-depth needs assessments on each campus," Irvine said.
Another part of Irvine's job is to make sure employees are properly trained in the field of handling sexual assaults.
"[We do] training on false rape reports, making sure people are well trained to identify them. Response and victim support training and putting more time and effort into prevention," she said.
Bystander intervention

Irvine also discussed the importance of teaching bystander intervention, which is something that Ryan said a life skills course would include.
"Empowering individuals to take part in preventing assault, both men and women," Ryan said. "A reminder doesn't hurt. What the evidence shows is that the more repeatedly you're reminded of this information, the more likely you are to take it in."
Irvine said campuses can get students to participate in the prevention of sexual assaults by getting them involved in discussion groups and empowering them to step in when they see something wrong.
Bystander intervention, according to Dean of Student Life Seuth Chaleunphonh, is one of the most important ways to prevent sexual assaults from happening.
"If someone is standing by, [and] they see that someone else doesn't have the capacity to say or do anything that requires a little bit of judgement. Certainly that person can try to help the student that is in the more incapacitated state get some help," Chaleunphonh said.
Both Chaleunphonh and Michael Day, director of Personal Counseling Services, said using a check-in or buddy system can be beneficial for students when they go to parties or bars.
"A lot of the cases are alcohol related. There are a couple of things that I've heard students do, if they're in a group. Students are watching out for one another, leaving with the same people they came with and checking in," Chaleunphonh said.
Changing the social narrative
By treating each charge perpetrators face with consistency, Irvine said, we may be able to change the behavior of potential serial rapists.
It is important, she said, to not only change the cultural values and think critically about sexual assault, but to promote certain types of positive messages as a society, something that Day also said is important to change the discussion about sexual assault.
"We need to change the common social understanding and myths about sex and sexuality. We need to do more to hold those who assault others responsible, we need to stop the humor associated with sexual assault and change the social narrative," Day said.
According to Chaleunphonh, lack of respect is one way in which society contributes to the problems surrounding sexual assault.
"If you start out being respectful in your language that should affect how respectful you are with your interactions with people. That's resting on the thought that sexual assault comes from not respecting others," Chaleunphonh said.
Another way society can change the narrative surrounding sexual assault is to avoid being divisive when it comes to discussions.
"One of the things that I think discussions about sexual assault do is split us into two. They talk about men versus women, gay versus straight, but it's a societal problem," Ryan said.
According to Stop Sexual Violence, college-age women are four times more likely to be sexually assaulted.
"Women have historically been blamed and ridiculed for sexual behavior, while men are venerated and celebrated for sexual behavior. It is not just women who feel guilt when victimized, men do too," Day said.
Ryan said that many of the people who commit sexual assault are proven to be repeat offenders and by changing the narrative when it comes to sexual violence, this could be avoided.
"
It takes two people to be in those situations, it only takes one to take advantage.
— Seuth Chaleunphonh, dean of student life
"It's important that we stop them from the get-go, that they face charges the first time. It's a small group of people that commit sexual assault, but they commit it. We need people to see that behavior, stop them and to interfere on behalf of the victim, man or woman," Ryan said.
Another way Chaleunphonh said IU Southeast is raising awareness about sexual assault is by helping students become aware of the resources available to them.
Stop Sexual Violence has informational flyers posted on the back of bathroom stalls across campus as a resource to students who may have experienced sexual violence. Chaleunphonh said that these seem to have made a positive impact.
"Our reporting has probably increased by 50 percent or more," he said. "I think people are more aware."
Chaleunphonh, Day and Ryan all said that it is important to change the way both universities and society handles sexual assaults because there are so many myths surrounding them.
"There [are] a lot of myths about sexual assault. Sexual assault happens by someone you know, it's not stranger danger. It's at a party with their friends. It's not walking down the street to your car at night, even though that's what you hear," Ryan said.
Chaleunphonh said that one major part of prevention is making sure students are aware that they need to be realistic about acquaintances.
"I think you just have to be careful and cautious when you put yourself in that situation," he said. "Ultimately, it takes two. It takes two people to be in those situations, it only takes one to take advantage."
How victims can deal with sexual assault has evolved since first being identified as a problem.
"Now it's particularly political and really taken to heart in ways that it hasn't been in many years," Ryan said.
"I hope that in light of that, these victims see justice, feel safe on campus and we do all that we can to offer them support services and access to a campus resolution to this problem that satisfies them."
Reporting an incident
Chaleunphonh said that any student who is sexually assaulted should start by sharing with a friend or confidant for emotional support.
"People respond differently to traumatic experiences," Chaleunphonh said. "Someone could present us with 'I think everything is going fine,' one moment and then a couple of days later it hits them and they're having a hard time dealing with it."
Day said that it is important to allow the victim to talk about the situation at their own pace.
"Be patient and listen. Invite the person to share, but do not force them to do so," Day said.
"Do not offer advice or try to rush the person to feeling better. Try not to say that you understand, as you likely don't. Rather, say that you care and that their feelings are understandable."
When it comes to a report being taken on campus, there are several steps that a victim can take.
Chaleunphonh said that they should consider going with a friend to the police within a week or a month of the incident where they will conduct an interview and refer them to the emergency room to get a physical exam.
"
Be patient and listen. Invite the person to share, but do not force them to do so.
— Michael Day, director of Personal Counseling Services
"We treat each case individually, so depending on the circumstances we'll figure out how to reach out to this person," he said. "[We] follow up to make sure both parties know how they would be treated [and discuss] their options: witnesses, reviewing the report, their rights to not speak or to speak, to have supporters or not have supporters, to be present at the hearings, possible sanctions and consequences and ultimately for them to be well informed."
Chaleunphonh said that it is also important for victims to know what resources are available to them.
"We constantly offer counseling and see how they're doing. The message we want to really say is that it's a myth that when someone takes advantage of them it's their fault," he said.
"Don't feel like you have to take responsibility when someone violates who you are and makes you do something you don't want to do. The blame is on the wrong person."
Before being put into a vulnerable situation, Chaleunphonh said, students should try their best to keep themselves safe and to have a plan to get themselves out of a situation if needed.
"We're here to help support whatever ramifications that are needed," he said.
"It's like a lot of things, if you can prevent the incident, there's less support and repair needed to help them through. A lot of the time it's his word against her word or his recollection against her recollection."
Chaleunphonh also said that all parties involved require support and follow up.
"It's probably one of the worst things to ever happen to them and they're going to remember it, so we can't treat them as numbers," he said.
Day said that it's also important to talk about what happened with a counselor, confidant or someone trained to deal with sexual assault situations.
Not talking about it, he said, often makes the emotional toll worse on the victim.
According to Chaleunphonh, it is a sensitive situation that needs to be treated with sensitivity and respect.
"A lot of times no one really likes other people getting into their business, so that's why sometimes I think the situation is very sensitive," he said.
"Treating people with respect and dignity is required. It's one of those situations where you are processing very sensitive and intimate memories and making a judgement about one aspect of it."
One important way to avoid sexual assault besides prevention and education, Chaleunphonh said, is to have a plan B.
"Let someone know where you're going to be if you should veer off of your agenda or plans."
For more information visit stopsexualviolence.iu.edu.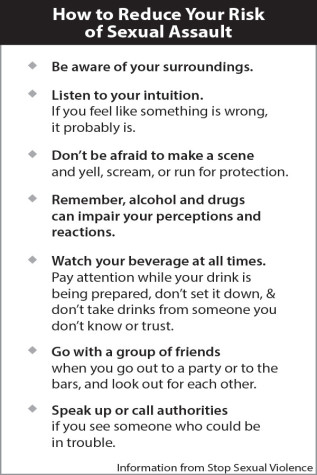 Resources
IU Southeast Personal Counseling:
812-941-2244 (UC South Room 243)
Dean of Student Life Office:
812-941-2316 (UC South Room 010)
IU Southeast Police:
812-941-2400
New Albany Police Department:
812-948-5300 or 911
Floyd County Sheriff's Office:
812-948-5400 or 911
Center for Women and Families:
877-803-7577 (thecenteronline.org)
Floyd Memorial Hospital:
1850 State Street, New Albany 812-944-7701
University Title IX Deputy Coordinator:
Darlene Young (Director of Staff Equity & Diversity)
812-941-2306
University Title IX Coordinator:
Julie Knost (University Director of Affirmative Action & Equal Opportunity)
812-941-2306
Protection Orders:
311 Hauss Square Ste 235, New Albany 812-948-5411
Interim Measures:
Divison of Enrollment Mangement & Student Affairs
812-941-2306