Campus organizations
November 25, 2015
IU Southeast's students possess a variety of interests and the campus' many student organizations allow them to share those interests with one another. A few of these organizations are detailed below.

Student Veterans Organization
The Student Veterans Organization (SVO) allows veterans on campus to connect with each other on their educational journeys. The group helps students who have served in the military find the sense of community that comes from joining with other veterans in shared purpose.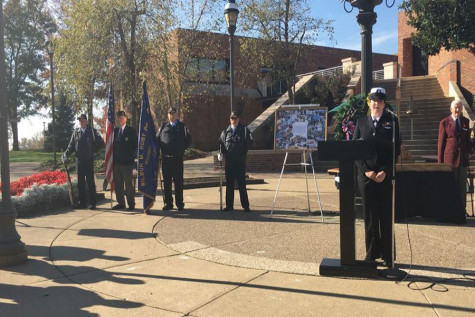 "We are all going through this education as veterans, which is a new phase in our life through education but we still have our old life from being in the military, nobody really understands what we have been through than another veteran," Brian Cole, education senior, said.
The SVO holds events such as when they teamed up with The Dining Hall and Student Alumni Association to hold events during veterans week.
The SVO members made cards for the troops, and they held bell ringing ceremony, and a care package drive. They also work with suicide prevention, veteran support and GI bill support.

Southeast Sound
Just before the opening tipoff, the energy in the gymnasium builds as the pep band raises the levels of excitement and gets the crowd hyped up for the upcoming game as by playing fight songs and chants. The band is called Southeast Sound.
"We are technically not a student group, more like a team spirit group." coach Jennifer Gordon said."The pep band is in the athletic department and not in the music department. We made it work."

The pep band has played at such events like the Summer Pops Festival and the News and Tribune Sports Person of the Year award ceremony at the Ogle Center. More recently, they played at the Harvest Homecoming Parade.
They also host a pep band invitational at a local high school.
The Pep Band rehearses each Sunday from 6 to 8 p.m. in the Activities Building.

The Dining Hall
The Dining Hall (TDH) gives a welcoming environment to new students, returning students, and nontraditional students. TDH focuses on community service and studying in school. One of the unique qualities of this organization is how they formed from IU Southeast cafeteria workers, a lineage they honor with their iconic chant, "We Drop the Fries."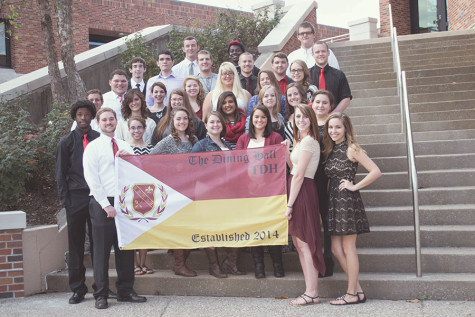 "We take pride in making sure that education comes first and we make sure that it's a good environment to study in and work on classes," Derrick Collin, communications sophomore, said. "TDH is about giving a family, educational, and fun environment for all students interested."
The events TDH holds on campus include throwback game night and community service events. During Veteran's Week, TDH teamed up with SVO and the SAA for a week of events. They had cards for the troops, a bell-ringing ceremony and a care package drive.
For new members, they have a mentor program to help them get to know the club and become more acclimated to the organization.

Acappella Geeks Club
Singing with fellow students using only voices in a fun and relaxed environment is what the Acappella Geeks Club (AGC) focuses on at IU Southeast.
According to Grenadier Central, the AGC is the a cappella performance organization at IU Southeast that oversees all a cappella performance ensembles on campus.
Quintera Quinn, English junior, has been the president of the AGC for two years.
"We are a big mixture of people coming together to sing," Quinn said. "You hear wonderful voices and get to know them as people and become friends."
Quinn said the AGC is more fun than serious. Some events the club holds are co-sponsored parties, concerts, caroling in the lodges and sing-a-grams for Valentine's Day.
Becca Dirck, psychology senior, has been a member of the AGC for a year and a half.
"I enjoy being able to sing and it is nice to sing outside of my shower," Dirck said. "The group gets along well with no conflicts."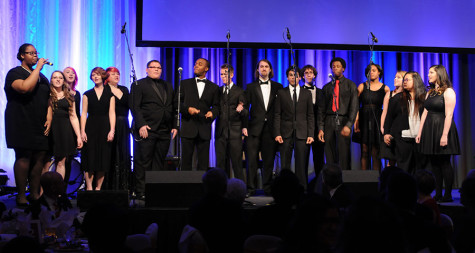 Dirck said they sing various types of music heard on and off the radio. She said her favorite song they have performed was last year's cover of Taylor Swift's "Trouble."
Quinn said being a music major is not a requirement to join. Many of the members have majors outside of the school of music.
"If you like music, having a good time [and] want to meet other students that share that interest, a cappella would be good for you," Quinn said.
Quinn said three various performance groups exist within the AGC. The first group is the organization's main ensemble where all members perform together. There are also two new quartets. One quartet contains four men and the other contains four women.
Quinn said the main ensemble rehearses on Mondays from 6:30 to 8:30 p.m. The male quartet rehearses Wednesday nights and the female quartet rehearses Thursday nights with exact times still being decided.
Quinn said auditions are held each spring and fall semester to fill needed spots in the ensemble. If students are unable to join the first time they audition, they are welcome to audition again the next time auditions are held. The AGC performances are in the IU Southeast Ogle Center.
To learn more about the AGC, search for the organization on the Grenadier Central website or contact Quinn at qquinn@ius.edu.
Dirt Bags Art Club
The Dirt Bags Art Club focuses on bringing artist and lecturers to campus, enhancing student knowledge in the arts and promoting art to local schools.
The Dirt Bags Art Club's mission statement states the Dirt Bags Art Club intends to bring awareness of the arts to the IU Southeast campus and the community.
Bethany Barton, art sophomore, is currently a co-president of the Dirt Bags Art Club.
"Dirt Bags Art Club is an art club for all mediums that raises money to bring visiting artists to IUS," Barton said. "We also have an annual sale of our work and go to different events to do demos and share our talents with the community."
The Dirt Bags Art Club began in fall 2008. The club holds various events on campus and brings different artists to IU Southeast to give lectures, workshops and demos.
The Dirt Bags Art Club also has an annual art sale to sell students' work. The sale is held in front of the Barr Gallery in Knobview Hall.
The money from this year's sale, which will be held on Dec. 2 and 3, will be put toward bringing adventure artist Steve Snell to IU Southeast for a lecture and workshop.
"We are the only art club on campus and we also participate in different events each year, so there are many new experiences," Barton said.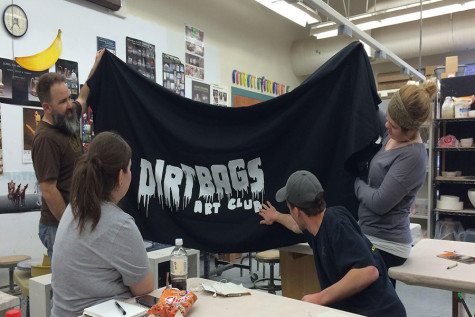 In addition to holding events and artists on campus, the club goes to various events every year.
This semester, they screen printed mini posters at the Pitty Fair by Saving Sunny.
The Dirt Bags Art Club has about 20 members, and they welcome anyone who is interested or involved in the arts to join.
"My favorite part about being a part of the Dirt Bags is learning from other members and everyone bringing their skills together into one group," Barton said. "It is also just a fun group, too. Everyone is willing to try new things, share their knowledge, and challenge each other to improve."
Jennifer Pelkey, ceramics and psychology junior, is the treasurer of the Dirt Bags Art Club.
"Other than art we are a laid back group, a lot of fun, and talk about art," Pelkey said. "You get to have fun and learn."
The Dirt Bags Art Club members create art using ceramics, clay and other various materials. Some supplies are provided, but some projects require members to bring their own supplies.
The Dirt Bags Art Club meets on Thursdays in Knobview at 4:30 p.m.
Students interested in joining are welcome to come to these meetings.

Gay-Straight Alliance
The Gay-Straight Alliance (GSA) is a group open to all individuals on the IU Southeast campus looking for a place to be welcomed and understood.
According to Grenadier Central, the GSA at IUS is a long-standing on-campus organization that functions to both raise awareness of lesbian, gay, bisexual, transgender (LGBT) and lesbian, gay, bisexual, transgender, queer, intersex, and asexual (LGBTQIA) issues on and off campus, but also to provide a safe environment for these individuals and their allies to socialize, make friends, build bridges and find support.
Izzy Nolan, psychology and sociology junior, is the president of the Gay-Straight Alliance.
"The Gay-Straight Alliance organization strives for community outreach for LGBT and LGBTQIA along with their allies," Nolan said.
The GSA holds several events on campus, such as a safe sex panel, which educated students and community members. Planned Parenthood was one topic discussed at the panel.
Every year the GSA hosts a drag show, which draws a large audience.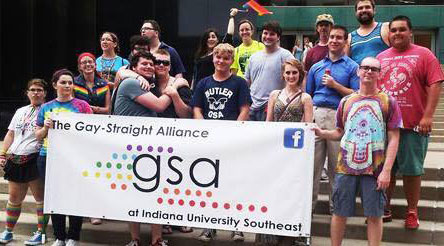 Nolan said the GSA's goal to be a safe place for everyone, regardless if they are out, in question, or allies for friends. The GSA focuses on community, education and outreach.
"[GSA] is a network of people who understand, speak openly, and honestly understand. They have an open heart and an open mind," Nolan said.
This semester, the GSA held two meetings a month on Thursdays at 7:30 p.m. in University Center North, room 126. One meeting is social where the members get together and watch movies, play games, or go bowling. The other meeting is business where they plan events, work with their committees and work on things they need to do to continue as an effective organization.
Members are required to attend meetings in addition to paying $10 a semester or by performing 10 hours of service a semester in place of the fee to be a member of the GSA.
Students interested in joining the GSA can find its office in the Student Involvement Center or find more information on Grenadier Central. They can also contact Nolan on the IU Southeast GSA Facebook page if they have questions about the organization
"Our door may be closed, but our door is always open," Nolan said. "It doesn't matter what you identify as. People might not see a place for them on campus but this is a place for everyone."

Gamers' Society
If playing games is something you're interested in or want to learn more about, the IU Southeast Gamers' Society is a club students should look into.
According to Grenadier Central, the Gamers' Society is a special interest student group that provides entertainment, social interaction, and information on the gaming subculture. Types of gaming the group focuses on include video gaming, PC gaming, pen and paper RPGs, trading card games and board games. The society also focuses on providing a fun and friendly atmosphere for members and students to meet and engage in hobbies such as gaming.
Julie Jannace, biology senior, is the president and founder of the Gamers' Society.
"We have a common hobby. Our members know how to play a lot of games and will teach anyone how to play," Jannace said. "This helps you meet more people."
Jannace said she has been a gamer for years and has spent one semester in the society.
Jannace said she and her group of friends decided that, since they always met to play games, they should make it an official group on the IU Southeast campus so they could use the resources on campus to hold larger game nights and increase the various mediums of games played.
Mike Hartsfield, the previous leader, approved Jannace taking over since he was no longer able to be a part of the group that first originated, Jannace said.
"People have an impression that games are too hard or that the Gamers' Society is not the group for them because of the games being hard," she said. "If you come alone you will be included and have fun. It is not intimidating and not hard to learn and have fun."
Jannace said the society plays a lot of games that don't have an immediate leader. Most are games that do not have player elimination or games that contain various lengths and complexities.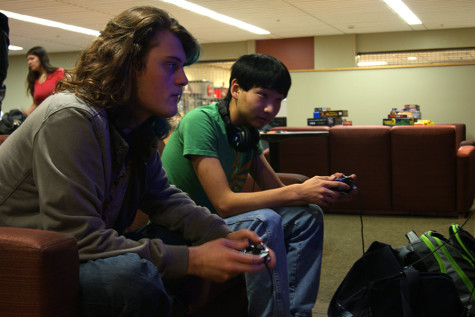 The length of the games can be based on a number of time people can play. Games can last anywhere from 15 minutes to three hours.
The Gamers' Society holds several events, including "Super Smash Bros" tournaments, Team Trivia based on all facets of games and various topics, and larping.
Every other Thursday, the society holds game nights in The Commons from 6 to 11 p.m. where individuals can play any game.
Jacob Ledbetter, sociology sophomore, became a member of the Gamers' Society this semester.
Ledbetter said his favorite game is "The Resistance," because several people can play and it entails mind games. His favorite events the Gamers' Society holds are the Thursday game nights.
"[Everyone can] play all types of games with various types of people," Ledbetter said. "I have met a lot of people through the Gamers' Society who have different taste in games."
Jannace said society members and others commonly play games in the IUS game room, cafeteria and the society's office.
Jannace said the Gamers' Society has over 60 games in their office plus additional games they bring on and off campus. Students can check games out from the Gamers' Society office in the Student Involvement Center by providing a name and UCard.
Jannace said the goal of the Gamers' Society is to expand, and anyone is welcome to join, regardless of game knowledge. She said the society members will teach any person willing to learn.
The Gamers' Society currently has around 20 full members, and more students just come to play games with the society, Jannace said.
"I like that we have a group based on a common hobby," she said. "We are so close-knit and accepting of new people. We are like a family. I've never seen such an accepting group of people and that are open to others."
If you are interested in joining the Gamers' Society, search for the society on the Grenadier Central website or contact Jannace at jumibuck@ius.edu for information.

Roller Coaster Club
Every year as a kid, Calvin Shelby, business management freshman, would get a season pass to Kentucky Kingdom. Shelby said roller coasters are like humans that have minds of their own. Shelby is now the president of the new Roller Coaster Club.
"We want people to see what is going on with roller coasters, how they are made and how they work," Shelby said.
The Roller Coaster Club has events already taking place, with more planned for next semester. The members recently took a trip to Renaissance Fun Park, where they spent $20 for unlimited rides and attractions.
Sarah Allen, music junior, is the vice president of the Roller Coaster Club.
"The Roller Coaster Club is definitely a good way to conquer your fears and make new friends," Allen said.
Shelby said that, in the spring, the Roller Coaster Club members are traveling to Six Flags and Holiday World, and they will stay overnight at Waverly Hills.
In May, the club is having an event on campus where students will use PVC pipes and wood to build a roller coaster.
Shelby said the club will hold a contest for students to draw and name it. This event will focus on design, engineering and physics.
Shelby said in addition to planning trips, the Roller Coaster Club members are planning some volunteer opportunities. Along with service, they are planning to hold a walk to raise money for the Kosair Children.
"We are a family now," Shelby said. "You get to know people and we go places and travel which most groups don't. Who doesn't like roller coasters?"
During their meetings, the members watch videos that focus on different aspects of roller coasters. They also plan fundraisers and outings to amusement parks.
"You don't have to like roller coasters. You can still come socialize," Shelby said. "We are fun and talkative. We show videos, designs and talk about how roller coasters are made and work."
The Roller Coaster Club holds meetings on Monday and Wednesdays from 8:30 to 9:30 p.m. There is a $5 fee for all members.
To learn more about the Roller Coaster Club, search for the club on the Grenadier Central website or contact the club at coasterclub@gmail.com.