Journey as an entrepreneur
IU Southeast senior runs marketing firm
January 11, 2016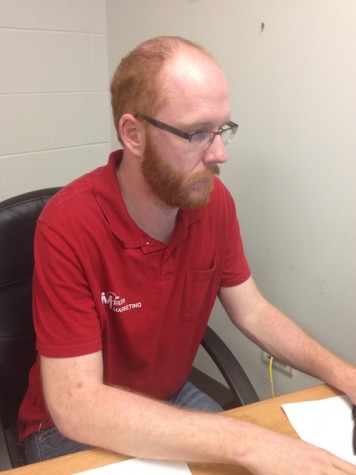 In late October, business senior Jeremy Eiler traveled to Washington, D.C. and stayed for a couple of days. However, Eiler wasn't on vacation. He was completing work for a customer relation management software company called Base.
Base paid Eiler to fly out so he could review the company's marketing plan. He sat down with the CEO, who gave a presentation about the plan.
"We basically went through and we found areas that we thought were wrong with the plan," Eiler said.
Base is one of several companies Eiler has helped while running his business, Eiler Marketing. In addition to being the owner of the business, Eiler is the CEO.
Eiler said he founded Eiler Marketing on May 22, 2014.
"Honestly, I never expected to be a business owner," he said.
Eiler Marketing is a full-service marketing firm that has served clients ranging from accounting firms to restaurants, and it provides services related to marketing, human resources, social media, web design and other areas, Eiler said.
"We're just basically like a freelance company, so we get hired by a company to do specific jobs," he said.
Eiler said he founded Eiler Marketing for several reasons, and he was able to found it without taking out loans.
"I didn't want to take a full-time job because I'm still going to school, but I wanted to do work for different companies, so I decided to go out and just offer services to different companies," Eiler said. "And then what I found was a lot of companies were saying, 'Do we have to consider you an employee? A contractor? Are you a consultant?' And so, for insurance reasons, I made a company."
Eiler said Cards Against Humanity was one of his first clients. As part of Cards Against Humanity's college ambassador program, Eiler designed fliers describing a promotion, he said.
Since working with Cards Against Humanity, Eiler Marketing has provided services to numerous other companies, Eiler said. He said Harrison REMC, an electric company in Corydon, is one of the bigger companies his business works with.
"The majority of the business, almost all of it, is small business," Eiler said. "So a lot of the companies that we work for are startups or maybe they've been in business for a while but they want to grow."
Eiler is not the only employee at Eiler Marketing. While he concentrates on marketing and human resource services, Ksenija Eiler, chief technology officer and his aunt, said she has offered several technology-based services since Aug. 9, 2015.
Eiler said he and Ksenija prefer to meet with companies' CEOs, sales representatives and other employees in person or online. As a result, Eiler Marketing does not have its own office.
"
I didn't want to take a full-time job because I'm still going to school, but I wanted to do work for different companies."
— Jeremy Eiler, business senior and owner of Eiler Marketing
"It's best to be at their business to know what it's like, what atmosphere you're getting into, what kind of clients, what are you selling," Eiler said.
"We could rent an office and have that, but then we would have to charge more for a job, because we would have more overhead."
Eiler said he and Ksenija consult with companies and complete projects for them, and they review companies' work when those companies want opinions about it.
"Some companies, we might only work for them for a day or two," Eiler said. "We may only do a specific task for them."
Eiler and Ksenija said it's important for them to listen the first time they correspond with clients, so they can find out information about the clients before starting their research.
Eiler said he researches the companies' industries and competitors, what the companies sell, where the products go, what customers are willing to pay and sentiments customers have related to the products.
"A lot of small businesses fail because they can't get customers, or funding issues," he said.
"So they want to know ahead, before. And we can't give them a definitive answer if their business is going to be a success, but we can do research and find out."
Besides researching and consulting with businesses, Eiler said branding is one service Eiler Marketing provides. He said Harrison REMC once wanted rebranding, and the company contacted his business.
"They wanted to appear more professional," Eiler said. "They wanted professional business cards and letterheads. And that's what we did. We helped them rebrand their image in that area. We designed some of their work, and that opened the door to a lot of other companies."
Eiler said he frequently gets contracted to help companies improve their profiles on Facebook, Twitter, LinkedIn, Instagram and other social media sites. This includes helping companies learn to respond to criticism of their products on social media.
"A lot of small businesses, that's where they struggle," Eiler said. "They don't know how to deal with it. The biggest thing I always tell them is you have to deal with it fast, and you have to be polite."
Ksenija said Eiler is effective and innovative when providing his services.
"He has a good work ethic and wants to make sure he provides the best service to his clients at an affordable cost," Ksenija said. "Jeremy is very data oriented. What I mean by that is he likes to do his research on a project when working on it. He wants to make sure he has the best information possible and can show it to his clients."
Meanwhile, as the CTO, Ksenija is responsible for the technology-based services and turning ambitious ideas into technology that is simple for businesses to use.
"Most of my jobs are project based depending on what a company wants," Ksenija said.
Eiler Marketing has its own website, eilermarketing.com, which lists the services the business provides.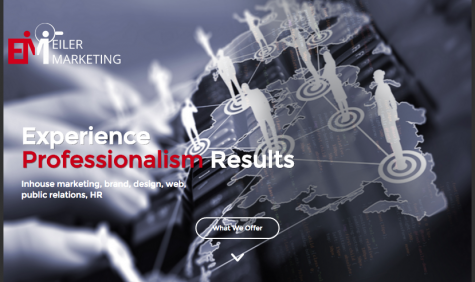 Eiler said he wants Eiler Marketing to continue to serve more companies. He said positive word-of-mouth has helped his business gain more clients.
"Business owners talk," he said. "So we'll get phone calls from other companies and they'll say, 'Hey, I heard that you worked for such-and-such and they liked what you did. Could you possibly work with us and do some stuff for us?' That's a lot of where we get our business."
Ksenija said she and Eiler have helped their business gain clients by creating infographics, writing case studies and showing clients good examples of the work they do. She said this is more necessary when working with clients online, because they may not be aware of Eiler Marketing at first.
"When going after online contracts, it's harder because a lot of clients use WOM — Word of Mouth — marketing," Ksenija said. "Granted, WOM is the best in this type of business, but, when dealing with online contacts that doesn't work as much."
When Eiler is not completing tasks for companies, he networks in person and online, he said.
"I go to local business events and I introduce myself and I get to know some people and tell them what I do, and that's generally how we get started," Eiler said.
To network more, Eiler Marketing joined the Louisville Independent Business Alliance in June 2015, Eiler said. According to its website, LIBA promotes independent businesses in the Metro Louisville area and makes local citizens aware of the benefits of purchasing products from those businesses.
"We get a lot of clients from LIBA-based businesses, because what I found is a lot of people like to support local in Louisville," Eiler said.
"Louisville's a big local market. And so that helps us, because a lot of marketing firms have offices in Indianapolis, so they're not technically local. And so that gives us a heads up above other marketing firms, because I say, 'Well, I'm from this area. I've been here.'"
Besides serving more companies and taking advantage of more networking opportunities, Eiler said the business has grown in other ways, including that it offers online contracting.
"We actually use different sites to put out online bids to companies," Eiler said. "One of the companies that I worked for was in Colorado. I've never visited the company. I've never seen them. I talked to them over the phone, but I did some of their marketing work. So we do online bidding. And it has grown."
Also, Ksenija said she has helped Eiler Marketing develop more services, such as marketing auditing, since she became the CTO. She also designed Eiler Marketing's website.
"
He has a good work ethic and wants to make sure he provides the best service to his clients at an affordable cost."
— Ksenija Eiler, chief technology officer of Eiler Marketing
Even though Eiler Marketing has grown, Eiler said he does not want his business to grow too much. He said his classes come before his business, and he does not want to take on more than he can handle.
"I take school as my first priority, because I've got one more semester left now and that's my first priority," he said. "I generally look ahead at what projects I have for classes. And then what free time I have left is what the businesses can get."
Eiler said he's graduating from IU Southeast in May. However, he said he plans to keep Eiler Marketing going on the side after graduation while having a full-time job in marketing.
"A lot of times, you can do work for companies online and never have to meet them," Eiler said. "If they want to web design or they want help on social media, I never actually have to see them. I can just do it all on the computer."
Ksenija, who lives near Washington, D.C., said Eiler Marketing allows her and Eiler to complete work at any time of the day and from anywhere, so time and distance aren't barriers.
"I like being able to work from my home," Ksenija said. "It's great because of my busy schedule, but also I tend to work better at nights. So, when I'm up at one in the morning, I can start working on a new project and get to share what I'm doing with Jeremy and other designers online instantly. It allows us to work at our own pace and with it being online, I can work from anywhere."
Meanwhile, Eiler said he and Ksenija have goals for the business. For example, he said they would like to work with Louisville-area businesses in the alcohol industry, such as Maker's Mark.
Also, Eiler said he and Ksenija want to provide services to Croatian businesses because Ksenija is a citizen of that country, and she has several business contacts there. However, Eiler said he and Ksenija are checking the legality of the situation first, to ensure they will not fail to meet government regulations.
Ksenija said she and Eiler will consider the idea more starting in May, after Eiler graduates. Meanwhile, she said she has another goal for Eiler Marketing.
"My goal in the near future is to set up packages, where a business can go online to our site, purchase a package online and get discounts on services we offer," Ksenija said.
While running Eiler Marketing, Eiler said he has received advice from his classmates, professors and others several times.
For example, he said Carolyn Musgrove, assistant professor of marketing, has taught him that marketing is a science and an art, and it's important to understand consumers and what they want.
"She has given me a lot of advice about ways to figure out who the target consumer is and ideas that are used by marketing experts today," Eiler said. "She also gave me a lot of insight into how to find good research and use it to sell to my clients."
Musgrove said she is impressed that Eiler is running his own business while still in college, and he has several qualities that are helping him succeed.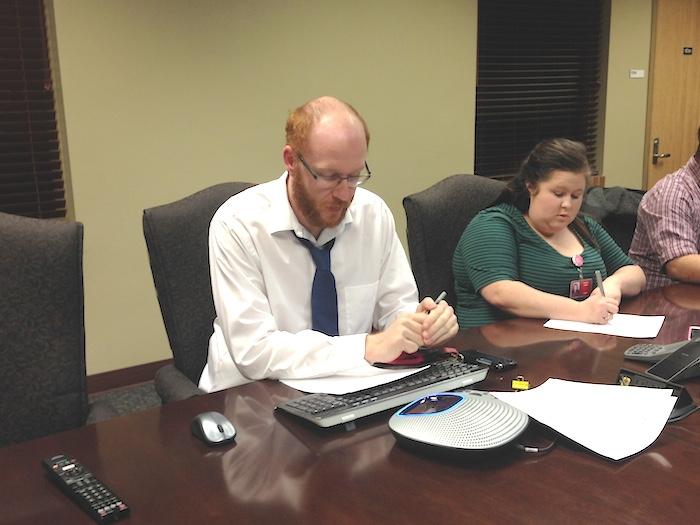 "He is motivated, smart, and a hard worker, all of which are great qualities for an entrepreneur," Musgrove said.
Musgrove said Eiler took her BUS-M405 Consumer Behavior class in the fall 2014 semester. She also said Eiler is the president of the IUS Marketing Club, in addition to being a successful student and business owner.
Eiler said the Marketing Club has helped him network with marketing students, faculty, business employees and business owners.
"It gives me the ability to help other students with things that I have learned and help them network with professionals in areas they would like to go in," Eiler said.
"I wouldn't say it has helped my business grow in clients, but it has opened doors to new networking opportunities and given me some real-world advice from professionals to better myself and the work I do."
Morgan Callam, business senior and vice president of member relations in the Marketing Club, said Eiler has emphasized to the Marketing Club members and to other students that networking is important, and he has helped several companies, such as River City Winery, get involved with the Marketing Club.
"I think he's really helped students connect with leaders in the marketing industry, as well as just companies in general, and helping them get their name out there, connecting them with individuals that maybe they would not have otherwise been connected with or known how to connect with," Callam said.
Eiler said it's important for students to complete internships while in college, because they provide networking opportunities, they can give students skills and credibility for their careers, and they can show students what different careers would be like for them.
"
He is motivated, smart and a hard worker, all of which are great qualities for an entrepreneur."
— Carolyn Musgrove, assistant professor of marketing
"I've done six internships," Eiler said. "College is very important, but internships give you networking. I wouldn't have got started without the networking from internships."
Eiler said people who want to start a business should develop a plan and conduct research, and then they can jump in if they think the business will be sustainable.
"It doesn't take a genius to be an entrepreneur," Eiler said. "Anyone can do it. If you have a good idea and you have a mindset, the rest can be achieved and rewarded."