Brian Sims to speak at IU Southeast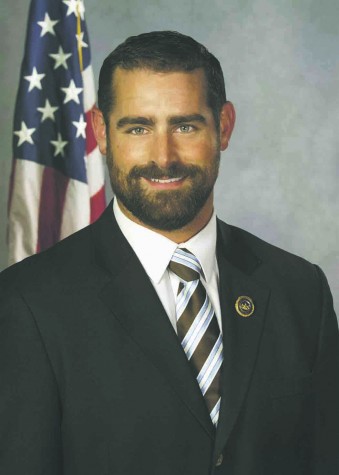 The staple crunched into the bulletin board as Brian Sims face stared out, greeting anyone who walked by.
Nicholas Moore, Gay Straight Alliance president and marketing senior, took a step back to gain perspective on the design he was creating to advertise Pennsylvania Rep. Brian Sims coming to speak at IU Southeast on Monday, Feb. 15.
Perspective, with regard to diversity, is the reason Moore reached out to Sims.
"There's no shortage of people with passion for diversity issues for a number of different communities," Moore said.
"I've always felt like when it comes to turning that passion into some sort of long term policy, whether that's in the community or at a university or at your corporation, that's a step that nobody talks about."
Veronica Medina, assistant professor of sociology and co-director of the Common Experience program, said she hopes that students will develop more of a passion for advocacy on campus.
"What we'd really like, ideally, is for more students to get involved in programming. We certainly want students to come out and support what student organizations are doing," Medina said.
"But we also want students to understand that they are going to be the leaders in our community in the future. And if they can develop the skills to work with diverse groups of people here at IU Southeast, we know they'll do great things in the community."
The lack of a step-by-step guide to creating lasting change is something that Moore wants Sims to address.
Moore said he wants the millennial generation to feel prepared so they can use their passion for the community. Knowing what strategy can be used with effective communication and good decision making will make long term projects seem less daunting.
"I hope the program will not only inspire people to feel as confident as they possibly can be when approaching any advocacy endeavors, but to also feel in a very literal way that they are equipped with the necessary tools to strategically hit the ground running."
Two years ago, Moore saw Sims on Facebook and was impressed by his articulation and assertiveness on controversial issues such as LGBTQ, women's rights and general diversity issues. And, according to Moore, Sims was openly gay.
"There have been out politicians before but, to borrow Brian's word, sometimes they're very beige. And that's not a criticism, but they don't always make it part of their brand that they're out," Moore said.
"But you'll see a picture of him on his Facebook page in a shirt that says, 'Some dudes like other dudes,'at a pride parade and the next post will be of him on the Pennsylvania house floor giving a speech about pay equity for women's rights."
After further research Moore discovered that Sims was represented by a speaker's bureau called Campus Pride, which became a liaison between Moore and Sims.
Unfortunately the project had to be put on hold when he began teaching a statistics class.
Returning to it a year later, Moore found that Campus Pride no longer represented Sims.
Despite knowing how busy and successful Sims is, Moore was determined to get in front of Sims and convince him to visit IU Southeast.
"I emailed his staff and asked, 'If I can get up to Philadelphia sometime in the next two weeks, can you give me a thirty minute meeting with him?' And I did," Moore said.
"I showed him the proposal and we chewed the fat for about an hour."
After securing a meeting and garnering the attention of Sims, Moore still had one more obstacle to overcome for the event to take place: funding. The chancellor's office gave Moore support which he found to be an inspiring beginning.
He also credits Seuth Chaleunphonh, dean of student life, and Darlene Young, director of the office of equity and diversity, with getting the first few sources for funding. Both gave Moore direction and sources to get to the decision makers.
"I drafted a great proposal and showed people. It had that picture, the date, time, intended demographic, mission of the event and pulmonary budget I had created, which was total amount or cost. And at the thank you section at the end for each person solicited, I tailored this mission to what that entity was doing," Moore said.
"In this proposal I had two pages that I could slip them and say, 'This is why I need your help,' and people responded really, really well."
Michael Abernethy, senior lecturer of communications and GSA faculty advisor, praised Moore's attitude and perseverance in finding funds for the event.
"
There is no shortage of people with passion for diversity issues for a number of different communities. "
— Nick Moore marketing senior and GSA president
"Nicholas [Moore] has done an extraordinary job of putting this event together and finding nickels and dimes under rocks where most people wouldn't think there would be nickels and dimes. I think he's done a great job of showing everyone why this event is important and what it can mean for this community," Abernethy said.
"I think Brian Sims is someone who is going to be a major player on the political scene in the next few decade sand this is a great opportunity to see someone who is going to be rising on the national stage in an early point in his career before the rest of the country really knows the name Brian Sims," he said.
"Our students would be able to say, 'Yeah, I heard him speak, I know what he's about.'" Moore credits most of his success and strategy to the education he has received from the business school.
After finishing a statistics class and studying trend analysis, he used what he had learned to approach Kirk Randolph, director of the Ogle Center, to determine the best night to have Sims speak.
"We went to him in April of last year. I asked him what, in his professional opinion, what do the trends show? What night of the week do most people show up most," Moore said.
"He said Mondays and Tuesdays. So when I was in Philadelphia to meet Brian I was able to say, here are the Mondays and Tuesdays in spring. What's open in your schedule?"
According to Abernethy, it was a fortunate coincidence that the date chosen lined up with the start of Homecoming week and diversity week.
It was something that the administration could latch onto.
Instead of looking at it as a competition, they offered to co-sponsor and cross-promote the event.
"I was nervous because he's a gay speaker and that can polarize people. And this was the brainchild of the GSA. Luckily, we paired with common experience," Moore said.
"And that was Seuth Chaleunphonh's idea. So we did something that had never been done before. We have a partnership with a student organization and a university entity."
Abernethey said that through this event, the GSA has introduced itself to IU Southeast and local business and organizations to form relationships and bonds that will be useful in the future.
"It will be great opportunities for students looking for groups to participate in or jobs after they graduate," Abernethy said.
"Part of the excitement of this event is that it is something that this entire region or community is going to be involved in and is invited to."
Moore said he hopes that in the future the GSA will continue to bring in speakers and have similar events.
"I hope it has inspired people and shown how much can be possible just by shooting a few emails and having some meetings," he said.
"I have been so moved and inspired by so much support from the university system. It has also been great as a student representative of our campus LGBTQ office to be able to work with Common Experience and making this speaker their keynote address. That's a really big deal."
Medina said the Common Experience partnered with the GSA to increase diversity on campus, which is part of the diversity initiative at IU Southeast.
"Brian Sims is an amazing diversity advocate. GSA having the idea to bring Brian Sims is really timely. This past year was really monumental for marriage equality across the country," Medina said.
"Indiana had a very interesting reaction to that and then an interesting reaction to the reaction.It's really timely that we have somebody who can help us figure out how to bridge differences in a world where sometimes the differences seem overwhelming."
Sims' speech will be broadcast to all IU campuses. The other campuses will collect questions via twitter in the preceding week to get the following question and answer session started.■