Student Involvement Board Discusses Upcoming Events
Student organizations' involvement during Homecoming Week and the Career Olympics were topics of discussion at this month's Student Involvement Board Meeting.
The meeting took place on Monday, Feb. 1 in University Center North, room 127. Ashley Kern, English senior and student liaison for Campus Life, led the meeting.
Kern said there is a new printing allotment for student organizations on campus. She said the allotment allows the organizations to print their flyers for campus events before putting the flyers on campus bulletin boards. She also said each organization can print 25 copies at a time using the organization allotment card in the Campus Life office, but copies can only be made during regular Campus Life hours, which are 8 a.m. to 5 p.m. Monday through Friday.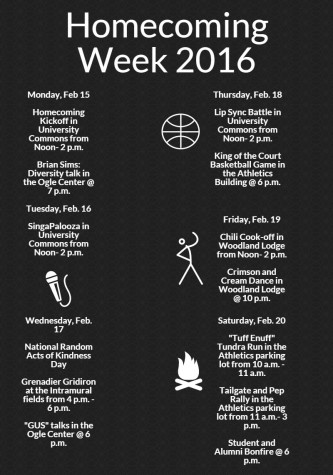 J.T. Douglas, director of alumni engagement and annual giving, discussed student organizations' involvement in upcoming homecoming events.  He said IUS Homecoming Week will take place from Monday, Feb. 15 to Saturday, Feb. 20. Douglas encouraged organization members to visit the IUS Homecoming webpage to check out a list of the Homecoming events and to access rules for upcoming Homecoming Week competitions.
Douglas said student organizations can compete for the Grenadier Cup during Homecoming Week. He said the Grenadier Cup is a trophy that will be awarded to the student organization that collects the most points that week. He also said student organizations can earn points by participating in a number of competitions designed to be easy for any campus organization to enter and participate in, regardless of club size.
Douglas said one of the competitions that will be held for the Grenadier Cup will correspond with National Random Acts of Kindness day on Wednesday, Feb. 17. He said student organizations wishing to participate can perform a random act of kindness that day and tweet about it from their organizations' Twitter pages using  #randomactofkindness. He also said the goal is to reach 75 random acts of kindness to celebrate IU Southeast's 75th anniversary.
Additionally, Douglas said a tailgate party will occur on Saturday, Feb. 20 from 11 a.m. to 3 p.m. in the parking lot by the Activities Building. He said free food and drinks will be offered at a hospitality tent, and student organizations can have booths at the event as well.
Lynn Prinz, assistant director of the Career Development Center, also spoke about the upcoming Career Olympics, which will take place on Tuesday, March 22 from noon to 1 p.m. in the Hoosier Room in University Center North.
Prinz said student organizations wishing to participate in the Career Olympics can sign up to have a booth at the event. The participating organizations will create a career game for Career Olympics attendees to play.