Grenadiers win big on senior day
The IUS Women's basketball team ended their regular season 14-14 (11-7 KIAC) after defeating Carlow University 94-65.
This game was more than just a regular game. It was homecoming and senior day for the Grenadiers.
The women's basketball team honored two seniors before the game.
Senior forward Mary Dye and senior guard Katie Slavey were honored before the game and played their last home game of their collegiate careers.
"It's definitely bittersweet," Dye said. "It's hard to think about not playing on this floor anymore but it's definitely awesome whooping some booty."
Dye finished with 18 points and six rebounds while Slavey finished with nine points on three 3-point baskets.
"It's pretty bittersweet, but it was nice to get a big win like that and walk away with the 'W'," Slavey said.
After the game, head coach Robin Farris was complimentary of his two seniors.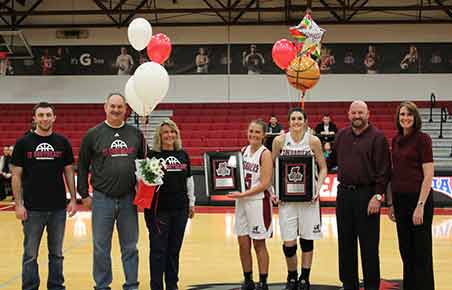 "Mary is one of the best rebounders we've ever had here; she had 19 rebounds last night and she had eight or nine today and was in foul trouble," Farris said. "Katie had her knee injury last year and that slowed her down early in the year and now it looks like she's moving a lot better."
The Grenadiers led the whole game. Dye said that their size advantage played a pivotal role in walking away with the victory.
Every Grenadiers that played tonight scored. They were led by red shirt freshman Josie Hockman with a career high of 29 points. 19 of those points were scored in the second half. The other player in double figures was junior forward Michaela Harris with 10.
The Grenadiers dumped the ball into the post the entire game, which Farris said opened up their wing players. They outscored Carlow 50-16 points in the paint.
The Grenadiers shot 55 percent from the field. Farris said that their shooting has improved a lot during the season. He said a lot of that is because of the spark Slavey has brought to the team.
"She's given us a 3-point threat and here in the last few games of the season she's played some good ball games," Farris said.
One the defensive end, the Grenadiers forced 15 turnovers and blocked nine shots.
One player for Carlow scored in double figures and as a team were held to 33 percent shooting.
Next up for the Grenadiers is the KIAC Tournament. Farris said he feels very confident about his team heading into the KIAC tournament.
"We already know where we are in the tournament. A win or loss wouldn't have mattered," Farris said. "But the win keeps that confidence going and that's what we want.
The Grenadiers' first match-up is against the University of Rio Grande on the road. Their last meeting was at Rio Grande and the Grenadiers lost by 10 points.
"We've been playing our best ball of the year right now and that's what you want," Farris said.
The game will be played on Wednesday, Feb. 24. The time is to be announced after all teams have finished their regular season schedules.