The Gamer's Society holds Town of Salem
Witches, Townies, Werewolves, and the Mafia are all part of Town of Salem, an game of deception and deduction played here on campus.
On Wednesday, April 6, the Gamers' Society held an event enabling members to play "Town of Salem" from 8 to 9 p.m. in Knobview Hall, room 215.
Jacob Ledbetter, sociology sophomore and  president of the Gamers' Society, led the event. Ledbetter said several people were supposed to spread the word about the event.
Ledbetter said his favorite role in "Town of Salem" is the executioner, because it was the first one he played and it holds sentimental value for him.
Cody Usher, organizational leadership sophomore, played as the werewolf, who has the goal of being the only town survivor. To do this, the werewolf kills any player who visits the werewolf at his or her home — as well as any player who visits the home of the player the werewolf visited — during a full moon.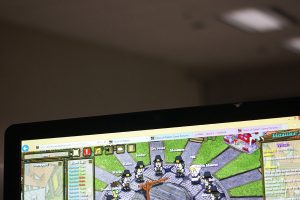 According to the Town of Salem Wiki guide, executioners have the goal of getting a specific character hung, but if that character dies in another way, they become a Jester, who has the goal of being hung by the town.
"It's definitely good to get experience and the game provides little information to the player," Ledbetter said.
People who may be interested in the game can find more information about "Town of Salem" on its website.