New Rooms for a New Year
For some students, entering a new academic year also means entering a new home away from home.
On Thursday, August 18 students brought their belongings to one of five lodges on campus during move-in day. The event lasted from 8 a.m. to 2 p.m. to allow new students enough time to get their belongings moved into their new dorm.
Volunteers, who were able to move into housing a few days earlier, assisted students and their parents in helping move boxes and other personal items into the rooms on campus.
Volunteers were dispersed to one of the five lodges and walked out to the cars of incoming students, assisting in any way they could.
Alison Matthew, Criminal Justice and Psychology Junior, spoke about why she wanted to be a volunteer.
"You get to move in early which is pretty nice," Matthew said.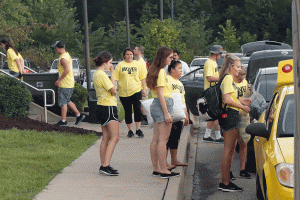 The IUS housing staff moved around the campus to make sure operations were running smoothly.
Amanda Stonecipher, Director of Residence Life and Housing, spoke about how the housing staff keeps move-in day on track.
"The Housing staff team organizes this, they have over 100 volunteers," Stonecipher said.
She also spoke about all the fun activities that will be offered on campus this coming week.
On the night of move-in day they have a welcome dinner, on Friday they have a carnival, an outdoor showing of "The Intern" on Saturday, and tours on Sunday to help new incoming students
learn more about campus and where their classes will be held on Monday morning.
While volunteers and staff were there to help students move and get their rooms set up, residential advisors also moved around in their lodges to meet incoming students. RAs are also responsible for organizing and leading lodge meetings and events in their lodges throughout the fall and spring semesters.
Connor Olberding, graphic design junior and RA, walked up to a student to introduce himself and helped him get into his dorm room.
Olberding also spoke about his responsibilities as an RA on move-in day.
"As an RA, I make sure people are moving into their rooms and I'm helping adjust beds," Olberding said.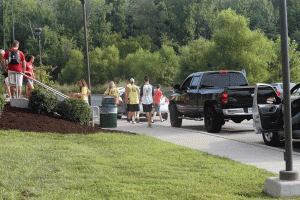 While move-in day is a time for new students to arrive on campus, it has also been a time for them to get familiar with some staff and faculty on campus.
Students were able to meet the housing staff and Chancellor Ray Wallace even made an appearance during move-in day and walked through Forest Lodge to talk to incoming students.
Students living in the lodges had lodge meetings at 4 p.m. after the move-in day had concluded. Following was a dinner which was catered by Mark's Feed Store.
Many housing students joined together outside of Meadow Lodge at tables and chairs to mingle with old and new friends before kicking off the fall semester.