Paint Wars makes a splash during Week of Welcome
You pull a sponge out of a tub of red paint only to turn around and have blue paint flung on you by a fellow paint warrior.
This is what happened during Campus Life's "Paint Wars" event that took place Wednesday, Aug. 24 on the Frisbee field, located beside McCullough Plaza.
Jessica Lynch, new student program and leadership development coordinator of Campus Life, explained how the event began at IU Southeast.
"My alma mater actually did this event when I was a freshman," Lynch said.
Lynch said it was a memory she had from her time in college and said it was a way to have fun on her campus.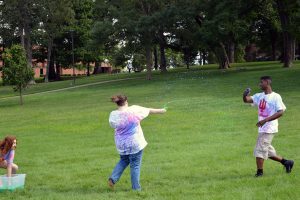 In the Paint Wars event, participants were given a white IU Southeast shirt and divided up into four teams: a red team, a blue team, a yellow team and a green team.
Finger paint, diluted with water, was used for this event.
For three to five minutes, participants soaked their sponges in the diluted paint and flung it at the other teams.
Afterwards, they all joined together for a group photo before drying themselves off with towels.
Rachel Goldwin, digital media graduate student, said she heard about the event while visiting the Campus Life office. She said she gained a new friend through the experience.
"I met Mackenzie Petri," Goldwin said. "We were on the same team together."
Although the turnout was eight freshmen students, Lynch said the turnout was about the same as last year.
"About 10 or 12 students last year did it," Lynch said. "So we've kind of been consistent on the number who participate."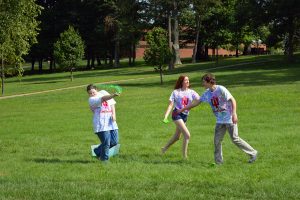 Michael Schnieders, fine arts freshman, said he participated in the event based on the uniqueness.
He said he had never taken part in a paint war before and was encouraged by classmates to attend.
Lynch said the event can be a way for freshmen to make new friends while they adjust to college life.
"It gets them here," Lynch said. "It gets them doing things. It gets them used to being socially engaging."