Coffee Crossing: Coming Soon
Aromas of fresh coffee, chattering of college students and knitting groups fill the air as you open the door to Coffee Crossing. Smiling, friendly faces greet you at the counter as you begin to place your order.
The coffee is made fast, so you'll be sipping warm coffee while relaxing in a comfortable chair in no time. This is the experience you should expect to have while visiting Coffee Crossing.  
Coffee Crossing is the answered prayer of Alan Butts, owner, and former physics teacher at Fort Knox Military Base.
Butts said the idea came to him one day when he left Northside Christian Church and pulled into an empty lot and prayed for 10 minutes. He then went home and told his wife that he was opening a coffee shop across the street from the church.
Coffee Crossing on Charlestown Road was constructed June 2003, but a lot of effort went into choosing the name. Butts said he was working with a mail order consultant in Portland, Oregon who told him the shop has to include java, espresso or coffee in the name.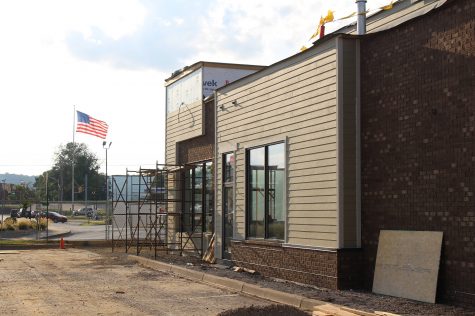 He said the name Coffee Klatch was a huge contender in the beginning, with Klatch meaning a place to have coffee. He said Crossing was a popular name in the early 2000s, with several local streets and shopping centers having Crossing in the name.
Coffee Crossing had become such a success for Butts that he said he was able to open another location in Jeffersonville a little over a year ago. With the increase in popularity amongst college students, Butts announced a third shop will be opening on Grant Line Road, behind McDonald's and Arby's.
The opening is scheduled for Oct. 3, 2016. This location, and the Charlestown Road location, will accept U-Cards and offer students a ten percent discount.
Butts said the new location will offer an outdoor seating area with 16-20 seats and a larger indoor area with a fireplace. He said no two stores are alike because he does not want them to be carbon copies of each other.
Butts said their is a possibility for extended hours at the Grant Line Road location too. He said as long as there is enough business, he would extend business hours as needed.
"Our Mission is to serve the finest drinks, in the warmest atmosphere, by the friendliest staff imaginable," Butts said. "Our Goal: 1 Corinthians 10:31."
According to 1 Corinthians 10:31, "So whether you eat or drink or whatever you do, do it all for the glory of God."
That is why he incorporates a fireplace into each of his locations. He said that the fireplace going into the new location is the best yet to come.
"We don't want to be known as a Christian coffee shop, we want to be known for great coffee," Butts said.
Butts said change is also key to running a successful business. In order to improve, you have to be willing to change. He said you can only get better if you change.
"I'm so blessed here," Butts said. "Someone was going to go into this empty lot, it might as well be me."