IU Southeast fraternities host formal rush night
The IU Southeast fraternities held a formal rush night on Sept. 15 in UC 127. All three fraternities on campus were present and informed potential new members about their fraternities and what they are about.
Josh Atkins, former Pi Kappa Alpha member and IUS criminal justice alumnus, shared with the potential members what some of the benefits are of networking while in a fraternity.
"Greeks hire greeks," Atkins said. "It doesn't matter what fraternity you're in or what sorority you're in, if you have that you're in a fraternity or sorority on your resume, more than likely your boss was Greek. They know that you're business material."
Atkins also discussed how networking can help them make a decision with their career.
"To be honest, I didn't know what I wanted to do until I was a junior," Atkins said. "But you've got to find out what you want to do, so network. Talk to people and figure out what you want to do."
Patrick Jaggers, communications senior and vice-president of the Inter-fraternal Council, explained how the bidding would work. He said if a potential member received a bid, the student would have to make their decision to join by Monday, Sept. 19.
When Jaggers finished explaining how the bidding process worked, he then turned it over to the three fraternities: Tau Kappa Epsilon, Kappa Sigma, and Pi Kappa Alpha.
Tau Kappa Epsilon
Jordan Parker, business sophomore and member of Tau Kappa Epsilon at IU Southeast, began describing the fraternity by sharing their views on charity.
"We jump on every opportunity we can to make a difference," Parker said. "Last year we raised $5,000 for St. Jude, and that is something that we are very proud of."
After discussing more about the fraternity's charity work, Parker gave the floor over to Tau Kappa Epsilon president and business junior, Ethan Wells, who made an effort to remind the men in the audience that academics come first.
"We like to make the effort to make sure that our members graduate," Wells said. "What's the point in coming to school, and paying however so much a year, and not graduate."
Wells also told the potential members about events the fraternity hosts throughout the year including their Halloween party and their formal, an annual dance that each fraternity hosts.
"Last year we had it in Gatlinburg, Tennessee," Wells said. "So, my brothers and myself, spent a weekend in a cabin in the mountains during our formal days."
Even while explaining events that the fraternity hosts, Wells continued to pull the topic back to academics and what is important for their fraternity.
"We could sit here and tell you how big and bad we are," Wells said. "But what it really comes down to, and what really matters, is what type of men our chapter churns out."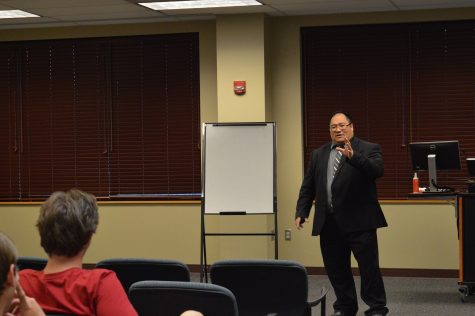 Wells also introduced Tau Kappa Epsilon alumnus and campus business adjunct lecturer, Abe Navarro. Navarro said that joining a fraternity will create many bonds.
"The bonds you create in these years will echo for the rest of your lives," Navarro said.
Navarro said he was proud to have been a member of Tau Kappa Epsilon.
"That bond for the people that are long gone," Navarro said. "Through the successes that they made help to define us as better men."
Kappa Sigma
Kappa Sigma presented themselves in a different way to the potential incoming members. Jake Carter, psychology junior and member of Kappa Sigma, led the entire talk. He began by informing the men in the audience about how fun it is to be in Kappa Sigma before turning the discussion in a new direction.
"Tonight's discussion is going to be based on how much fun you are going to have in Kappa Sigma," Carter said. "But first let me tell you how much fun our founding fathers had."
Carter went through the history of Kappa Sigma, which was founded at IU Southeast in 2014. He also said that the fraternity started off with 25 men and together they raised $10,000 by working at University of Louisville football and basketball games, which was met by cheering from other Kappa Sigma members.
"With working those events comes money, and that definitely has its perks," Carter said. "We were able to use that money to plan events."
Carter then went into explaining some of the events that Kappa Sigma had planned, such as the barnyard party, slip n slide, and gladiator competition. After going through the events that Kappa Sigma plans, Carter shared some news with the potential members.
"We are also in the process of becoming homeowners," Carter said. "In the short one and a half years on campus, we've been lucky enough to acquire enough funds and meet the right people to where we are going to acquire a home that will suitably fit 12 to 15 of us."
Carter shared with the potential members that the home will be in the Floyds Knobs region, but no further information than that.
Pi Kappa Alpha
Every member of Pi Kappa Alpha came into UC 127 dressed in a suit and tie.
Jaggers took the floor and shared Pi Kappa Alpha's philanthropies and ways to get people involved.
"At least on this campus, our chapter is huge about getting everyone involved," Jaggers said. "And not just greek life."
Jaggers went on to share how the baseball team and some of the sororities are partnering with them on their fire truck pull.
"And it's not just about getting one organization involved," Jaggers said. "But about getting the whole community involved."
Dakota Brooks, education sophomore and recruitment chair for Pi Kappa Alpha, shared with the potential members characteristics they look for in their members.
"We look for gentlemen who are scholars," Brooks said. "Scholars being those guys that are gonna have that drive to be successful academically. We are looking for guys who are going to be above and beyond average."
Brooks made a point that Pi Kappa Alpha is looking for men who excel in their academics. He also shared with the men that two of their members made the Chancellor's List during the Spring 2016 semester, and seven members made the Dean's List.
"Along with scholars and leaders we also recruit athletes," Brooks said. "We look for those guys that have that competitive drive, whether that be competitiveness on the field, on the court, in the classroom, or in the community."