Plagiarism workshops teach students how to avoid plagiarism
It all started with two people and a major issue. Maria Accardi, coordinator of library instruction, and Leigh Ann Meyer, director of the Writing Center and associate English professor, said they both realized that many students did not seem to understand exactly what plagiarism is.
"We both felt like it was our place to set this up," Meyer said.
On Sept. 28, with Accardi not in presence, Meyer continued the pursuit of spreading awareness of plagiarism in University Center, room 120.
Meyer said she has had her fair share of experiencing plagiarism among students.
"The worst case of plagiarism I've seen was when a student purchased a paper via the internet and cited the location in which they bought it from," Meyer said. "Even though she cited it, it was not in her own word or ideas."  
Meyer said paraphrasing is an issue students often face with plagiarism.
"What if you put it in your own words, but it's not enough of your own words and you don't have the quotation marks around it," Meyer said. "That's still plagiarism, that gets a lot of students in a lot of departments."
Meyer said with plagiarism comes consequences, the main one being academic misconduct.
"The professor has the say, if a professor said you did it, it means you have to prove that you didn't do it," Meyer said.
Meyer said if the student plagiarizes, the professor should typically have a conversation with the student. She said the professor does have the option to fail the student on that assignment or the entire course, which then would appear on their academic transcript.
Meyer said if a student fails a course for academic misconduct, a hearing will take place and expulsion is possible if the professor pursues it.
"I'm not trying to make you scared," Meyer said. "I am just trying to make you aware of what can happen."
Meyer said students can avoid plagiarism by simply asking professors. She said doing this will give students "a leg to stand on."
Meyer said another way to avoid plagiarism, is to make professors aware of turnitin.com, a resource that all professor at IU Southeast have access to. She said this site will let students and faculty know how much of a paper was possibly plagiarized. She said the Writing Center can help student with citing their work, in the style guideline their professor prefers.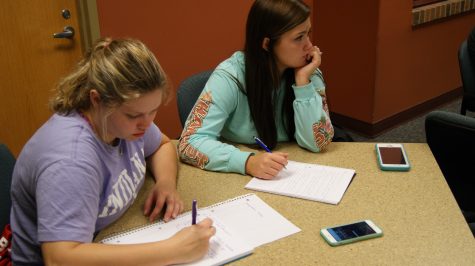 "If a student ever has concerns with plagiarism or citation, the Writing Center and the Writing Center website provide helpful tips, guidelines on how to avoid plagiarism and how to cite correctly," Meyer said.
Meyer said she did not want this workshop to be "lecture-style." Instead she said she wanted it to be "participatory," where students could feel free to discuss and ask questions about plagiarism throughout the workshop. During the workshop, many students gave input and asked questions.
"This workshop had very variable information that I will use in the future," Taylor Kirk, nursing freshman, said.
The next plagiarism workshops are scheduled for Nov. 1, at 5:15 p.m. and Dec. 1, at 12:25 p.m.