Castle Club hosts Muggle Quidditch
Witches and Wizards! Grab your broomsticks and play a round of Muggle Quidditch.
The Castle Club hosted a game of Muggle Quidditch on the Frisbee Field, located next to McCullough Plaza, on Oct. 12 at 7:45 p.m.
Muggle Quidditch is derived from the sport played in the "Harry Potter" series called Quidditch.
In this sport, players fly around on magical brooms and attempt to knock a ball into one of three hoops. The game is finished whenever a designated player, the seeker, catches the golden snitch, which flies around fast enough that it makes it very difficult to be seen.
Garrett Gillis, secondary education sophomore and president of Castle Club, said Muggle Quidditch is different from the Quidditch played in the "Harry Potter" universe.
"We don't have the funds to actually get magical brooms," Gillis said. "We just grab some brooms and play some dodgeball."
Gillis said the rules of the game are different than regular dodgeball. He said players must have a broom between their legs and keep a hand on the broom at all times. If they take both hands off, then they are disqualified and out for that round.
Jeffrey Baugh, history sophomore and vice president of Castle Club, said Muggle Quidditch doesn't just happen and a lot of planning is involved for the event to take place.
"We do it as a collective group," Baugh said. "Garrett does a lot of the planning. I handle a lot of the material stuff."
Gillis said that Muggle Quidditch usually draws 15 to 30 people, but it can vary.
"Depending on the day," Gillis said. "You'll get a more popular crowd on Thursdays when no one has class anymore."
For participants, the Castle Clubs supplies various brooms and the balls used for the event.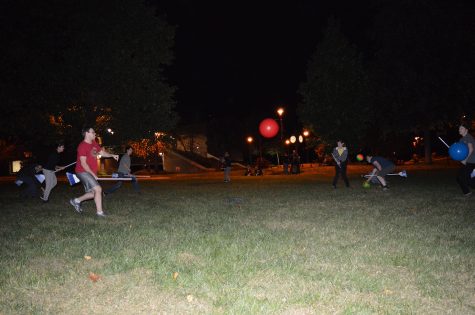 Alyssa Werner, theater sophomore, said if a student wishes to play, all they have to do is fill out some forms.
"First they have to sign up on our email registration," Werner said. "And then they have to sign a waiver just stating the basic formalities of where you're at, what you're doing."
During events like Muggle Quidditch, Werner usually sits at the table where all the forms are.
"I don't really like doing field activities so I sit at the table and do the signup paper while I'm doing homework," Werner said. "Sometimes I participate, sometimes I don't."
Ben Garrett, secondary education junior and treasurer of the Castle Club, said along with Muggle Quidditch, the Castle Club hosts other events, and will co-sponsor more.
"We are actually helping to co-sponsor the APCC [Asian Pop Culture Club] Halloween event," Garrett said. "We also have our own Castle Club Ball that we do in the Spring."
Garrett said that the Castle Club Ball is a big dance that people can come to dressed in their medieval attire. Students may also come dressed as their favorite characters from "Harry Potter," "The Lord of the Rings" and "The Chronicles of Narnia."
"It's not a huge formality," Garrett said. "It's a lot of fun."
Castle Club is also looking for new members. Garrett said Castle Club is designated for fans of "Harry Potter," "The Lord of the Rings," "Doctor Who," "The Chronicles of Narnia," "The Walking Dead," etc.
"The Castle Club is a place where basically a bunch of nerds like to get together," Garrett said. "We do call each other nerds."
The Castle Club also discussed various pieces of medieval literature and how it can tie into stories like "Harry Potter" and "The Lord of the Rings."
"My favorite thing is bringing a bunch of people together who have an outlet of nerdom," Garrett said.
Garrett said the Castle Club plans to host two more Muggle Quidditch events.
The next one will be held on Oct. 26 at 7:45 p.m. The other event will be hosted sometime in the Spring.