Students, Tours and Ghosts
Professor David Domine 'moonlights' as a horror author and local tour guide
On a quiet night in Old Louisville, a man is home alone, laying in his bed, when he hears footsteps outside of his room. He gets up to investigate, only to open his door and stare down an empty hallway.
David Domine, adjunct professor of German at IU Southeast, is no stranger to paranormal phenomena. Aside from writing several well received books on the topic, the local author has experienced his fair share of strange scenarios, such as the one above.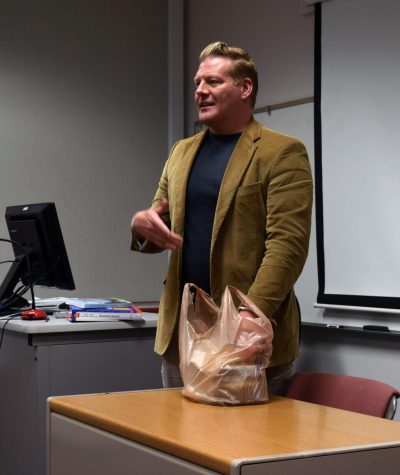 Domine described his 12th and newest book, "Voodoo Days at La Casa Fabulosa," as just as candid and funny as it is spooky. In the book, released Sept. 19, 2016, Domine shares his experiences living in an old house with a haunted reputation.
He lived in this house from 1999-2007 and was told by the previous owner the place was haunted.
"I didn't really believe her. I bought the house and moved in and strange things really did start to happen there," Domine said. "I never saw a ghost so to this day I don't know if the house was haunted or not but some things were happening of a paranormal nature."
While living in the house he said he has experienced hearing disembodied footsteps, objects moving on their own and witnessed his pets staring down a mysterious figure that he could not see.
Domine said his spooky encounters and the people who occupied Old Louisville inspired him to write five books about the area and its ghostly legends of witches, voodoo people, gypsies and restless spirits.
His first book, "Ghosts of Old Louisville," was published in 2005 and sold 10,000 copies in its first year alone. Domine said that was a really good number for a local author.
"Even though I never came to see a ghost, I discovered that the real life people in the neighborhood were the interesting ones," Domine said.
Domine has spent over 10 years doing research on Old Louisville.
He said he has researched its rich history, its architecture, and its ghosts. He has spent countless hours in the library combing through microfeeds, staring at old books and looking things up online.
Domine said he has also spent a lot of time interviewing people and listening to their first hand encounters of the supernatural, as well as visiting the places they were speaking about.
Domine said he is currently working on his next book, "The House in Old Louisville."
He said it is the real life tale of Jamie Carroll's grisly death. Carroll,  murdered after a love triangle went amiss, was stabbed, shot and mutilated with a sledgehammer before being stuffed into a 50-gallon plastic storage container.
His remains were buried in the basement of a house in Old Louisville, just a couple of blocks from the house Domine lived in. Domine said he has been studying the case for a couple of years and hopes to publish the book sometime in 2017.
"Old Louisville is an interesting place and gives me lots of ideas for my writing," Domine said. "I realized there was a market for it. They always say to write about what you know and enjoy."
Aside from this being his 16th year teaching at IU Southeast and being a successful and local author, Domine also owns his own touring company called Louisville Historic Tours.
"I started giving history and ghosts tours of Old Louisville in 2004 because I thought it was a neighborhood that had enormous potential," Domine said.
He said in 2005, when his first book came out, several neighborhood people approached him about conducting tours in Old Louisville to raise money for the neighborhood. For a number of years he worked with neighborhood groups to raise money for them.
"Recently I went out on my own. It's been great and I've generated a lot of attention for the neighborhood," Domine said. "This year The New York Times recommended one of my tours as the first thing to do when you're visiting Louisville."
His friend, Kelly Martin, has been working with Domine's company for the past six months.
Martin said she met Domine five years ago while they were both fiction students in the Masters of Fine Arts program at Spalding University.
"We give architectural and ghost tours of Old Louisville. Thanks to David's books, the word is getting out that Louisville has one of the largest and most exuberant Victorian neighborhoods in the country," Martin said. "During the day, our tours focus on the architecture of the neighborhood, whereas at night, we talk about the famous hauntings and share our favorite ghost stories."
The touring season goes from March 15 to November 15 annually.
Martin said she enjoys working with the company so much that it is easy to forget it is a job sometimes. She said she enjoys working with Domine and learning more about Old Louisville.
"It's so fun showing off the neighborhood and meeting interesting people," Martin said. "Besides being a kind and flexible boss, David is a very well-read and learned person in general. He knows the history of the neighborhood inside and out, and I learn something new every time we give a tour together."
Martin is not only an employee and friend of Domine's, she is also a fan of his writing. She said she has read all of his books.
"I was lucky enough to read an early draft of his new book, 'Voodoo Days at La Casa Fabulosa,' and I'm thrilled the book has been received so well," Martin said. "I think he is a very descriptive and engaging writer who can really make you feel connected to his characters and sense of place."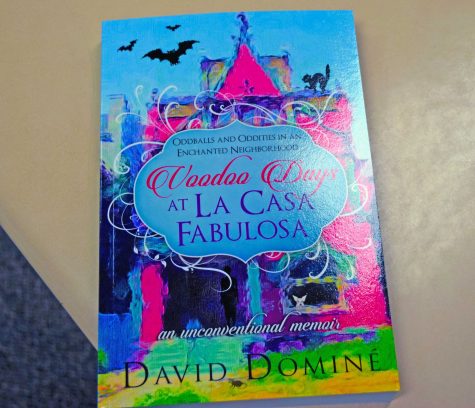 Domine has a growing fan base on campus as well. Several of his students have read his work and purchased at least one of his books.
Scotty Striegel, English writing senior, recently purchased Domine's latest book.
"He is so well spoken, so it makes me want to see how he writes," Striegel said. "It intrigues me. I have listened to him talk about the book. It just seemed interesting to me."
Striegel said he was also a fan of Domine as a teacher.
"He is very relatable with the students and makes the class feel more open to talk," Striegel said. "Students aren't afraid to try and speak German in front of other people in his class."
Striegel, who is also an aspiring writer, said Domine took the time to proofread and advise him on a play that he was writing for another class. He said he was impressed Domine would take the time to do that since it was not even for the class Domine was teaching.
Striegel said it is inspiring to know Domine as a successful author.
"It is good to be able to look up to people who have been published, especially on a local level," Striegel said. "It seems more possible with people like him around."
Sydney Spicer, communications sophomore, has spent the last three semesters in Domine's German classes.
"He is a very realistic professor," Spicer said. "He brings real life into the lessons and is very thorough on connecting things we should already know."
Spicer said she read a few inserts from his books and decided to get a copy of his most recent.
"I really like the way he writes," Spicer said. "It's more fun knowing that I've met him."
Erin Fleming, environmental geography senior, has been in Domine's German classes with Spicer. She said that she has read his book, "America's Most Haunted Neighborhood."
"It was the title and cover that first drew me in. I guess you can say he had me at the cover," Fleming said. "I wish I could say that I started reading it and couldn't put it down but that is not true. I started reading it, and read so much that I had to put it down because I was really starting to get freaked out."
Fleming said she just so happened to have moved into an older building in Old Louisville in the midst of reading the book. She said she had trouble sleeping the first few nights she moved to Louisville because of what she read and some of her own experiences with what might have been the paranormal.
"I felt very uncomfortable and kept tossing and turning," Flemming said. "Just as I was about to fall asleep, it suddenly became very cold, and I felt something like an ice cold finger, trail from the back of my ear, down my neck."
Fleming recently acquired a signed copy of "Voodoo Days at La Casa Fabulosa" and said that she is excited to read it.
"If you like a good scare his writing is definitely for you," Fleming said.
"Voodoo Days at La Casa Fabulosa" and several other Domine books can be found on Amazon.com, Barnes and Noble and there are signed copies at various local gift and book shops.
For those who are sad to see Halloween come and go, take heart in the fact that Domine's historic and haunted walking tours will be running until November 15th.
Call (502)718-2764 or go to louisvillehistorictours.com to find out more or to book a tour.