Psychology Club Hosts Study Abroad Event
IU Southeast has a program that gives students the chance of a lifetime. The only issue is, not a lot of students know about it.
The "Study Abroad" program allows students who are in good academic standing to participate. There are also scholarships that can be applied toward the cost.
The Psychology Club held an event Wednesday, Aug. 31 for students to share their experiences from their summer trip to Wales, England. Anne Barrett, psychology senior and president of the Psychology Club, said the idea for this event came up in a meeting and she thought it seemed like a great opportunity for students to share their experiences.
Lucinda Woodward, associate professor of psychology, led this expedition. Woodward studied abroad as a college student as well. She said she attended Kings College in London, England, as an undergrad and has been leading her students on many adventures over the past decade.
During their trip to Wales, students got to experience foraging for food, basket weaving and beekeeping just to name a few. Jossalyn DeLeon, psychology junior, recalls her experience with basket weaving.
"At the beginning of the day I was so excited for this, and at the end of the day, I was excited but the process of it was the worst thing I have ever done," DeLeon said. She added that she was very thankful that she did, even though it took seven hours to complete.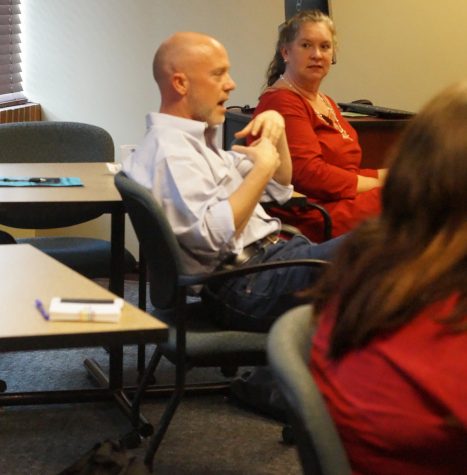 Students also learned about the importance of composting and sustainability. Robin Frederick, geoscience senior and chair of sustainability, discussed the importance. "Can I borrow this?" Frederick asked a student. She held up a Styrofoam cup and asked the audience if they knew that they could recycle it. She also mentioned that you could bring your own mug to the coffee shop instead of using a plastic foam one.
"Study abroad is not just for psychology students, it's for all students," Woodward said.
She and colleague Brian Laythe, social psychology and parapsychology adjunct professor, discussed an upcoming parapsychology trip to London in the winter of 2016.
Woodward said there are also many scholarships that a stude
nt can apply for, one of them being the Student Research Fellowship. If you are pursuing a business degree, The School of Business has several scholarships available.
As an IU student, you can attend any program from any of the IU campuses.
Most of the programs require you to have between a 2.8 to 3.0 GPA on the academic scale. Woodward said if you had a less than perfect semester and explain it to the program coordinator, they will let you attend. This does not apply for anyone who is on academic probation.
Do you want to visit interesting places and make life long friends? If you answered yes, the Study Abroad program is a good place to start.