The Life of a Disney Addict
23-year-old Casey Polk can't get enough of the theme park, even after 24 trips.
The alarm clock sounds, waking sleepy and excited family members for their eventful day. While some get ready, others impatiently wait by the door. Backpacks, snacks, water bottles and cameras are packed; the fun is about to begin.
Casey Polk, 23-year-old elementary education student and self proclaimed "Disney addict," has experienced multiple mornings at Disney Resort Parks, visiting "the happiest place on Earth" a total of 24 times.
Disney World's Magic Kingdom located near Orlando, Florida at Bay Lake and Lake Buena Vista, attracts an average of 56,000 visitors everyday, according to Disney News. An average of 48 million guests visit the Walt Disney World Resort every year. Disney World remains a dream to many, representing sentimental memories, hopes and joys.
As Peter Pan says, "all it takes it a little faith, trust and pixie dust."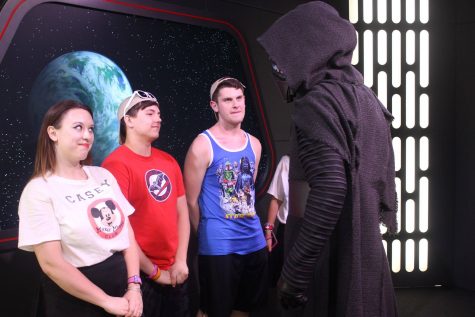 Polk, first visiting Disney as a child on family vacations, grew to love the magical atmosphere the park had.
"I love that the second you walk into the park, you feel your worries go away because all there is, is magic all around you," Polk said. "Disney gives you a warm feeling and makes you truly feel like magic can happen."
Polk visited Disney World three times in 2016. Polk hopes to increase her visits to five times this year after purchasing annual passes this last December.
Annual passes allow access to all the Disney parks including Animal Kingdom, Epcot, Hollywood Studios, Magic Kingdom and two Disney water parks year round. This can cost anywhere from $749 to $829. The passes also include Disney Photopass downloads, parking and 20 percent off of select dining and merchandise.
Believing that every trip offers something different with the variety of rides, events and character meet and greets throughout the year, Polk remains excited and enthusiastic with every new visit.
After attending Mickey's Not So Scary Halloween Party and Mickey's Very Merry Christmas, she's decided that September is her favorite time to visit, due to the cooler weather and smaller crowds.
But Polk is not alone in her passion for Disney. Her younger sister and brother enjoy their vacations as well; Cody, age 16, and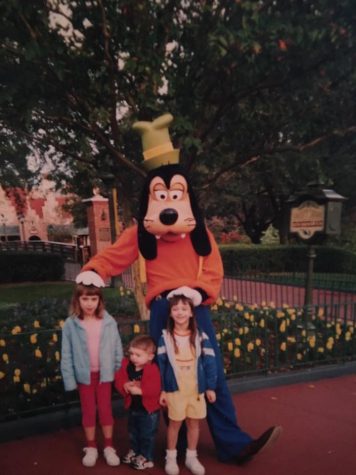 Cortney, age 21.
"I guess you can say we go often.We go so much it feels like home," Cody said. "Disney to us really is the happiest place in the world. It's the type of atmosphere where you don't want to leave."
Shelley Martin, Disney lover and aunt to the Polk siblings, has visited Disney about 30 times, bringing her own children along to enjoy the amusement parks.
"I love everything about it," Martin said. "There are so many special things about Disney, my favorite thing is being with my family. We go down there and make all of these amazing memories."
Social media pages have been created as designated online locations for Disney lovers to communicate and share their passions. Polk, involved with many, enjoys socializing with others who share her same interests. You can find these groups on Facebook titled, "You might be a Disney addict if…" and "I'm So Disney…". These forums often discuss an array of topics, with members posting advice and comments on Disney related subjects. Polk has also created an Instagram page (@caseyatthecastle), displaying and documenting her trips for other Disney lovers, and has even produced Disney giveaways on her page.
Polk has developed close friendships over Instagram, sending and receiving Disney items in the mail from other addicts all over the United States. Recently, Polk received an offer from a Disney Etsy page to wear the store's shirts and post them on her Instagram page.
"I started my Disney Instagram and met so many amazing Disney loving people in the process," Polk said. "The Disney community is so sweet and often send gifts, cards, and letters. I also talk to a lot of small shops that make Disney things that I can take and use in the parks."
It all may have started with a mouse, but the obsession continues to grow outside of the parks through the passions of Disney fans. Polk is working to create her own form of magic in her daily life, as she continues her love for Disney at home. Collecting mugs, pins and ears, Polk enjoys being reminded of the characters and movies, including her favorite, "Sleeping Beauty".
"I see Disney at least everyday," Polk said. "We have Disney all in our home and of course I'm always planning for future Disney trips."
After becoming a Disney addict, Polk has received criticism for her obsession, with people having said her time could be better spent on other things.
"I don't think Disney is for everyone," Polk said. "But I feel like if you get to truly feel the magic, it can definitely change the way you think about Disney. I think to the people that really do love it, it's not just a vacation spot but a second home."
Polk is confident her love for Disney will be passed on to her future family as her fiancé, University of Louisville engineer student Matthew Smith, shares her interest in the world of Disney. He has gone with Polk every year since they met and they have created
new memories together, including his proposal to her in 2015 at the park.
"It's the most magical place on Earth, and her favorite place on Earth," Smith said. "So why not give her the most amazing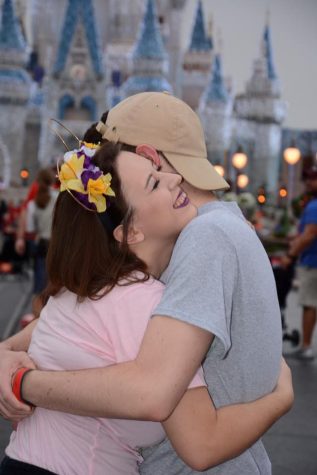 moment at her favorite place?"
Created not by pixie dust but by their mutual understanding and love for Disney, the proposal was witnessed by family and bystanders at Cinderella's Wishing Well.
Smith, explaining that he had a book made of their personal fairytale, separated from the group to place the book on the well, hiding nearby with her brother until Polk was able to stumble upon it. Once she saw the book and began going through it, he got down on one knee behind her, holding the ring placed in a glass slipper. "Turn around" was written on the last page.
"It was magical and nerve racking at the same time," Smith said. "I was so nervous every moment working up to it, but once she
said yes I became the happiest man alive."
Polk, believing the proposal to be the best Disney memory so far, knows she found her Prince Charming.
"The whole day was amazing," Polk said. " [Disney World] truly went above and beyond to make my day special, as any girl would hope for."
Polk and Smith decided to do a small engagement photo shoot by Disney after the proposal, and had ears made as a souvenir to add to their experience.
After buying bridal ears, Polk became tired of purchasing ears for herself and decided to make them on her own.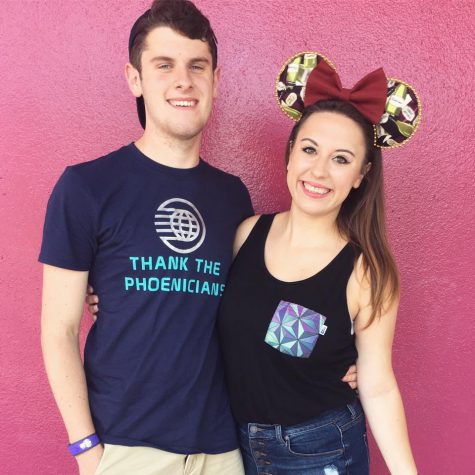 "I created 'Cheers for Ears' because I was ordering ears myself on Etsy and I realized I could make some of them myself," Polk said. "I worked at it for a few months and decided that I should start selling mouse ears. It's been fun making them and wearing homemade ears to the park and hearing that people love them."
Polk's personal business was successful, but due to work and attending school (both full
time), she was unable to keep up with the orders. She continues to make mouse ears for herself and looks forward to the future, planning her wedding for May of 2018. In order to make guests feel as though they're in the park, Polk plans on
having a Disney themed wedding.
Polk, however, has more plans for her future than Disney as she plans to move forward in her college career within the education program and hopes to teach
young students.
"I wanted to be a teacher since I was young," Polk said. "I used to print out lessons and ask teachers for worksheets to take home
and teach [Cortney and Cody]. That love hasn't stopped growing."
Recently attending her Pinning Induction Ceremony for the School of Education, Casey looks forward to continuing her love for
teaching with determination as she looks to begin her career.
"I've done volunteering in schools and it's something I truly love," Polk said. "I can't wait to get started on my own one day and teach as well as learn from so many kids."