IU Southeast Printmaking Program Encourages Artistic Expression
According to the school's website, IU Southeast has more than 50 undergraduate and graduate programs. These academic options allow students to explore their unique interests. Offering variety, IU Southeast's printmaking program is providing students with opportunities to develop their artistic abilities.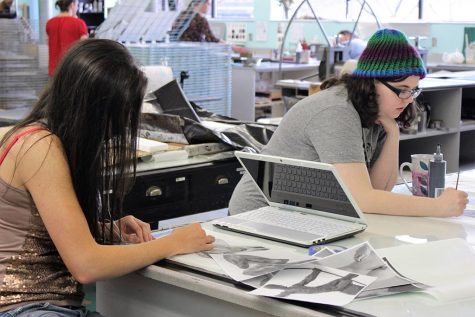 The IU Southeast printmaking studio has an assortment of equipment and materials that help students complete their projects. Among other resources, the studio contains:
Screen printing stations
LaserJet and InkJet printers
Lithography presses
A variety of lithography stones
A graining sink
Etching presses
A letterpress proofing press
The students are provided with the opportunity to learn several types of techniques including lithography, intaglio, woodcut and screen printing.
Printmaking classes are led by Susanna Crum, assistant professor of fine arts – printmaking. Along with her teaching career, Crum also works on her own art and writing.
Crum's practice involves historical and community-based research about lesser-known histories of public spaces, and she spends much of her time conducting interviews and research in archives and libraries.
"I use maps, documents, letters, newspaper articles and conversations as tools to investigate and ask questions about the specific layers of history stored within specific places, in an effort to start conversations about how the past of a place and community influences it's present," she said.
Her approach allows her to work in different locations. Last summer, she was able to spend a month in Edinburgh, Scotland, working at a printmaking studio with a museum collection and a historical society.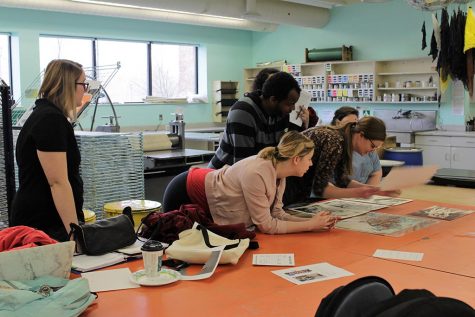 "Though I make work about specific places, often there are more wide-ranging influences and stories that have an impact on the ways communities build, project and maintain their identities, so it's always exciting to have more conversations as I display the work in museums and galleries," Crum said.
Crum said that she likes the collaborative nature of printmaking and that working in a print studio can make students into better artists. 
"Because it's so process-oriented, printmaking requires great time management, problem solving, and organizational skills, as well as accountability to yourself and the other people you're working with, so I'm always excited to see how much student artists improve."
Noelle Wilcox, printmaking senior, said that her experiences with Crum have been positive.
"She's really helpful," Wilcox said. "She always likes to keep it positive and light and airy and she's a really good instructor. She's good for this program."
Bethany Barton, printmaking junior, talked about the daily structure of her class.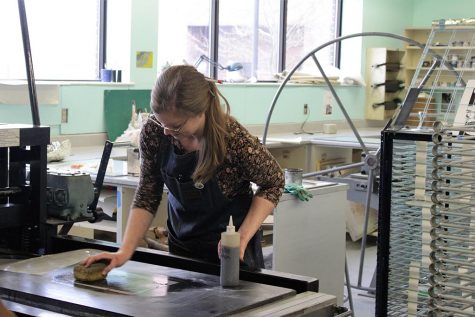 "Each class will have work days, where we just are able to work on our projects individually and have the help of our professor, if needed and also be able to work together on things," she said. "If there's something you don't know how to do, someone else probably knows how, so it's kind of a way to help each other I guess. Then there's always instruction days, where it's kind of like a normal class lecture but instead of just sitting there listening, you're there doing whatever she's telling you to do and taking notes and kind of learning as you're doing it," she said.
Printmaking allows artists to make multiples of their work.  Barton said that she enjoys sharing her work with others and printmaking gives her that option. She talked more about how she benefits from the program.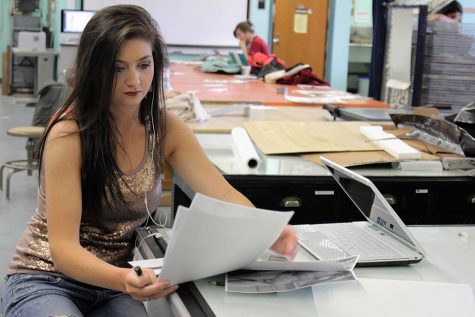 "I like the flexibility of being able to work with different kinds of things," she said. "Right now, I'm into woodcut, lithography and monotypes, so it's like I get to kind of use what I like from each of them to create a final image, so that's really exciting for me."
The IU Southeast printmaking program offers students 24-hour access to the studio. Courses are limited to 16 students and the cost of materials is covered by the program.
These accommodations, along with an experienced instructor, create an environment that allows students to pursue their own artistic interests.