From IU Southeast to Overseas: Getting to Know Jazzmarr Ferguson
A former IU Southeast Grenadier star is making an impact at the professional level overseas.
Jazzmarr Ferguson, known as Jazz, plays in the Lega Pallacanestro Nazionale: Serie A2 in Italy, but before that, he was setting records at IU Southeast.
Jazz grew up in downtown Louisville, where he says he and his little brother bounced around a lot as a kid from different households of family members until he was around 13-years-old.
"My aunt gained gained custody of my brother and I in middle school and she raised me from there on," Jazz said.
Jazz said his passion for the game of basketball has been his motivation through his entire life.
"It has been my passion since I was able to bounce it. I always tell people I loved basketball before I was even good at it," Jazz said.
Although Jazz loved the game, in the early stages, he claims, he was always playing but was not nearly as good as his teammates.
"I was small and skinny," Jazz said. "But I worked harder than anyone I knew."
Once he began to grow, Jazz said he finally started to see improvements, both with his game and his body, from the long nights of shooting, ball handling and push-ups.
"My junior and senior years of high school, I was considered one of the top players in the city of Louisville, but I still wasn't at the kind of level I needed to be to receive an athletic scholarship to play in college." he said.
Although there were not a lot of colleges seeking Jazz after high school, he said he continued to work and stayed optimistic about getting the opportunity to play at the collegiate level. He attended open-gym practices at IU Southeast, where the men's head coach, Wiley Brown, was in his first season.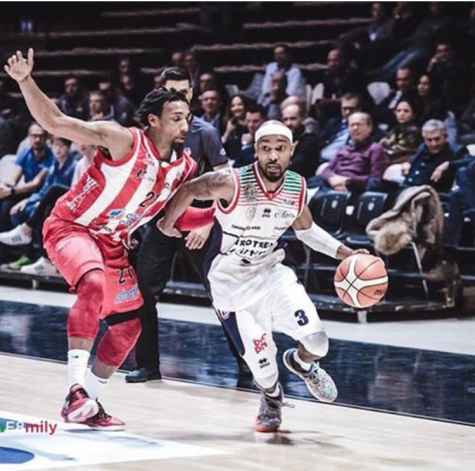 "He saw something in me at the time that I hadn't seen in myself. So I enrolled and started to further my education and collegiate career as a basketball player," Jazz said.
Wiley Brown said Jazzmarr's heart stood out to him from the beginning.
"The kid could really score it, his offense always stood out," Brown said. "He was little but he had heart and never ever backed down."
Jazzmarr's career at IU Southeast was full of school records. Looking through the IU Southeast record book, Jazzmarr Ferguson is a name you see many times.
"In my time at IU Southeast, I became a man," Jazz said. "With the influence of Wiley Brown, I saw my game and body develop from a puny kid, to a guy that worked to elevate his game."
While Jazz gave much credit to Brown for his success, Brown said it was all Jazz and his work ethic that got him to where he is today.
"He wasn't going to let anyone outwork him. If he thought anyone was he would put more time in. That's what was so great about him," Brown said.
In his four seasons at IU Southeast, starting in 2006, Jazz won four conference championships,  along with many individual awards, and made the NAIA national tournament every year.
Jazz is the all-time leading scorer in IU Southeast history and is the only 2,000 point scorer. He finished his career with 2,042 points. He is second in all-time assists with 487. In 2010, Jazz scored a school record 46 points in a single game against Mid-Continent (KY); He hit 10 three-pointers in that game, also a school record.
During the 2010-2011 season, Jazz averaged 24 points per game and was awarded first-team All-American, which is the first, and only, first-team All-American in any sport at IU Southeast.
"Jazz didn't just work every day, he worked extremely hard every day," Brown said. "He wasn't satisfied on being good, he wanted to be great."
After his college career had come to an end, it was time to decide what was next for Jazzmarr Ferguson. Brown and Jazz said they pushed hard for an opportunity to play professionally.
"I begged and I begged for teams to watch him play, but they all said the same thing—his size was a problem, " Brown said.
Jazz was listed at 6'1 his senior year at IU Southeast. Earlier that same season, the Grenadiers traveled to the University of Cincinnati. Jazz scored a game-high 34 points in a loss. Brown said he remembers talking to scouts about Jazz and his game. He remembered telling scouts to watch one game film of him and not to think about his size.
"I told teams to just watch this one film (Cincinnati game)," Brown said. "Not too long after, the teams said they wanted him."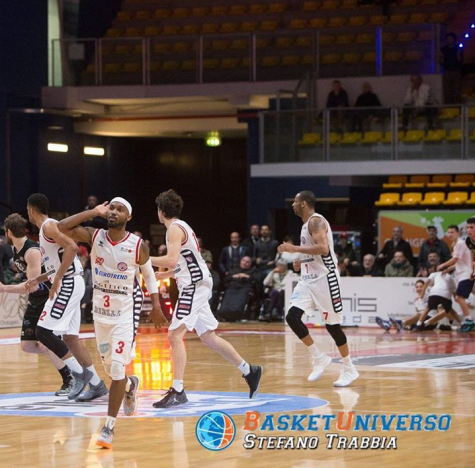 Jazz said the beginning of his professional career was filled with many moves. First, moving out of his home, then moving from country to country.
"My pro career started with a short stint in the Canadian League," Jazz said.
Jazz said he left the Canadian League just three months into the season for a better opportunity to play in Australia.
"I had two great years there (Australia)," Jazz said. "As a rookie, I led my team to a championship while averaging 25 points per game, five assists and five rebounds."
With two years of professional basketball under his belt in Australia, Jazz was awarded the opportunity to play in Europe.
"I left Australia as the season ended and flew directly to Italy," Jazz said. "The expectation and the opportunity all became greater at that time."
Jazz now plays in the Italian A2 league and plays for Pallacanestro Biella. His team has a record of 18-6 and is in first place in the West Division and the overall best record in the league with six games remaining in the season. Jazz averages 20.3 points, which leads the league, four assists and four rebounds per game.