Study Tips for Finals
In a UCLA study by Andrew J. Fuligni, professor of psychiatry at UCLA, and Cari Gillen-O'Neel, a UCLA graduate student, it was reported that sacrificing sleep for extra study time is actually not worth it. A student  is likely to have more academic problems, not less, because of the lack of rest.
Studying for finals can be stressful and can cause students to stay up late at night studying, cramming everything into their brains. Some IU Southeast students and faculty wanted to give advice to the student body about preparing for finals.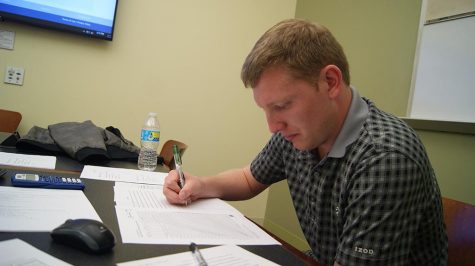 Misty Jones, career counselor from the Career Development Center said that figuring out where and what time you study best is something that can help you study for finals."Figure out when you are the most awake and alert, and study then if you can."
Figure out what study style helps you
Jones said that the study technique you use best can help you when you take your finals. "Using note cards, highlighting, quizzes, having a partner or saying the material out loud; Explore these things early and use them often,"  She said. "Having a routine will make all the difference, as well as cut down on test-taking anxiety."
Go over your previous quizzes
    Jonathan Grimes, business junior, said that he goes over his previous quizzes and the questions he got wrong. He then goes back to see why he got it wrong, and after, he finds the right answer. Grimes said, although this may not work for everybody, knowing you got an answer wrong and being able to figure out the right answer and correct yourself is very helpful.
Cari Edwards, who works in the Office of Campus Life, said that students just need to relax and breath before taking their final.
Don't study everything all at once!

Abagayle Merten, pre-dentistry freshman, and Emily Garwood, psychology freshman, said they advise students to not cram the night before and take good notes.
Mark Jallayu, political science junior and student body president, said that studying for finals isn't a sprint, it's a marathon. Taking your time is more beneficial than studying everything at once. "Let your studying be gradual and then if need be, one last big review of everything."