Re-entry or Throwing Away the Key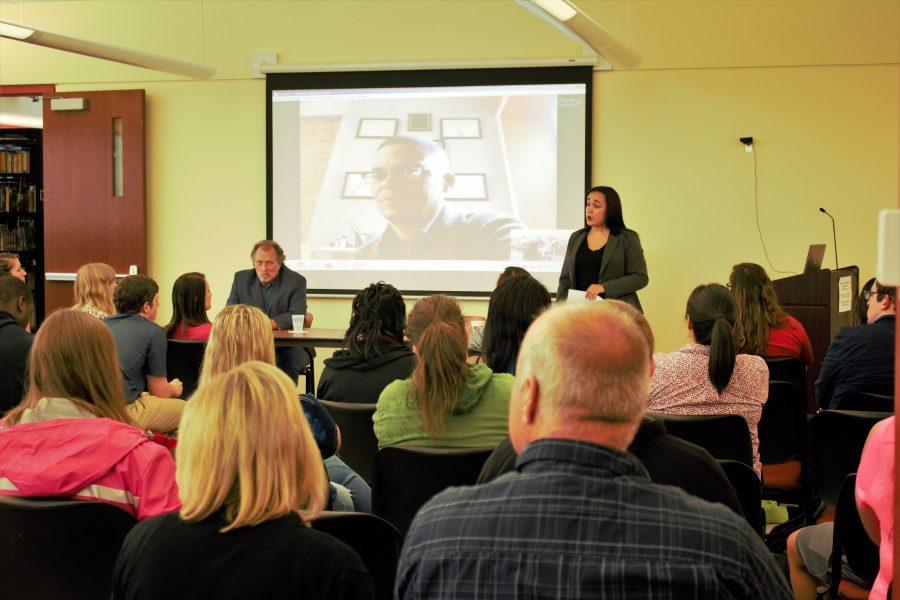 Once someone is labeled as a felon, it is a title they will have to live with for the rest of their lives. Those who commit serious crimes have a point where they must re-enter society after their prison sentence ends. However, this re-entry can be difficult for many felons.
The Criminal Justice Student Association (CJSA) held an event Wednesday April 5 from 6-7:30 p.m., called "Re-entry: The Hidden Dimension of the Criminal Justice System." The focus for the event was to bring awareness and understanding to what it is like for a convicted felon to return or re-enter society after serving time in prison or a correctional facility.
Jennifer Ortiz, assistant professor of criminology and criminal justice, said re-entry is everything someone goes through when they leave a correctional facility.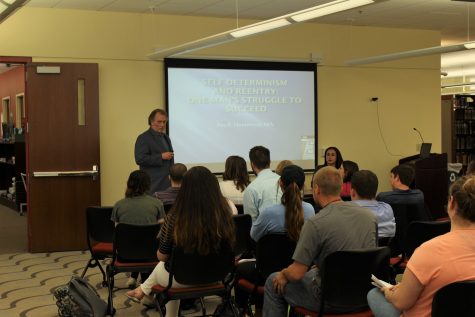 Rex Hammond and Douglas Thompkins spoke about their experiences as ex-convicts and how re-entry was for them and ways it could be improved in the midwest and the United States as a whole.
According to the U.S. Department of Justice, 10,000 incarcerated criminals are released each week.
Ortiz said these individuals face a number of challenges, including employment problems, psychological problems, and educational difficulties. She said many universities are turning down felons.
Ortiz said we need to consider the ways these obstacles affect felons and our society as a whole, and that is why the CJSA chose to host the event. She and CJSA President Hayley Jackey are currently conducting a research study about re-entry. Ortiz said re-entry programs are nearly non existent in the Louisville area, making this a pressing issue in the local area.
Both Hammond and Thompkins have conducted substantial research into the criminal justice system and re-entry in their studies. Hammond said he has a Master's degree and Thompkins, a Master's and Doctorate. Not only do the two have first-hand experience, but both have conducted their own research and read about others' research.
"At the end of the day, when we talk about prisoner re-entry, we have to look at the adverse effects," Thompkins said. "For example, a person coming out of prison is required to participate in certain programs, multiple programs."
Though the purpose of the programs may be to help, Thompkins said those who just left prison often cannot get a job because they are required to attend these programs for sometimes as much as six hours a day.
"The prison re-entry industry has taken on its own life, its own form," Thompkins said. "If we have 70 percent of those who leave prison coming back, something is wrong."
Thompkins said when those who were a part of the prison system are released, they are often not able to get into the top tier of employment, making it difficult for them to succeed.
Thompkins relayed a large portion of his own success to his education. He said while he was in prison, he earned his Bachelor's degree, and was even enrolled and ready to start his Master's when he was released.
"Education played a role is the point," Thompkins said. "Education played a role in my personal success, but education is not a cure-all."
Thompkins said there are institutions of higher education, which he refers to as "the academy," that help prisoners get an education and claim to help them with re-entry. However, upon graduation, even with a Master's degree, he said they will not hire them because of their record.
"There's some contradiction about that," Thompkins said. "The academy is a business, period."
Thompkins said they are looking to make money above all else, and that will take precedence over what they claim their mission to be.
All-in-all, Thompkins said no matter your stance on prisoners and whether or not you agree with re-entry or locking them up and throwing away the key, you must find credible evidence to support your ideas and you must have accountability.
He said we must hold organizations that do not truly follow their mission accountable for their actions, as the re-entry system is messed up.
Thompkins said local policy needs changed and the appropriate measures need to be taken.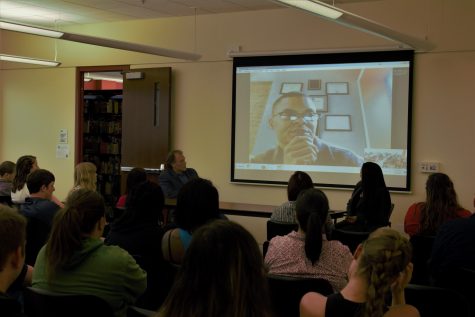 Hammonds agreed with Thompkins, saying that the system for re-entry is in a great need of improvements. He said that some organizations have the wrong interests in mind and do not perform what they say is their mission.
After a troubling childhood with a father who was an alcoholic and siblings who encouraged drug activity and bad behavior, Hammonds said he emerged from childhood emotionally damaged. He attributed a lot of his difficulties and criminal history to the emotional damage he suffered as a child.
Starting at only age nine, Hammonds has a long history of illegal activity, much of it surrounding what he said was armed robbery and drug abuse.
"I started changing in prison," Hammonds said. "When I was in there, I knew it was on me to not come back."
Hammonds said he realized he was nothing but a number to the prison and that it was on him to change and never have to come back. Though he has changed his life, he had a relapse for a few days after getting clean.
"I didn't want that four or five day episode to take me back," Hammonds said.
Telling professors and being open with those around him were ways Hammonds said he utilized to keep from allowing emotional damage and drug addiction from dragging him back into his old lifestyle.
Immediately upon leaving prison the last time, Hammonds said he was determined to make a difference and re-enter society. After four months of searching, he said he found his first job since getting out.
"I was a line cook at McDonald's," Hammonds said. "I was just so happy to be outside of prison."
Hammonds continued to work to improve his life in the outside world, no matter the stress he faced. He said the passing of his brother and his mother was extremely emotionally distressing because he was connected to them and had to experience these things outside of the isolated world that is living in prison.
Other struggles Hammond discussed were educational struggles. After obtaining his Bachelor's degree, Hammond moved to Washington to get his graduate degree and was met with a major fork in the road.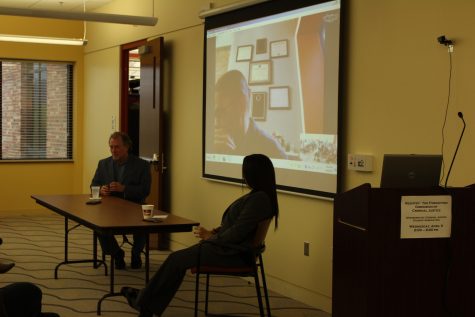 He was told that he could not teach in Washington because of a law or school policy. However, extensive research proved this to be incorrect, and Hammonds was forced to face that he was being discriminated against because he was previously a violent offender.
Hammonds said that being forced to check the box that asks if you are a convicted felon on applications for jobs and housing and other important paperwork enables people to judge him for his past.
"What does a person have to do to regain their citizenship?" said Hammonds.
Thompkins and Hammonds gave some similar and some different reasons for why re-entry is difficult and how procedures need to change in order for felons to be able to truly re-enter society.
"We're all human," Hammonds said. "Sometimes people look at me like I am not human because I committed violent crimes."
Changing the way things work now by thinking outside the box, talking to people who were in the system, conducting your own research, and just understanding that felons are human too were some of the ways Hammonds said re-entry can be improved.
Getting large groups and people of higher social standing to take notice of what those who have been in the prison system have went through and continue to go through with re-entry were ways Hammonds said social change can be enacted in order to change the face of re-entry.
Jackey said this event helps criminal justice students get a better understanding for how pressing the re-entry issues are in our area and that it gives them a perspective that is outside of the textbook.
"The fact that we, as a whole, need to come up with a way to help them," Jackey said. "It's a matter of people realizing and people noticing that people can change."
Danielle Hempel, criminal justice junior, said she felt the most impactful part of the event was when Thompkins said education is not a cure-all.
"We expect formerly incarcerated to get out and get an education, but even when they do that it's not guaranteed that it's going to actually help them in any way."
Jenna Bieker, criminal justice and psychology senior, said she agreed with Hempel that education and employment were the most important aspects of the presentation because those who have been in the prison system are often encouraged to get an education and then are not given the financial means to do so or a job when they finish their education.
Ortiz said re-entry needs to be studied and researched in order to gain a better understanding of what will work and what will them a second chance.