The Office of Disabilities Provides Students with a Helping Hand
It starts with not being able to focus; heavy breathing and hyperventilating. You feel like you weigh a thousand tonnes; like you're going to fall over and can never get up.
This is an anxiety/panic disorder.
According to an article by Justin Hunt, a researcher of psychiatry for the Division of Health Services, and Daniel Eisenberg, a researcher for the Department of Health Management and Policy, half of college students met the Diagnostic and Statistical Manual of Mental Disorders standard for at least one mental disorder between 2002 and 2003, with 18 percent for a personality disorder, 12 percent for an anxiety disorder and 11 percent for a mood disorder.
The Office of Disabilities at  IU Southeast provides services for students with mental and physical health issues and disorders.
One of these students is Katie Beacher, a biology and chemistry senior, said that every time she walks into the office, she always feels welcomed.
"There was a profound sense of ease and belonging when talking to Matt Springer in his office," Beacher said. "Being around someone that understood and was able to relate was beyond welcoming."
Beacher said the office helped with multiple issues. For example, she said she had some instances where she would have an anxiety attack or communication issues with a certain professor. She said every time an event like that occurred, she was treated with respect, no matter the issue.
Beacher also said that, before she even went to the disabilities office, she was nervous, because the school system she attended before affected her self-worth, which later on caused her to drop out.
"I was told I was too stupid to take an elective, Roman Mythology," Beacher said. "I went to JCC before coming to IU Southeast and I did not use my accommodations because I was afraid to be treated stupid again."
Beacher said she soon felt relief when she arrived at the IU Southeast Office of Disabilities.
"As soon as I told my story to Matt there was instant relief when he told me he understood and [told me] the journey he took through primary education," she said. "I never felt stupid or belittled while at the office or on campus."
Beacher said that she wrote an essay about her experience with the Office of Disabilities, saying that she felt helped in every way possible every time she walked into the office.
"When I won the Chancellor's medallion scholarship, I wrote an essay on difficult circumstances and how I overcame them," Beacher said. "I wrote about how IU Southeast strives to provide every means possible for their students to succeed."
Beacher said she wants any student struggling with any disability to know that they should use the Office of Disabilities as a resource.
" Matt has helped me so much with stress and how to handle situations," she said. "He gave me valid advice I still use today."
Another student that has been helped by Springer is Nicholas Moore, business senior, who said he will forever sing Springer's praises for the help he has given.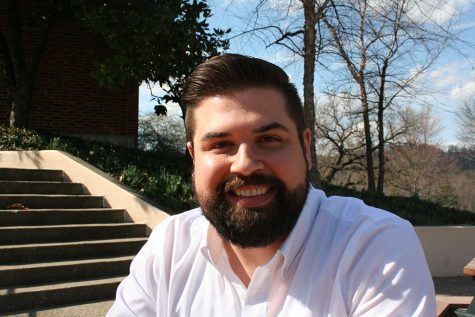 "Matt Springer is a dedicated, informed, talented student-advocate," Moore said. "He is passionate about his job, and is an incredible counselor that helps students move through adversity amidst the challenging goal of getting a degree."
Moore is someone who deals with ADHD and said if it wasn't for the Office of Disabilities, he wouldn't be as confident.
Moore wants it known that any student dealing with mental health issues should use their primary sources, such as the Personal Counseling Center and then after, use the services of the Office of Disabilities.
"Many talented, tuition-paying students are navigating their degrees, living with the struggles of chronic mental health issues," Moore said. "I mean chronic depression, anxiety disorders and mood disorders and more."
The Office of Disability Services is a place on campus where students can go to receive assistance with any matter a student may be struggling with due to their condition.
One of the goals that the office has is to assist any student by following through with the Rehabilitation Act of 1973, which prohibits discrimination on the basis of disability.
Matthew Springer, office of disabilities coordinator, said that he wants students to feel comfortable to come to the office with anything they need.
Springer's main goal for himself, however, is to ensure students that they will provided equal access to the office and for students to know that the office is not special education.
"The services offered are not remediation. Instead, ODS levels the playing field, so to speak," Springer said.
Springer gave an example of the service that would be provided to a student who is deaf.
"A deaf student who knows American Sign Language would be provided (at no charge to the student) an interpreter for his classes," he said.
Springer also said that he wants students to not only feel comfortable at the Office of Disabilities and ask for help, but for  them to feel comfortable when they graduate and enter the workforce.
"The more comfortable the student is asking for help, the better prepared the student will be for the workplace," Springer said. "The unemployment rate for students with disabilities with college degrees is much higher than that of their non-disabled peers."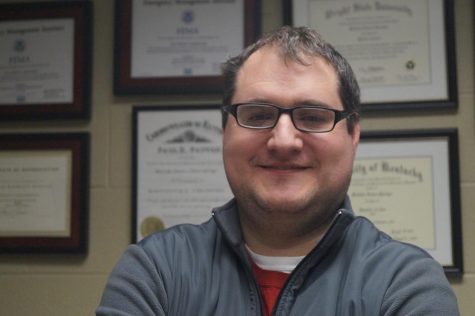 Springer said that he not only feels that tending to students needs is important to the office, but to himself as well, because he is a person with disabilities.
"I have been that student myself. I have dyslexia, dysgraphia and ADD, and I did not want to see the disability services office at my campus," Springer said.
Springer sympathizes with the students who have been labeled in other schools, he said, and he does not want that for the IU Southeast students.
"The new start came with a lot of F's at the end of the semester. I never had enough time to complete my exams, and what I did write, no one could read. When I did go to disability services I was nervous and ashamed," Springer said.
Springer said his experience with the coordinator that helped him while he was in college made him feel welcomed and at ease.
"The coordinator at my alma mater put me at ease very quickly by talking about what he knew of my home town, and then showing me his file cabinet full of students," Springer said.  "Not only did he make me feel welcomed, he showed me I was not alone in my struggles."
Springer said that he wants to do the same for students as the coordinator that helped him did for him. He said he tries to do this on a personal level while getting to know the students he helps and does not want any of the students to view him in any other way than a helping hand.
"I try to do the same in my office. I try to connect with the student personally and to break down any assumptions they may have had—that I am not 'the principal' or 'scary' or 'a shrink'," Springer said.
Springer also holds events to promote awareness while also dispelling stereotypes and stigma with groups like the Adult Student Center, the Common Experience Committee, advisers and the Student Veterans Organization.
If you are a student who deals with any disability, mental or physical, the Office of Disabilities is open Monday through Friday, 8 a.m. to 5 p.m.