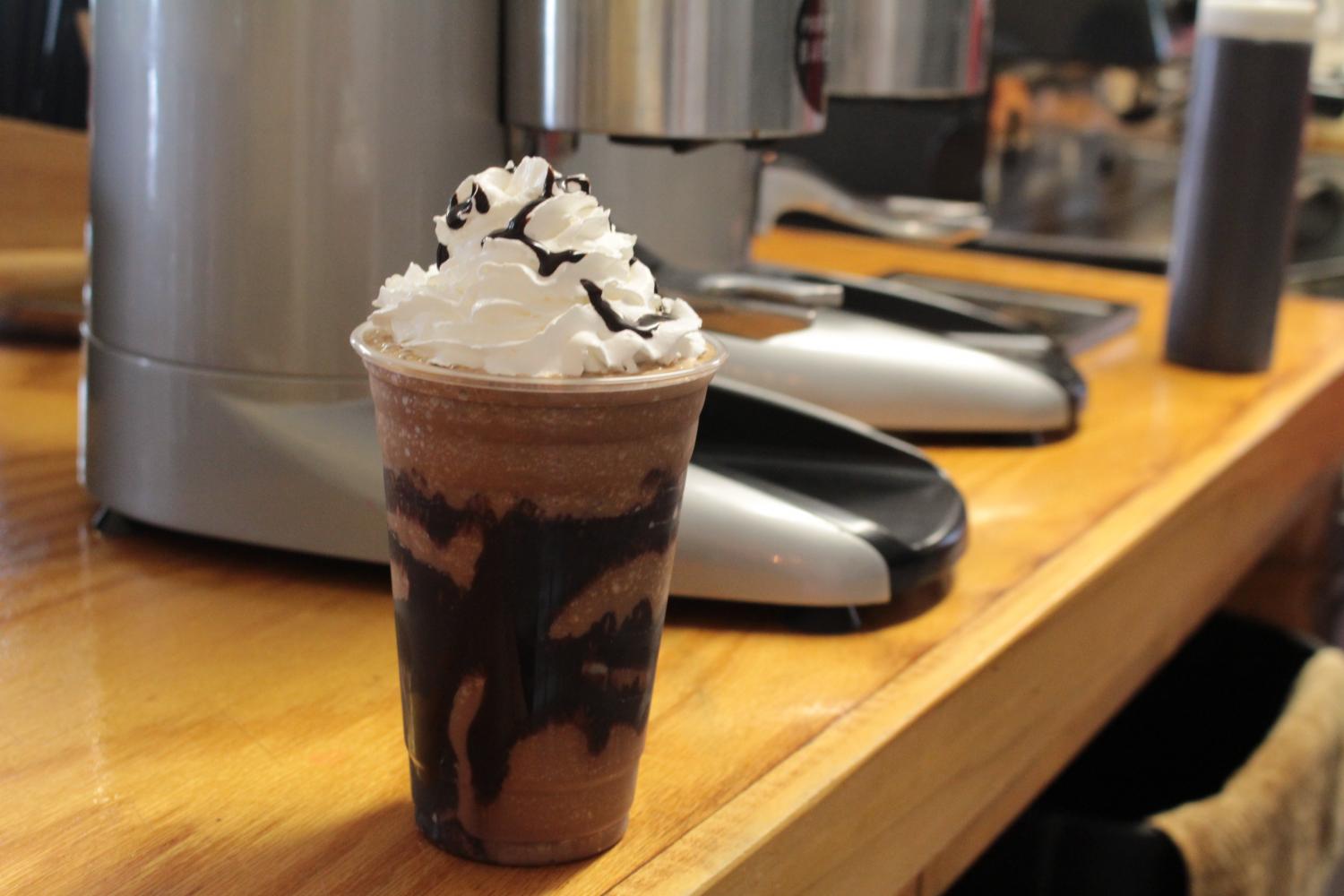 Now Trending: Coffee
Somewhere a young mother of two, a pair of managing twins, a roasting workaholic, a true blue New Albany native, and an eclectic, close-knit family and business owners share in the blend of ground espresso beans, vanilla extract, the flavor of the month, and just a pinch of success. They pour their Americanos, their mocha lattes, their special of the day,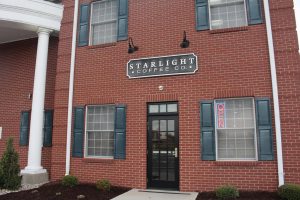 and for the Starlight customer and non-coffee drinker, the Girl Scout Samoa or thin mint blend.
These people all work within a network of local, homegrown coffee shops dropped within miles of each other in southern Indiana. A trendy source and powerhouse for the busy and the tired, these coffee shops each play a unique and comfortable part in the southern Indiana food scene, each assuming a role that becomes increasingly monumental in nearly every local worker's morning.
The first on this winding road to over caffeinated and aesthetically pleasing euphoria is Starlight Coffee Co. located right along New Albany's Grant Line Road since 2001. Paired with a First Harrison Bank, Starlight is a quaint little one-room coffee shop that tells the success story of a family farm in Starlight, IN and is told merely by the photographs that adorn the short walls. From the black-and-white sketch of the farmhouse where a rustic, small-town life coffee shop concept began and lives on to the Polaroid's of the regulars, Starlight doesn't have much to prove. They just are.
Starlight Coffee Co. is owned by Jim Book, avid family man, workaholic, solo coffee bean roaster, owner and inhabitant of the farmhouse from the sketch, and perhaps most importantly, coffee creator.
Hailing from the favor of his hometown, Book made his vision of what he calls the 'small life, big dream' business he'd always planned to start into a reality by nestling comfortably into the coffee space. Then, he kept going.
"I don't plan to stop this dream of mine anytime soon," Book said.
Currently, he owns two coffee shops in the southern Indiana area. Starlight Coffee Co. was actually second for Book after his first was located on New Albany's Charlestown Road where a Jimmy Johns now sta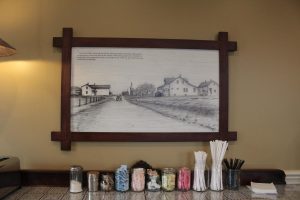 nds. Today, Book has Starlight and now Bean Street Coffee Co. located just off the interstate at the Floyds Knobs exit and holds plans for a third to open up just off Highway 62 in Jeffersonville, near the Amazon Fulfillment Center in the next year.
According to Book, the same atmosphere can be found in all the places he makes his own. "That's what I do this for. Coffee equals family to me and family equals comfort. I want my customers to know they're wanted just as much here as I did everywhere growing up in Starlight," Book said, taking a sip of his Americano, his personal favorite coffee since he began drinking it at twelve-years-old.
A hot commodity that Starlight Coffee Co. includes is a heavily used drive-through system.
"Most people tend to pull off Grant Line and up to the window to order," Dianna Wright, mother of two kindergarten and elementary students, said. "It's generally our regulars that come to the bank and then come in to sit at the bar and order black coffee and talk that actually spend more than five minutes in here. Which is totally cool, considering how small the place is."
Inviting in a multitude of coffee, Starlight Coffee Co. seeks to feature some of the most unique blends, specifically those Girl Scout cookies such as the Samoa blend that can be served hot or cold and the thin mint frozen drink.
"I actually spend majority of my time at my home in Starlight roasting the coffee beans," Book said. "I import the beans from Hawaii and then roast and collide them myself at my home and then bring them to the shops for consumption. I also roast for various other local coffee shops in the area. It's not just a hobby, you know?"
Book also uses his farm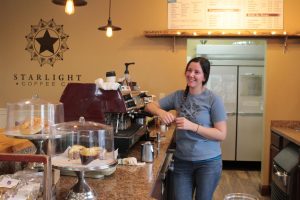 in Starlight to grow fruits and vegetables for the annual Farmer's Market held in downtown New Albany and Harvest Homecoming.
"My wife likes to make jams and other homemade concoctions for the farm events. We're just small town people and we like to keep trade within that place," Book said.
Just a few mile markers down off the interstate, another place Book prides himself on is Bean Street Coffee Co., a shop that's aesthetic is newspapers, internal wooden poles and paneling, ceramic coffee mugs, scented by homemade soy candles, and the crowded leather couches, seated by many smiling regulars.
Managed by a pair of scholarly twins, Kendra and Jordan Skaggs are two of nine employees, two others of which are students at IU Southeast. Since 2002, Bean Street has upheld a single promise to its employees and their customers: You will never go without a strong relationship with the manager and his team.
"I used to work at Starbucks and since coming here, I don't miss it," Kendra Skaggs, co-manager and IU Southeast graduate, said. "There's so much more interaction with your manager when you work for a locally owned business versus a corporately owned one. I know the regulars here by name and so does Jim. We know their families and they're so kind and heartwarming."
Recovering from a recent break-in that took place all along the shopping strip that Bean Street is attached to, the Skaggs sisters were shocked at how much support the community extended to them during the rebuilding.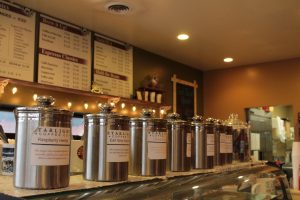 "They donated to Jim and they held fundraisers and raised awareness and talked to the police and we didn't even lose that much money aside from the damage when entering," Jordan Skaggs, co-manager and University of Louisville graduate, said. "It's just you have this opportunity to make these people's days when they come in for their coffee and somehow they end up making yours. I have already graduated college and got my degree but I can't leave here. That's how powerful the bond is."
Other than the infamous Americano, the mocha latte is their most requested drink. But it's not their most requested item.
"We sell tons of scones. Jim's wife makes them and people go crazy for them. We sold out this morning already. She just made a new cinnamon streusel one and brought in a bagful. They're gone," Kendra Skaggs said.
Approximately ten minutes, five miles south of Bean Street Coffee Co. lives a New Albany native and her family's own version of Jim Book's small town coffee dream.
What began as an idea for a bicycle shop quickly assumed a much different role. Too Tired Bike and Bean Coffee sits in a small yellow painted complex, nestled between a brewery called The Red Yeti and a barber shop called The Clipper and underneath a small loft apartment where part of the family lives, all family owned and by the same family, at that.
Located on Spring Street in downtown Jeffersonville, IN, Too Tired is home to an artistic and collector scene. Inviting artists to come and share their work to be hung on the wooden walls of the coffee shop and utilizing abandoned church pews as seats beneath hand built wooden tables for their patrons, Brandi Ronau, co-owner with her husband of Too Tired Bike and Bean, The Red Yeti, and The Clipper, holds big plans for her family's corner of Spring Street.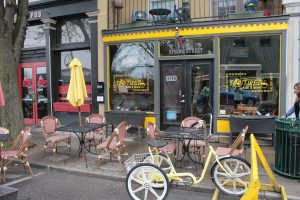 "We started it as a bike shop, but when those plans fell through, we switched it up. Now, I couldn't imagine this place being anything but a coffee shop," Brandi Ronau said. "We are still currently working on a grant to be able to have bicycles for rent to ride around Jeffersonville and visit other local stores. We should have that in the next couple months."
Meanwhile, Brandi Ronau's daughter and manager of Too Tired Bike and Bean, Elaine Ronau, is busy behind the counter, blending a caramel, vanilla, skim milk, espresso, and whipped cream together to create a caramel macchiato. The customer eagerly takes the drink from Ronau, takes a long sip, drops her change in the tip jar, and carries on. After cleaning up and making her favorite drink for herself, a raspberry white chocolate mocha, Elaine takes a seat in the red leather couch seat, opposite of her mother rooted in a yellow one.
"I'm excited for our summer special. It's a new feature we're trying called the Espressicle, an espresso Popsicle. We're also going to try a yogurt parfait Popsicle for people who don't like coffee," Elaine Ronau said, taking a long draw of her raspberry mocha. "I like it here. I mean I kind of have to. I live right upstairs and when I'm not blending coffee here, I'm serving next door. It's my life, a good one."
Too Tired Bike and Bean has prided itself for being a value centerpiece in the 'shop local' strategy within the community by providing it's own blends that they spend several hours combining beans to create in bags for sale, hospitality in a family-orientated place, and soon-to-be bicycle renting and maintenance or repair.  
"The whole point of our businesses is to provide an experience by combining two things you wouldn't think would go together. With The Red Yeti, it's meat and beer. With The Clipper, it's a haircut and basketball merch. Here, it is coffee and a bike," Brandi Ronau said.
Where Too Tired adopts their familiar coffee taste is inherently the most local thing about them. They buy their beans and roast from none other than Jim Book, Starlight and Bean Street Coffee Co. owner.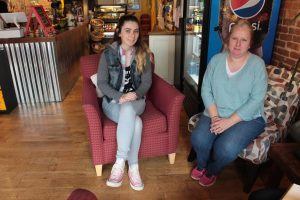 "We stay true to the local thing. We are a true blue business here and we want nothing but to stay successful and inadvertently keeping other local stores successful too with us," Brandi Ronau said.
Currently the Too Tired Bike and Bean employ three people, not including the owners. Elaine Ronau, manager, her boyfriend Daniel Shell, and Holly Windbyrne, a family friend are all baristas who spend their time combining different flavors and coffees to blend the perfect mixture for their regulars to try out.
"We are constantly learning from each other and I know a lot of what I do about coffee and what works together and what doesn't because of my job here. I love it," said Shell. "They're an awesome family to work for."
Wi-Fi, board games, a phone charging station, and soon-to-be bike rentals aren't the only thing Too Tired Bike and Bean Coffee brings to the local coffee table, but their hearts too.
"I think this area is a special place, it's important. My husband and I laid down our life and made our heart our businesses here. I love it because it's home and we're all in this together, the local business owners. We build each other and our dreams up and I think there's something very humanlike in that, the quality to provide and share and stay humbled," Brandi Ronau said, gazing out the yellow lined windows.
Amidst the sounds of keyboard clicks, phone rings, the shrill register printing a receipt, the clanks of coins being dropped in a glass tip jar, and clinks of China against wooden tables, a small town, local loving, multilayered dream lives on along the roads of southern Indiana. Where coffee becomes a place of strength, comfortability, and familiarity and people with the same dream and aspirations find their calm in a trend of coffee chaos.
Where you are either here or a business owner with some ground beans, a team, and a dream seek to meet you somewhere.