Eight Ways an IUS Police Officer Can Help
A police officer's duty is to take care of criminal offenses and keep the order. However, the police officers at IU Southeast have much more to offer beyond regular policing duties.
Help with your vehicle
Travis Huntley, IU Southeast police sergeant, said for $10, students can have their vehicles unlocked and for $5, a jumpstart.
Also, IUS Police Chief, Charles Edelen, said students can get assistance with changing a tire and other basic mechanical things. Edelen said they do not do any kind of major repairs, but are there to help students who are in a bind. This service is geared more towards commuting students, but those who have vehicles on campus are eligible as well.
Criminal offenses and theft
Huntley said the main duties of IUS police officers is the protection of life and property while on campus. They protect faculty, students, staff and their belongings. Edelen cautions students to never leave any of their belongings alone.
"You just can't leave that stuff out because it will walk off," Edelen said. "It may be there nine times out of ten, but it's that one time that it's missing."
He said the biggest criminal offense that IUS police officers investigate is theft because students often leave things unattended, and some people are prone to stealing when given an opportunity.
Dorm support
Edelen said the IUS police offer several different things for students who  live in the dorms. First, Edelen said they handle lock-outs from 11 p.m. to 7 a.m. He said typically the advisors in the dorms would take care of lockouts, but during after hours, it's the police.
Another service Edelen said they perform for students is talking to the residents about what to do and what not to do, soon after move-in time. Edelen said this helps students understand the expectations set for them in the dorms.
A third service for dorm-dwelling students is Food with 5-0. This, Edelen said, is a class where police officers teach students how to cook without setting off fire alarms and how to cook safely. Edelen said this is just one of many ways for students to get to know the officers.
Anything and everything about parking

Chief of Police Charles Edelen said students should obtain their parking permits as early as possible in order to avoid parking tickets. He said they can be obtained online or at the police station.
Huntley said students who are looking to purchase parking passes can either go online or purchase it at the police station. He said the first week of classes, they typically only give warnings, but after that they start ticketing. Edelen said the grace period is only one week and runs Monday through Friday.
"If you park there on Saturday, you could still get ticketed," Edelen said.
Edelen said students should know this does not give them free range of parking in the first week. In order to qualify for the grace period, students must be parked appropriately and within the Student Parking Permit zones.
You can reach them any time
If no officer is in the station, Huntley said students can use the phone on the left side of the door to call dispatch and an officer will be called to the station. Also, Huntley said there are fully sworn officers on campus 24/7. Usually, someone is in the station unless on a call. Huntley said if the situation is an emergency, always call 911.
"If you need anything, come by and talk to use, even if it seems trivial," Huntley said.
Edelen and Huntley both said if students ever have any questions for IUS police officers, or would like to get to know them, they can stop by anytime.
Classes from the officers
When it comes to learning self-defense and self-awareness techniques, Edelen said students can learn from the officers. He said a couple times a year, the IUS police department does a self-defense class. It usually runs for two hours and does not actually teach fighting techniques, but focuses on awareness, Edelen said.
Also, Edelen said he teaches an active shooter defense presentation to classes, campus organization and anyone else who may be interested. He typically does the class upon request and is open to taking requests.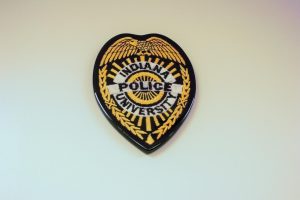 Becoming a cadet
Each year in January, Edelen said the announcement goes out that IUS police are looking for a new cadet. He said each year they choose one student applicant to become a cadet on the police department.
According to the IUS Police Department website, there is one student cadet position funded each year. On the website students can see the qualifications and requirements to apply for and become a cadet. What the job of a cadet is like and financial aid options for becoming a cadet are also found on the website.
Prescription Drug Drop Box

Charles Edelen, IU Southeast police chief, said the prescription drug drop box is a safe way to dispose of medicines and is open for use to anyone in the community.
A prescription drug drop box is located just inside the police station on campus. Edelen said anyone in the community is welcome to bring their old prescription drugs and place them inside the box for proper disposal.
"They don't have to repackage it or anything, just put it in a bag and it will be picked up once a week and destroyed," Edelen said.
Edelen and Huntley said IUS police officers are willing to help students at any time. The Police Station is located in University Center North, room 207. Their phone number is 812-941-2400. If the situation is an emergency, call 911.