7 tips for watching the eclipse on campus
Where on campus can I watch it?
The IU Southeast School of Natural Science and Campus Activities Board is hosting a Throwing Shade – Total Solar Eclipse 2017 watch party at McCullough Plaza.
What time will it be?
In New Albany, the partial solar eclipse will begin at 12:59 p.m. and end at 3:51 p.m., lasting for two hours and 53 minutes. NASA's interactive eclipse map shows the maximum view of the eclipse in New Albany at 2:27 p.m.
Where can I get glasses?
Students can receive free eclipse glasses and moon pies at the Natural Sciences tent set up under the clock tower. Many places around New Albany are also giving away eclipse glasses for free, including: Bornstein & Bornstein, P.S.C., Attorneys at Law, Shawnee Branch Library and Charlestown-Clark County Public Library (while supplies last).
Do I need eclipse glasses?
According to NASA, "The only safe way to look directly at the uneclipsed or partially eclipsed sun is through special-purpose solar filters, such as 'eclipse glasses' or hand-held solar viewers."
What will happen during the eclipse?
The temperature will drop 5-10 degrees and the sky will appear as if it's twilight. Students will see the stars come out and will likely see Mercury. Spectators can also expect to see colors of sunrise and sunset 360-degrees along the horizon.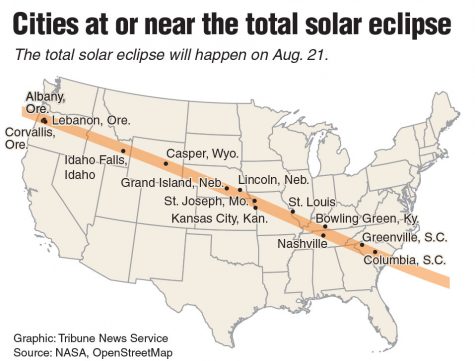 Will I get to see a total eclipse?
From IU Southeast's campus, students can observe a partial solar eclipse with a magnitude of .96 (A total eclipse has a magnitude of 1). A higher magnitude means the eclipse will last longer and the sun will be covered more by the moon.
Where is the closest place I can see a total solar eclipse?
One of the best places to be is Bowling Green in western Kentucky. In this town, there will be a total solar eclipse. This means that while the solar eclipse will last for two hours and 54 minutes, for 53 seconds the moon will be completely covering the sun with a magnitude of 1.