Quality For All
When you think about coffee what is the first thing that comes to mind? A frappe? A perfectly sweet latte topped with whipped cream? What about a piping hot Ethiopian blend that has been roasted just a few feet from where you are standing? For Quills, a locally based coffee house, that is exactly what they aim to offer to their customers.
Quills' story began where most customers' began too, with a love for coffee. Quills' innovative community spaces foster creation for the consumers and baristas.
Brothers and Quills Owners, Nathan and Gabe Quillo, said their vision for Quills started with a passion to create a space where the community of coffee lovers in Louisville could fuel their passion and find community with one another. A vision that started in the Louisville neighborhood of Butchertown in 2007.
Since then, Quills has expanded to five shops over Louisville and Indiana in the past 10 years, bringing both quality and community to everyone who comes through their door.
With a location on both sides of the river, Quills is a go-to for IUS students, on and off campus, who need that extra kick to get their day started or need to cram for exams. The New Albany Quills, located just off Market Street downtown, is best known for its rustic feel and cozy, almost-at-home atmosphere.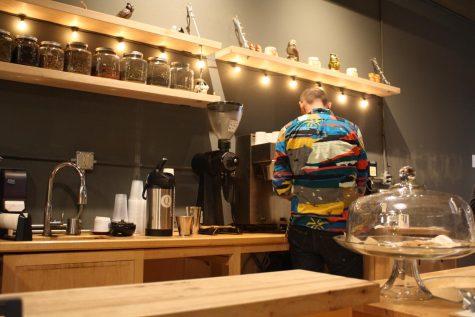 Bryan Dominik, Quills New Albany manager, said that though the shop can get busy and can sometimes be stressful, his favorite thing about working at Quills is that most days it hardly feels like a job. Dominik said a lot of regulars come in often enough that he can memorize their orders, which makes the process even faster.
"You can leave a shift and feel like you weren't even working," Dominik said. "It's like hanging out with friends."
Quills' newest location in NuLu, a popular area in Louisville, was opened inside a renovated firehouse on Main St, which is 123 years old. The new location opened this past May, and with it came Quills' offices and their roastery, which was formerly in New Albany. The roastery, located in a back building in a courtyard, is a simple layout, with a training room for Quills purveyors and a roasting room with a large window that allows customers to peek in and see the process.
"We wanted to make it so that if you're in the courtyard on roasting days you can come in and look in the window," Nathan Quillo said, adding that the building could also host small events in the future.

The NuLu location also released a small menu with its opening, featuring some signature dishes such as mochi waffles, steamed yeast buns, weekly rotating sandwich options and, most recently, a selection of craft beers and natural wines. Updates on Quills and a full menu can be found on the Quills website and blog.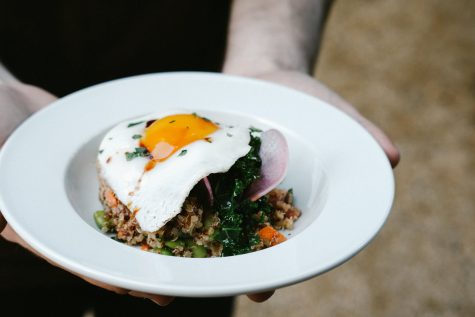 Jimmy Mai, longtime Quills barista and now, head chef at the firehouse location, said the idea of introducing a menu was something he always wanted to do. He was excited to take on the challenge when rumors flew about a food menu months before its opening.
"I used to make food at home and bring it into work and let everyone try it. Cooking has always been a passion of mine and it's great to bring that here," Mai said about his change to a chef at the firehouse location.
Mai also said that though he is now a chef and his focuses are primarily on producing a menu with fresh and enjoyable ingredients, he still has a love for coffee and loves to have the opportunity to pair the two.
Business is booming at both locations and the transitions have settled for new and changing staff but it wasn't always so easy staff said. Dominik said the hardest part of the NuLU opening was all the change it brought to the New Albany store and trying to adjust.
"We essentially brought on a whole new staff because everyone was moving to the firehouse, so we had to train multiple people at a time," Dominik said. "We lost the roastery, it was a weird transition."
Dominik said despite the relocation of employees, he is pleased with the success of the New Albany store and loves how quickly the new staff adjusted.
Hattie Peyron, a barista in Quills New Albany, came onto Quills' staff amidst the chaos of the transition to the firehouse and said the change was difficult, but also exhilarating.
Peyron said the hardest part for her was knowing Quills New Albany's regulars would have to adjust to the new staff and worrying if she'd live up to the past baristas skills.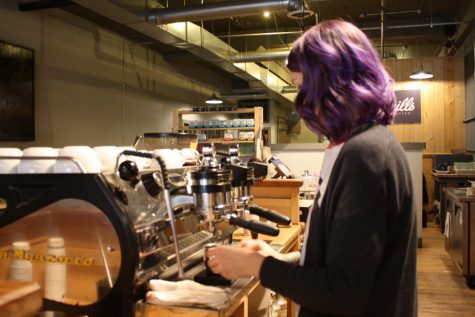 Cimara Dunn, Director of Education at Quills, says it's the care and thought that really separates Quills from other coffee shops in the area. Every barista goes through a strict educational training course to ensure they are trained to dial in espresso to the perfect time of 30 seconds,  able to froth milk to the correct temperatures, and provide assistance in selection of their numerous coffee options.
"Everything we sell here we roast here, from the coffee of the day to the espresso we use for lattes. It's important our baristas know where they come from and their specific flavors," said Dunn.
Dunn also noted that every barista goes through this training for several months before they are allowed to make espresso based drinks on bar. The length of the training is dependent on how quickly a barista picks it up.
 "It seems difficult, and it is. We try not to pressure them [the baristas] to move too quickly. They need to be comfortable," said Dunn.