IUS mourns the loss of a fellow Grenadier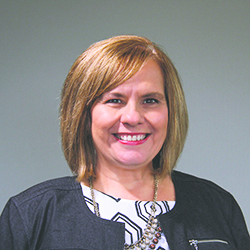 Last weekend the IU Southeast community lost a Grenadier. On Nov. 5, JoEllen McCollough, composition consultant for the Writing Center and English professor passed away due to a brain bleed. JoEllen McCollough's funeral will be held Saturday, Nov. 11 at Evangel World Prayer Center in Louisville at 11 a.m. Friends and family were allowed an early visitation Nov. 10.
McCollough was an alum of IU Southeast with both a bachelor's degree in English and a masters degree in liberal studies. She was close friends with the Director of the Writing Center, Leigh Ann Meyer, who described McCollough in one word, "genuine."
"She was my best friend and coworker," Meyer said.
McCollough worked in the Writing Center for over two years and has made an impression on the many students who work in the Writing Center. The student workers referred to her as "Cool Mom JoJo McCoCo" said Allison Cloud, an economics and business marketing senior and a worker at the Writing Center.
Cloud and other student workers repeatedly said, "No matter if it was work-related or not, she would listen to your problems and try to help you feel better."
The student workers also said that McCollough had many "funny old country sayings," one of which they have displayed on the whiteboard outside of the Writing Center's door.
She graduated and achieved her master's from IU Southeast before spending time working at Ivy Tech as a teacher's assistant in the English department. After her time at Ivy Tech, she came back to IU Southeast to teach and eventually earned her position in the Writing Center. Director of Graduate Interdisciplinary Studies programs Deborah Finkle said she helped to guide McCollough while she worked on her master's.
"She was a strong student and I use her as an example of what the MIS programs can do," Finkle said.
Finkle also said when McCollugh started working in the writing center, she was able to achieve her dream job of working with college-level adults to improve their writing skills.
JoEllen McCollough was 57 when she died. She leaves behind four daughters, seven grandchildren and her husband of 36 years. At her funeral, visitors were encouraged to bring donations to the Ronald McDonald House charities instead of bringing flowers.