My quest to go on a date for less than $30
Temperatures are dropping and it's past due that we find someone to keep us warm on these cold fall nights. That's right, cuffing season is here folks. Yeah, for real — in fact, you can forget cuffs ever existed when scrutinizing this phrase. As experts tell us, it's nothing new at all, but rather a new terminology to describe something we've been doing for years.
Relationship expert, psychologist and CEO of the matchmaking service, Lasting Connections, Sameera Sullivan, offers her expertise, "Cuffing season is that period of time between fall and the dead of winter when people start looking for someone they can spend those long, frigid months with," says Sullivan.
With the season calling and incoming finals stalling our college minds, it can be difficult to keep the right budget in mind for a potential love interest leaving plenty of us scrambling for a date idea that won't break the bank.
So, if you are looking for something fun to do with that special someone while not being out a month's worth of rent; I have got just the suggestions for you. In fact, I set out on a mission to test the waters and see if I myself could have a fun — and cheap — date day while keeping it budget friendly.
I gave myself the budget of $30, figuring this was good date price for a full day's worth of plans and not wanting to set myself up for failure off the bat.
With my boyfriend and I as the test dummies and $30 in my pocket, I set out for my day. We had planned a lunch, pumpkin picking session and evening coffee to wrap up the day. All with keeping in mind we wanted locality and budget to be the forefront of
our choices.
Simple Pleasures
I'm a firm believer that you can never really go wrong with food for a date so we went with what we knew best and decided on a classic staple — tacos.
We chose a place we hold near and dear as well as a New Albany gem, La Tiendita. Located just west of Market in downtown, La Tiendita offers countless exquisite food options at a cheap price.
We ordered two tacos each with all the fixings: Sour cream, salsa, onion, cheese and cilantro as well as two beverages. Myself, a bottled Mexican coke and him, a water. Total? $12.82.
I knew La Tiendita wouldn't let us down in terms of quality, but for two people you can't beat a $13 meal. We sat, enjoyed our food and set off for the next part of our mission. Pumpkin Picking.
Total Left: $17.18
Oh My Gourd
I hadn't been to a pumpkin patch since I was around 8-years-old, so I wasn't sure what to expect in terms of experience. My love of candy apples and cider died long ago in my adolescence when I realized nothing lives up to a child's palate. However, my boyfriend still ranted and raved about Huber's, a local farm and winery rooted in Borden, only a 20 minute drive from our homes. With a 50-cent-per-pound rate and at least the visuals of my past loves, candy apples and cider, I was in.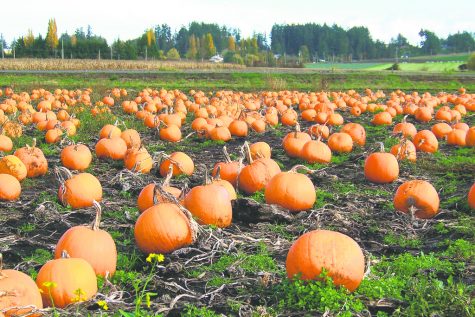 After trailing the premises for a mere 10 minutes, I had spotted my pumpkin. The one. It was big, round and was going to serve perfectly in my currently empty apartment. I knew I couldn't pass this pumpkin up, no matter the cost.
I was ready to splurge in the name of perfection. But, in the name of the budget, we decided one pumpkin was the way to go. So, I waddled right up to the check-out, massive pumpkin in hand and made the leap. The 30 lbs pumpkin came out to a whopping total of $15.38, a bit over mark but I had no regrets at this point. I knew the bed I had made
for myself.
Total Left: $1.80 
Warming Up
With only a little over $1 left, I was feeling helpless and like a failure in staying within the budget.
However, I am no quitter and stuck to the original plan we had set out. So alas, we set out for coffee at Kolkin, a New Albany cafe located right off Charlestown Road.
At this point, it was silly to remain within the frames of the $30 seeing as we were already going to be over so we ordered as we normally do. A latte and a cappuccino. Totaling to $7.84, putting us in the negatives. I had failed the test. My latte tasted faintly of disappointment but gave me what I needed to pump back up the ending of our date. I was sad to have not followed the guidelines but happy the experiment was over.
Total Left: -$6.04
All in all, the experiment was fun and I think made a good theme for a date. I was able to budget myself in a way I hadn't before and plan out fun, cheap things to do that were still fun and date friendly.
Can a $30 date be done? I surely think so. My only recommendation: Maybe don't be impulsive and buy a 30lbs pumpkin? The choice is yours.
The idea of not spending money for a date can seem like a bummer but it actually proved to be a fun thing for me and my boyfriend to try to do, considering that we are both starving college students. Who knows, maybe set out to test your own version of this experiment. Show me up. Can you do it with just $30?