Wiley Brown: A Coach with Credibility
It would be hard to find anyone on the IU Southeast campus that could match the accolades of Wiley Brown.
The head coach of the men's basketball team played two seasons in the NFL, played on the national championship basketball team in 1980 at the University of Louisville, where he also served 15 years on staff under two hall-of-fame coaches, and even invented the high-five.
Brown said that playing at the highest collegiate level has helped him coach student-athletes at IU Southeast, both on and off the court.
"You can always tell these young men about the experiences you went through as a student-athlete," Brown said. "Some of them don't believe me, and all I say is 'Google me.' The key then is whether they listen and bring it in or not."
Joe Glover, IU Southeast athletic director, believes Brown's experiences at the University of Louisville has helped the players.
"I think one of the reasons he's such a successful player's coach is because he's done it," Glover said. "He's been there at the highest level and knows exactly what they're going through as student-athletes."
Playing and coaching under two hall-of-fame coaches at the University of Louisville also helped Brown develop as a coach.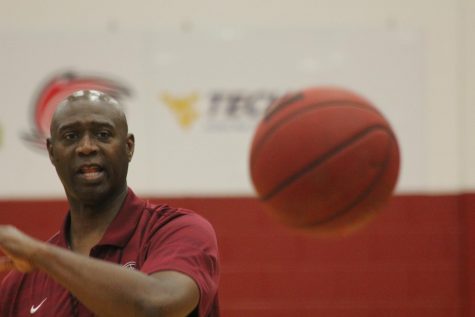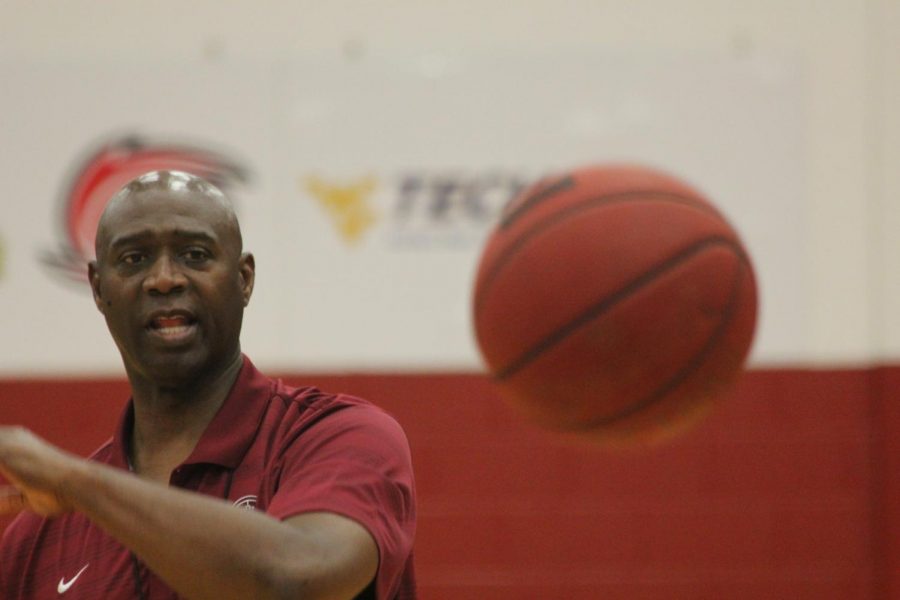 "I was under Coach [Rick] Pitino for a couple years and I played for Coach [Denny] Crum," Brown said. "Those are two guys who are always people I can count on."
If someone were to see Brown on the court, they may see the intensity and passion he coaches with every time out. Off the court, they might think he was a different person.
"I've never had a coach that can switch so quickly between very intense in practice and in games, to one of the nicest guys you'd ever meet off the court," Glover said. "His on-and-off switch is really interesting to see."
Brown swears his intensity stays on the court. Off it, he likes to keep it loose and laid back and enjoys the occasional practical jokes on his players and assistant coaches.
"I'm a people person," he said. "I love being around my players and meeting new people. I'm intense on the court because I'm so passionate about the game."
At all levels of collegiate athletics, players getting their degrees is the most important thing and it is emphasized even more at the lower levels.
Brown knew that was his goal the moment he accepted his scholarship offer.
"The most important thing for me coming out of high school was getting a degree from the University of Louisville," he said. "I tell these guys, 'you might win championships, but getting your degree is higher on the list than any game or championship you win.'"
Brown's passion for his players to succeed in the classroom as well as off the court is apparent to Glover and the players.
"The thing that I believe sets him apart is he truly looks at all those players like they're his sons," Glover said. "He goes to bat for them and it's really not just about basketball, it's more about life and making sure these young men succeed and get their degree."
Brown swears by maybe the most impressive of all his accolades — the invention of the high-five.
He still hears arguments whether he actually invented it or not. His rebuttal is to check the footage.
It began during the national championship run at the University of Louisville in 1980.
"A good friend of mine, Derek Smith, who has now passed, got tired of going down for low-fives since we were 6-foot-7, 6-foot-8," Brown said. "So one time he decided to go up top and it started right there in Crawford Gym where we practiced. I still love seeing the kids doing it today."
Brown and the Grenadiers are currently preparing for their season and will open on the road at Harris-Stowe State University on Saturday, Oct. 28.