Harvest Homecoming volunteers continue community tradition
As the Harvest Homecoming Festival approaches, dedicated volunteers work tirelessly to bring New Albany one of its most cherished traditions.
Every October, roughly half a million people, both locals and visitors, gather at the Harvest Homecoming Festival in New Albany, Indiana. The event has been a key part of local tradition for 51 years and continues to attract a diverse and eager crowd.
At the center of it all is a small, colorfully painted office on Pearl Street. It's a busy office, yet it has no employees.
Every member of Harvest Homecoming is a volunteer.
"It's such a great group of volunteers, truly. When I say that we're all a family, we really are," Allyson Glass said. "A lot of the people in this room were just at my wedding."
Glass is one of Harvest Homecoming's 15 vice presidents. She has been involved in the festival since she graduated high school in 2007.
"I do it for the fun. I like being able to give back to the community in a fun and creative way," Glass said.
Office manager and vice president Polly Niemeier has been volunteering for the festival since 1968. "It wasn't anything like it is right now," said Niemeier. "My husband was president – his budget was a few thousand dollars, as compared to right now we have an abundance of money, let's say. There were only a few events then, but now we have about 50."
Neimeier says she is proud of all Harvest Homecoming does to cater to all members of the community.
"We have something for everybody," she said. "We have a baby crawl for little babies who don't know how to walk yet, and we have events at nursing homes. We play bingo and give out prizes and stuff there. So we try to have an event for everybody."
"
Harvest Homecoming is bigger than any of us."
— David White, Harvest Homecoming Festival Board chairman
In September of 2018, the festival awarded $11,250 in scholarships to local high school students.
"We're especially proud of the money we give back through the scholarships," Niemeier said.
Even though the Harvest Homecoming Festival is steeped in tradition, its volunteers try to be open-minded and prepared for any changes they may need to make.
"Harvest Homecoming has always been open-minded," said Harvest Homecoming Festival Board chairman David White. "We are a festival, but we also have a substantial operating budget, so we're like a small business in the downtown area."
Harvest Homecoming has made significant efforts recently to better serve its attendees. VisitIndiana.com, the official travel planning website of the Indiana Office of Tourism Development, awarded Harvest Homecoming the Best Indiana Fall Festival award in 2017.
"We've made a lot of process improvements to make us more efficient and effective in what we do," White said. "We've become a better listener as a festival. We're better listeners to our vendors, we're better listeners to the inner-city community of businesses, and we're better listeners within our organization. We're open-minded to embracing the necessary changes to help ensure that there's another 50 years [of Harvest Homecoming]."
The festival is an opportunity many attendees use to meet with friends and family members and make new connections within the community.
"I think that we really do a great job of creating an opportunity for citizens to come together," said vice president Courtney Lewis.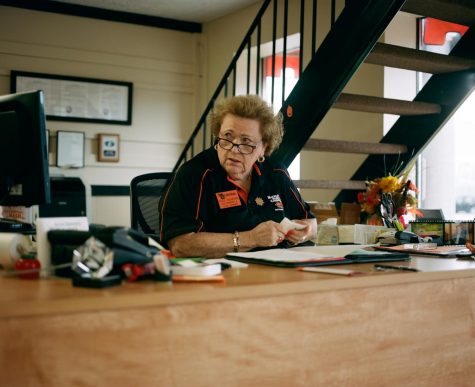 Lewis, who oversees the opening and closing ceremonies and the children's dog show, is volunteering for her 11th year at the festival. Her fellow volunteers, she says, are why she loves the work so much.
"The people I volunteer with have really created a bond with each other and we really enjoy doing it," Lewis said. "I grew up in New Albany, so I love Harvest Homecoming. Being able to contribute to it is pretty cool."
Vice president Rosie Bryant says the festival is an inexpensive way for all families to spend time together. "We want people from all economic backgrounds to participate," said Bryant. "We want to give everyone an equal opportunity to attend without breaking the bank."
Bryant, whose family has been involved in the festival since 1970, heads all the festival's sponsorship efforts. "Without sponsorship we wouldn't have a festival," she said.
One of Harvest Homecoming's funding sources is the themed festival pins sold every year. Pins cost $5 each. Most pins are silver, but a lucky few will find gold-colored pins, which allow the attendee to enter into a drawing for special prizes. The grand prize this year is a seven-day cruise for two to one of four locations, courtesy of Bliss Travel.
To encourage attendees to wear their pins, "pin spotters" will be spontaneously awarding random attendees wearing their Harvest Homecoming pins special prizes.
During the week of festivities, Harvest Homecoming volunteers will be hard at work ensuring everything goes according to plan.
"I feel like I can finally take a breath when I send the police car down the parade route for the first time," Glass said. "I'm still stressed until I say 'okay, let's start it.' But it's a fun stress to have."
Glass says volunteering for Harvest Homecoming is a passion. "Or maybe an obsession," she said.
Students interested in volunteering for the festival can find out how on the Harvest Homecoming website. "We're always accepting volunteers," said Glass.
David White says volunteering is at the very core of what Harvest Homecoming should be.
"The whole is far greater than the sum of any parts," said White. "Harvest Homecoming is bigger than any of us. It's something you choose to do because of your heart. How much more authentic can you get than that?"
All Harvest Homecoming events are weather-dependent. Attendees are encouraged to check the weather before coming.
"We have to have good weather. I do remember one year it snowed, and that was very, very interesting," said Niemeier. "It was very cold. And boy, hot chocolate and coffee sold well that year. We just pray for good weather."
The Harvest Homecoming parade will be Saturday Oct. 6, and the festival's booth days will be Oct. 11-14.
More information can be found at www.harvesthomecoming.com.