You may now study with your bride
An inside look at sharing a classroom with your spouse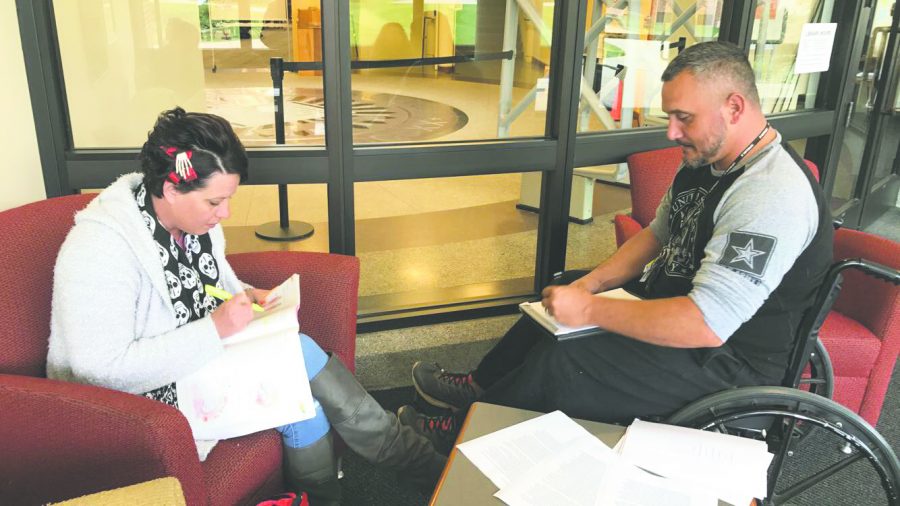 Bryan and Stephanie Henderson begin their school day waking up together and end it over a meal at the dinner table in their home. The couple never imagined at the altar that they would begin the new school year ready to tackle their undergraduate degrees – together. 
Although this is not Stephanie's first year at IU Southeast, it is her first experience sharing a classroom with her significant other. Bryan and Stephanie said their fall semester has been exciting and a learning experience all in one.
Sharing the classroom
Bryan, a psychology senior, and Stephanie's, a neuroscience junior, are beginning their first semester together at IU Southeast, and they already have one class together —Political Freedom, a 300-level honors course taught by Political Science Professor Margot Morgan.
Stephanie is not only Bryan's wife but also his caregiver through the Veterans Affairs Caregiver Program. Bryan suffers from Post Traumatic Stress Disorder and Traumatic Brain Injury and uses a wheelchair.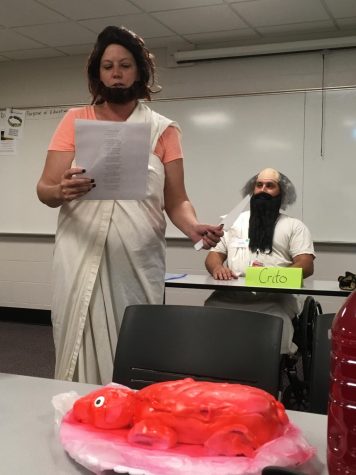 "I feel the explanation gives a better understanding to professors and other students who may question my interaction with Bryan," Stephanie said. "Why I hold his hand, push his wheelchair around campus, answer questions for him when he is struggling to find a specific word and so on."
Bryan said Stephanie helps him with his anxiety and hearing and memory issues during their shared class.
"She provides the assistance I need in hearing and recalling information, as well as aids in calming me when my anxiety spikes, which proves to be very helpful since this is my first time in a brick and mortar school in over twenty years," Bryan said.
Bryan said he has received positive feedback when revealing his marriage to his fellow students and professors. 
"I think most people think 'that is awesome' and some people don't seem to mind," Bryan said. "[Professors] make forth the effort to accommodate our situation."
Although Bryan and Stephanie share a class, it is not necessarily a "normal" course. Political Freedom with Morgan is a "Reacting to the Past" course, where students actively participate in educational role playing games set in the past. This half of the semester is set in Athens 403 B.C. and concerns the "Threshold of Democracy."
As the game has four different factions a student can be on, Bryan and Stephanie requested to be "pitted against each other" in the game. Their opposing teams have made it harder to work together on assignments.
"I cannot share ideas or thoughts about my role in the class for this assignment which makes it difficult because I always want to share my ideas with her," Bryan said.
Life at Home
After a normal day on campus, Bryan and Stephanie get to continue their studies at home.
Bryan and Stephanie agreed they try to both study together as much as they can.
"For our Honors class we study and work on our assignments together to better understand the material since we come at it from two different angles, which gives us a broader, fuller understanding," he said.
Both Bryan and Stephanie are members of the IUS Honors Program and plan on presenting their psychological and neurological research on PTSD and TBI at the Mid-East Honors Association next spring. Bryan and Stephanie are the first married couple in history of the Honors Program at IU Southeast as reported by Rebekah Dement Farmer, Honors Program activities coordinator an adjunct instructor.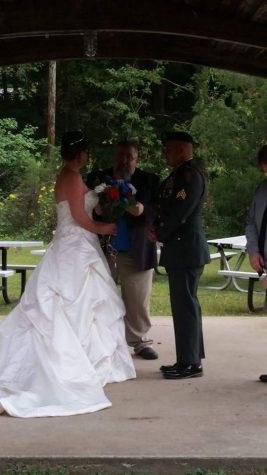 Once the couple finishes their bachelor degrees at IU Southeast, they plan on enrolling in grad school, where both Bryan and Stephanie plan to obtain a Ph.D. Bryan's story has encouraged Bryan and Stephanie to try and make a change in society.
"We plan to implement a nationwide program to transition combat veterans into civilian life," Stephanie said. "Our primary goal is to help remove the stigma of seeking mental health help, not just for veterans, but for anyone suffering from mental health concerns."
Bryan views the shared class as a way to bond and strengthen his relationship with Stephanie.
"I like seeing her in action in school posing questions and driving discussion. I honestly couldn't be any more happier or luckier to share a class with her," Bryan said.
Because of Bryan's PTSD and TBI, he wasn't sure if he wanted to attend a traditional college like IU Southeast. Bryan has already obtained a bachelor's degree in Cyber Security, and all of his classes were online before attending IU Southeast this semester with Stephanie.
"He could learn and study from the comfort of our home; now he goes to class with other students," Stephanie said. "He could have chosen any campus, but I'm glad he chose IUS so we can continue our journey together."
Bryan said he is grateful for his wife, saying she is not only his favorite study partner but his "rock" in life.
"She is my voice of reason and guides me in ways I really cannot describe in words," Bryan said.