Senior Artists Share the Concepts Behind their Work
Meet the senior BFA students who will be featured in the "Spectrum of Illumination" show
Senior Bachelor of Fine Arts students at IU Southeast will present their artwork at a show called "Spectrum of Illumination." The show is designed to let BFA students illuminate their diverse perspectives of human experience and everyday observation. From Nov. 10 to Nov. 27, the exhibition will display at Prophecy Ink Studio & Fine Art Gallery in Louisville, KY.
Leia Roberts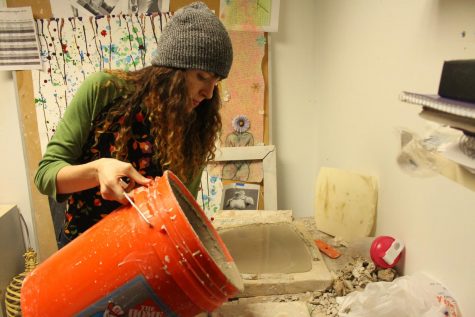 Leia Roberts is a BFA senior with a concentration in ceramics. In addition to "Spectrum of Illumination," she is currently developing work for the thesis exhibition in the spring semester, which allows senior BFA students to develop a body of work around a specific concept.
"My work is dealing with eating disorders, especially from personal experience," Roberts said. I'm working with the figure. I'm working with chains. I'm dealing with being chained to it. You can recover but you're always going to have this thought process in your head because it's an illness."
Roberts' favorite part of her experience with the Fine Arts department has been working with her fellow students.
"We all help each other, and then there are critiques; they're always dreaded but I feel like we get good feedback from it. I really like having my own studio and being able to work in privacy but then there's also the community."
Adara Fox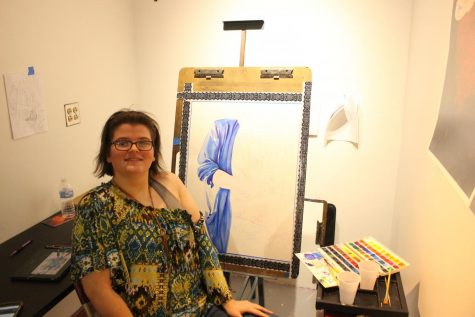 Adara Fox, whose work will be featured in "Spectrum of Illumination," said that the Fine Arts staff has been supportive of her during her time in the Fine Arts program.
"I especially love how they push you to try new things, from oil painting to printmaking," Fox said. "The staff is great and supportive too."
Fox, whose concentration is in drawing, has not yet decided on the specifics of her senior thesis. However, the BFA senior does have an idea of what she wants to work on for the spring exhibition.
"… I'm thinking personal, accepting myself from using my insides as something beautiful rather looking only on the outside," Fox said.
Ashley Hunt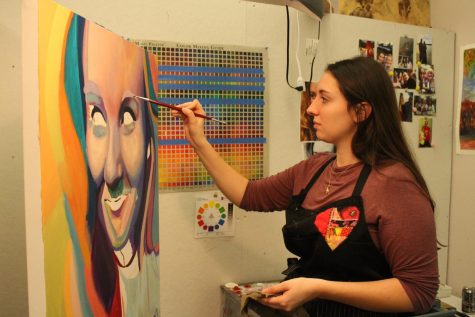 Ashley Hunt, a BFA senior with a painting concentration, is also working out the details of her senior thesis.
"It's not in full development yet but I know that there will be mainly people that I know and love that I paint portraits of, and I use a wide variety of color so most of my pieces are going to be very colorful. I like the way it pushes and pulls, and I kind of manipulate color in a way that will create a form so it's not just in your face," Hunt said.
"I would definitely say that it took me a long time to have to get into the painting class because of all the foundations classes, but I was ready. I wanted to do it. Painting has been my favorite, although the other concentrations are nice. It's been nice to explore how they can be used in painting and you learn more, but we have great professors in the program; Deb Clem, Emily Sheehan, they're great people. They work really well with you, and you learn a lot.
Hunt said she has enjoyed honing her painting skills with professors like Debra Clem and Emily Sheehan during her time at IU Southeast.
"When you get to the BFA program, you're kind of given this freedom to just paint whatever you want instead of assignments. They really help you figure out what you want to do. The students in the program are also really good people to be with and talk to, and it's interesting to see their work," Hunt said.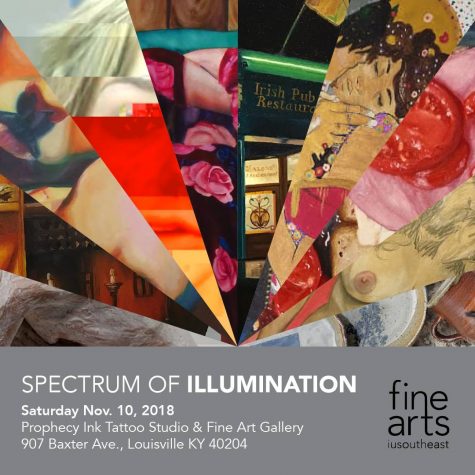 "Spectrum of Illumination" will be on display through Nov. 27. Other BFA seniors featured in the show are Charlyn Corum, Jodie Furbee, Carly Jarboe, Shelby Kaiser, Jessie Martin, Katherine McCadden and Nicole Navarra.