Horizon Radio: one year later
The evolution of IU Southeast's student-led radio station
Horizon Radio is IU Southeast's first and only student-led radio station, launched on Jan. 1, 2018 by IUS Associate Professor of Media and Journalism Adam Maksl. Since the founding of the station, its content has expanded and improved through the addition of new shows, more music, and increased student involvement.
Originally an expansion idea for Horizon Media, the concept of Horizon Radio was thought up by Maksl in early 2017. Maksl researched a vast amount of information regarding launching an online radio station before approaching Chancellor Wallace.
After pitching the idea and getting the Chancellor on board, Horizon Radio began construction in the fall of 2017.
Helping Hands
Assisting him with launching the station were graduate students Jennifer McNelly and Jose Aponte. McNelly and Aponte would help set up the station and manage it as part of their graduate program. During winter break of 2017, Aponte, Mcnelly and Maksl spent most of their time preparing the station for its launch.
The space Horizon Radio currently occupies on campus was formerly occupied by the IU Credit Union. There was a sizeable amount of leftover furniture to move around and renovations to be made before the station would be ready for launch.
In spring of 2018, Maksl implemented Horizon Radio into his Audio Storytelling (JOUR-J360) course, letting his students become the DJs, show runners and founders of the station.
Among the first students was senior and communications major Matt McClellan who eventually became the first undergraduate station manager along with co-managers Aponte and McNelly.
McClellan first found out about Horizon Radio when he saw a poster ad for it in the window of what would become the future station.
"I immediately ran into the coffee shop, signed up and was like, hey I really wanna do this," McClellan said. "After that I met with Dr. Maksl and signed up for audio storytelling, and the rest is history."
Growth On All Fronts
Horizon Radio has experienced significant growth in multiple areas in the year since its founding. The amount and variety of shows and music are constantly increasing and it is currently the only college radio station in the area to feature a Latin music show.
According to Maksl, Horizon Media has had over 50 students become a part of the radio station in the forms of content creators, producers, managers, or DJs. Students are also given the opportunity to contribute their own music to the station to increase the library and give listeners more variety.
Aponte has contributed greatly to the music library. A fan of Latin music himself, he knew the station would benefit by adding more to the library.
"When we got the library there was only one song in Spanish. Now through the efforts of myself and my co-host, Jennifer Ortiz, there are nearly 500 [Spanish] songs," Aponte said.
Horizon Radio began with a library of around 17,000 songs and through the efforts of show hosts and the station's management team, it currently sits around 25,700 songs.
That's over a 50 percent increase in music content within the first year. Sorting through all those songs was no easy task.
The management of Horizon Radio prefer to keep the music clean and abide by FCC-style guidelines, even though the station is not technically obligated to do so. This is due to the station being internet based. It also teaches students how to follow FCC regulations that most radio stations have to follow.
In order to abide by these rules, all music added to the library has to be listened to prior to being aired in order to ensure it contains little to no explicit content. While there have been a few incidents of inappropriate language being used on air, they are few and far between.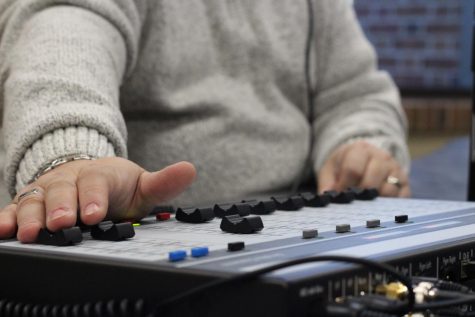 The station has not experienced many issues other than this since launch, but there has been the occasional hiccup.
"There were a couple of times that the entire station was accidentally shut down because the master power switch was right at knee level when a person was sitting at the board," Aponte said.
Horizon Radio streams 24 hours a day, seven days a week — those interested can tune in at iushorizonradio.com. Amazon and Google smart devices can also play Horizon Radio by saying, "Hey Alexa/Google, play Horizon Radio."