Hot Chicken Arrives in New Albany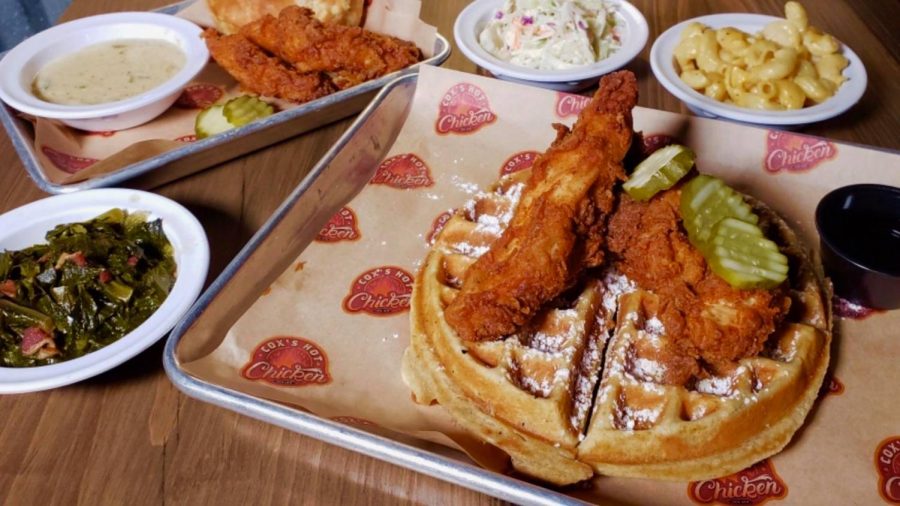 Cox's Hot Chicken found its home on Main Street in New Albany a little over two months ago and is the first of its type in southern Indiana. Andrew Cox, founder and owner of the restaurant, saw his hometown of  New Albany as a marketable place to sell the popular hot chicken and southern-style sides.
"I saw growth in downtown and saw a niche. People are tired of having to drive over to Louisville to get their hot chicken," Cox said.
Many locals said they agree and are glad to see that hot chicken has made its way to the other side of the river.
"I really like hot chicken and I wish there were more places around that had that because most places are kinda far," Brittany Wilson, sophomore special education major at IU Southeast, said.
Cox said he saw the hot chicken trend grow when he lived in Nashville for a year and a half and said he wanted to try his own take on the recipe. His recipe of hot chicken has its own "flair and sweetness" according to Cox.
Restaurant Beginnings
Cox found his role in the restaurant world as a dishwasher at South Side Inn in New Albany, the same building where Cox's Hot Chicken is now located. Moving up the restaurant ladder quickly, he became a bartender in college, then moved up to manager and eventually general manager.
When he was 24 years old, he said he started traveling with restaurant groups, opening up new restaurant concepts, learning, and taking notes.
In his time in the restaurant industry, he said he's seen many food trends come and go, such as tacos or barbecue.
"Hot chicken is definitely a trend right now, but I do think it will stick around for awhile. And age doesn't matter. I've seen a wide variety of people come in, including young [people] who can handle the hot stuff," Cox said.
Cox said he's hoping he's lucky enough to be on the front-end of this trend, establishing a customer base early. Danielle Bales, a local customer and Cox's patron, said,
"The food is very good and priced well, too."
Jeffersonville Location
Beyond the location at the old Big Four Burgers and Fries in New Albany, Cox also bought the Big Four Burgers and Fries in Jeffersonville. Cox said he is hoping to open that location on Spring Street in Jeffersonville in the next few weeks.
According to Cox, he saw downtown Jeffersonville as a growing area, just like downtown New Albany, and he said they are both great locations for new hot chicken joints around southern Indiana.
Although these are the first hot chicken restaurants in southern Indiana, there have been two hot chicken restaurants in Louisville for the past few years. Joella's Hot Chicken in St Matthews was the first of its kind, opening in September 2015, with Royal's Hot Chicken right behind, opening in December 2015 on East Market Street in Nulu.
He said he knows there will be competition with the restaurants in Louisville, but feels like Cox's Hot Chicken has its own opportunity.
"We are different enough to stand out on our own," Cox said.
Community Involvement
As Cox works hard to make his restaurant stand out in this area, he said he places a great emphasis on getting involved in the community.
The restaurant offers discounts for teachers, celebrates public officials and has a scholarship burger. If someone purchases that burger, one dollar goes toward funds for local students wanting to go into the hospitality field.
As the restaurant builds on popularity, Cox said he's looking forward to the growth. Specifically, he said he hopes college students will go and check out the restaurant.
Cox's Hot Chicken opens at 11 a.m. every day and closes at 11 p.m. on weekdays, and 1 a.m. on Friday and Saturday nights. Located at 110 East Main Street in New Albany, Cox's Hot Chicken is kicking off the hot chicken trend in southern Indiana.