IU Southeast cheerleaders balance school and spirit
Getting to know coach Hayley Little and her squad of student athletes
IU Southeast graduate Hayley Little is now the coach for the IU Southeast cheerleading team she said helped build her.
Admittedly, Little enjoys her coaching cheer at IU Southeast, but said it requires year-round dedication.
"The season starts in the summer, and ends when basketball ends. That is June to January," Little said.
Little began cheering for IU Southeast in 2012, and helped bring a championship to IU Southeast in 2013. Entering her fourth season as head coach, Little's had experience under the bright lights. After graduating from Floyd Central in 2011, Little decided to move to Muncie to attend Ball State, but soon realized she would rather be closer to home. This move proved fruitful for the Grenadiers.
Little said IU Southeast competes in local competitions, one being Jamfest. Little said the highlight of her career as a cheerleader for IU Southeast was competing in the Canam Nationals in Myrtle Beach 2013.
The Vets
Peyton Pressley, sophomore majoring in physical training, is going on her second year cheerleading for IU Southeast. She graduated from Jeffersonville High School in 2017 and decided to stay close to home.
"I knew that having a group of friends was important in college and that's what made me want to continue cheering after high school. The coaches are stern and make sure that we stay on track and don't make any bad decisions," Pressley said.
Some of the challenges she said she faces with cheering in college is time management. Doubleheaders, classes, and homework are not a great mixture, but she said cheer has taught her dedication. She said she likes that her teammates are working toward the same goals and are motivating each other as a whole.
For experience, turn to Amber Neal, senior majoring in elementary education. A Charlestown High School graduate, she's been cheering for over a decade. A senior captain who said she's eager to help her peers, Neal also coaches three cheer teams: Floyd Central High School, Jonathan Jennings Elementary, and Highland Hills Middle School.
Neal grew up being a flyer. Upon making the cheer team at IU Southeast, she was placed as a base which she described as somewhat bittersweet. Neal said her favorite cheer year was her sophomore year because she met her best friend.
"This has been the more trying year, our team is made up of mostly freshmen and we had to rebuild as a team," Neal said.
Forgetting high school traditions and learning new tricks in college can be a challenge for many of the incoming freshmen, according to Neal. Her first two years were made up of an all-girl team, with the past two years having male participants.
Having boys on the team gets challenging, Neal said, because they can be competitive and if they feel they are not being treated equal or fair, it can start conflict, but she said it's a process.
Conflicting schedules can make it difficult to have everyone together as a team. She said at times they can't make it to a game or practice because of their school or work schedule, making having a stunt-group difficult.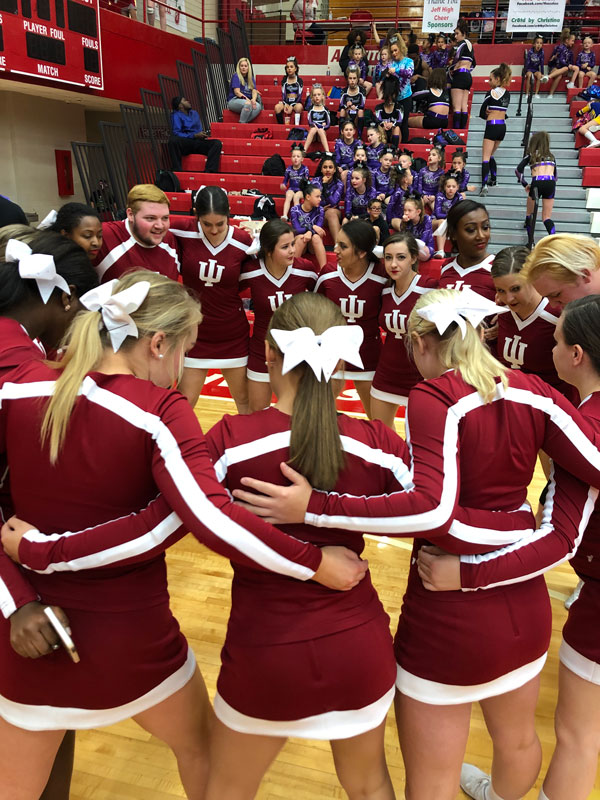 The Eyes of a Freshmen
Kelsey McCoy, secondary education freshman, has also been cheering for over a decade. According to McCoy, she always wanted to cheer in college, as it's been a big part of her life throughout the years.
She said her mom coached her throughout her entire cheer career until college. After all that time, it was an adjustment to move on.
"It's different not being known as the coaches daughter," McCoy said.
Learning new things has been the most exciting aspect of cheering in college, according to McCoy. She said she is met with challenges that excite her, like learning more elite stunts she didn't learn in middle or high school. McCoy came from a small school where she said these stunts weren't taught. She saw that as challenging at first, but said she was eager to learn new things.
"I want to cheer all four years so I don't gain weight," McCoy said, "I've heard of the 'freshman fifteen' and I refuse to be one to gain the extra weight. I want to stay in cheer to keep my body conditioned."
After graduating, McCoy said she's optimistic about her future plans, and wants to take on being the coach for Fairdale High School.
"That's where my mom is coaching, and I've been trying to convince her to stay for three more years so when I graduate I can takeover the position,"
According to McCoy, she loves cheer and can't imagine her life without it. She said she feels it would be fun to get the experience from a coaching perspective, to see other girls taking on the part she once had herself as a cheerleader.
Like many universities, IU Southeast cheerleading is comprised of more than just girls.
Kodie White has been cheering since he was a sophomore in high school. He graduated in 2018 from Southern Indiana's Austin High School and is a freshman cheerleader for IU Southeast. White said he is pursuing elementary education.
He decided he wanted to cheer in high school because he said he felt inspired to feel the excitement and cheer from the floor, not just the stands. He said he knew he wanted to continue cheering in college to make more friends, and said he always enjoyed the atmosphere. Cheerleading was underappreciated when he was in high school, he explained, and he's getting to do more elite stunts now in college.
"In high school when I decided to cheer, I figured more guys would want to try out because I was always getting to hang out with all the girls," White said.
He said he plans to cheer throughout his years at IU Southeast and was excited to make the cheer team as a freshman. There are no favorites in college, according to White, and he said he's enjoying his fresh start at IU Southeast.
"The team is more of a family," White said.