Grenadiers eye RSC title in 2019
IUS Softball looks to build off 2018 with a larger team, led by a record-setting senior core
The 2018 season saw the IU Southeast softball team get off to a slow start, beginning the season 4-8 by March 9th. Once conference play began, the Grenadiers were able to straighten the ship, winning 20 of their final 24 games to finish the regular season with a 24-12 record.
"I've always scheduled really good teams early on," head coach Joe Witten said of last season's slow start. "It's something that I like to do because it exposes some your weaknesses so you can work on them before getting into conference play."
Despite a 14-4 slate in River States Conference play, it was second to the University of Rio Grande, who finished with a 16-2 conference record. The second-place finish in the ultra-competitive RSC was the Grenadiers' second in the last three years. As the second seed in the RSC Tournament, the Grenadiers would lose to both Carlow University and Cincinnati Christian University, who finished 2018 seventh and sixth in the conference standings respectively.
Fast forward to 2019, where the RSC Preseason Coaches' Poll recently picked the Grenadiers to finish second in the conference behind Rio Grande once more. The Red Storm acquired 81 total votes, including nine of 10 first-place votes, while the Grenadiers garnered 70 total votes along with the other first-place vote.
"I think it tells the respect that we get from our peers," Witten said of the poll. "This conference has really improved drastically ever since we added a few teams in recent years. It's not a walkthrough, you have to be ready to play physically and mentally."
Upperclassmen
This year, the Grenadiers have some additional experience across the board. Not only do they return almost their entire roster from a year ago, but they spent 2018 without having to graduate any seniors. Now they have seven, almost all of them have etched their name in the now 12-year-old program's record books.
Two of the seniors, Emily Weiss and Becca Schoenung, are expected to handle most of the innings in the pitcher's circle for the Grenadiers. They each pitched to records of 12-6 and 10-8 with ERAs of 3.55 and 3.19 respectively. Weiss was named to last year's RSC all-conference first team while Schoenung was elected to the second team.
"It's up to us to set to the tone for each game we pitch in," Weiss said. "For myself, I expect to keep us in every game and give us a chance to win from season's start to finish."
Weiss ranks third in program history in complete games (31), while her and Schoenung are ranked second and sixth in total starts (60 and 32), third and ninth in wins (39 and 16), second and eighth in innings pitched (394.2 and 176.2), fourth and tenth in strikeouts (238 and 101), and 12th and 16th in winning percentage (0.6610 and 0.5517) respectively.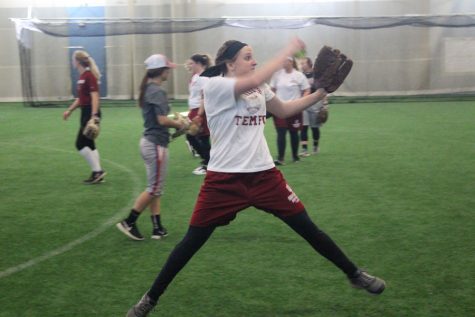 "Emily brings a lot of velocity in her pitching and she has a variety of pitches to keep other teams off-balance," Witten said. "Becca, on the other hand, gets people to hit off their front foot and pop up a lot of balls. She mixes up her offspeed pitches very well. They both compliment each other very well."
The Grenadiers can also look to first baseman Sydney Seger to lead them offensively once again. In 2018, Seger hit .381/.412/.609 with five home runs and 38 RBIs on her way to being named both to the RSC all-conference first team and the National Fastpitch Coaches Association all-region first team.
Referred to by Witten as "probably the most prolific hitter in the program's history," Seger is near the top of many offensive records. She is tied for first all-time in home runs (17), second in doubles (37) and total bases (262), tied for second in hits (164), third in RBIs (120), fifth in at-bats (430), and seventh in runs scored (90).
"She loves to hit and she could reach several records this year if she stays healthy," Witten said, "She's had a few setbacks like most of them do. It seems like when we play, it's always cold."
Many of the top spots in the offensive record books are held by the newest addition to the Grenadier coaching staff, former shortstop Brookelyn Visker. In 2016, the two were teammates, with Visker being a senior while Seger was a freshman.
"To be in a position to continue to grow as a collegiate athlete under Brookelyn Visker is a dream," Seger said,"It was her passion for the game, enduring work ethic, and enthusiasm for the game that built her reputation as a winner. Now in 2019, the Grenadiers will again know what it means to be winners."
Morgan Keefer serves as the Grenadiers' primary left fielder, but can also pitch to lighten the workload of either Weiss or Schoenung. Catcher Justice Kline, outfielder Sidney Chumbler, and catcher/first baseman Baylee Krueger round out the senior class. Krueger, the only two-sport athlete on campus, will not join the Grenadiers when the season begins, currently in the waning days of her senior season on the basketball court.
Joining the seniors in providing veteran leadership is Kyndyl Olds, the lone active junior on the team. In 2018, she hit .412/.493/.509 in 114 At-Bats, as well as stealing 14 bases in 16 attempts while patrolling center field. She currently ranks 11th in Hits (113) and 16th in Total Bases (138).
"As the only junior on the team, I believe my role is to be the best teammate I can be," Olds said. "To do this, I can help the seniors prepare the incoming freshmen with the transition from high school to college. College can be overwhelming sometimes, so I believe it is important for all the girls to still have fun and understand how to balance school work, softball, and a social life throughout college."
Underclassmen
It won't just be the upperclassmen who will be looked upon to carry the load, as the Grenadiers also boast a core of sophomores who all saw significant playing time a year ago. Leading that core is catcher/outfielder Ashtyn Sharp and infielder Maggie Lubbehusen.
Both sophomores made sizable contributions as freshmen a year ago. Sharp hit .405/.426/.483 with seven doubles, 25 RBIs, and 10 stolen bases in 15 attempts, leading her to being named to the all-conference first team. Likewise, Lubbehusen was elected to the all-conference second team thanks to a .372/.381/.509 slash line, along with four home runs, nine doubles, and 34 RBIs while serving as their primary designated player.
"Receiving all-conference second team was very rewarding because all my life I have dreamed of playing college softball," Lubbehusen said of her contributions last year. "Now to finally be playing and helping my team, it feels like I have accomplished one of my goals."
Shortstop Kaitlyn Flowers, second baseman Lindsey Keen, and infielder Maddie Probus are the final returnees from a year ago.
A quintet of freshmen will see action on the collegiate level for the first time in 2019, led by catcher/outfielder Reecie Gilliam. A recruit from Beech Grove High School, Gilliam will bring additional speed to the Grenadier lineup, having stolen a total of 77 bases throughout her career with the Hornets.
"She's a quick, speedy, multidimensional player who can hit the ball on the ground and beat out a lot of infield hits," Witten said, "She's a nice up and coming catcher who can really run down outfield fly balls, so that gives her some versatility for us."
Another freshman to keep an eye on is outfielder Miranda Miller, a graduate of Heritage Hills High School. Despite being a freshman in 2019, she actually graduated from Heritage Hills in 2017. After graduating, she enlisted with the National Guard, where she is currently specializing in human resources.
"I spent six months of training at Fort Jackson in South Carolina and I'm still involved in the National Guard," Miller said of her military service. "One week a month is dedicated to drills with my unit. I specialize in human resources, so during those weekends, my responsibility is to make sure each soldier's paperwork is completed and up to date."
Witten believes that Miller will bring "toughness, hard work, and grit" to the Grenadiers. Along with Gilliam and Miller, Witten also expects contributions from East Central's Kaitlyn Zillick and Jennings County's Mackenzie Byram, both of whom are corner infielders who are expected to bring some extra power into the lineup. Finishing off the freshman class is infielder Lindsey Nelson, of Jeffersonville High School.
"Our teams are usually pretty small, we don't have a lot of players on them," Schoenung said. "Luckily this year, we have a large team with a lot of depth, so that helps a lot."
Competitive Conference
Having a deep team will come in handy, especially when it comes to the Grenadiers in the RSC. A year ago, while Rio Grande and the Grenadiers finished first and second in the conference standings respectively, five of the six other teams to compete in last year's conference tournament finished within a game of each other in the standings.
Being the favorite to win the conference regular season title for the fourth consecutive year, Rio Grande also boasts a deep, young team led by last year's RSC Player of the Year Michaela Criner, junior shortstop. Currently, the RedStorm are receiving votes in the NAIA Preseason Top 25 poll.
"They're the measuring stick [in the conference]," Witten said,"We know that we have players that can play at their level. We know we can beat them, and if you beat them, you've accomplished something. They're not invincible, but they are the best team right now."
Another pair of schools Witten is keeping an eye on are the Pittsburgh based Point Park and Carlow Universities, both of whom he believes have some of the superior pitching in the RSC. Cincinnati Christian, West Virginia Tech, and Midway were chosen to finish fourth, fifth, and sixth respectively, while Ohio Christian is predicted to finish eighth.
Preparation for the Season
As the first day of the season draws ever closer, Witten and his team spend some days practicing in the Silver Street Park indoor facility in New Albany when the weather conditions are less than ideal. When it comes to practice, the Grenadiers take a little bit of a different mindset when it comes to trying to improve.
"When you come to the field, you have a choice to make, whether to get a little better or a little worse," Witten said. "We're just trying to get at least one percent better each day. If you think about it, if you get one percent better over thirty days, that's thirty percent. That's where we have to look at it."
The Grenadier seniors have come close to winning championships in the past, having made it to the NAIA National Tournament back in 2017, only to lose in the opening rounds. Witten says that the past experience the team now has will help to fuel expectations for this season.
"Ultimately, we want to win a championship, and we've done that before," Witten said. "But this group hasn't. This group has been close and they have the most experience of any team in the conference now. If there was ever a year, this is the year for them to earn a championship."
The long road to a championship begins on February 10, when the Grenadiers travel to Alice Lloyd College for a doubleheader.