Sexual violence prevention at IU Southeast has a new face
Nikki Green begins her first year at the Office on Violence Against Women discussing how to put the school's recent reward of $300,000 to use.
IU Southeast was recently granted $300,000 to fund a program that will help those who have been affected by sexual abuse. New programs and trainings are in the planning stages because of both the grant and Nikki Green.
Green is the new grant projects coordinator at the Office on Violence Against Women (OVW).
Who is she?
She grew up in Southern Indiana and attended IU Southeast for both her undergraduate and graduate degrees. Green's focus was in sociology school counseling.
Some of her work experience includes working as a child advocate at the Center for Women and Families, a social worker for the cabinet for Health and Family Services and most recently as a school-to-work coordinator for Big Brothers Big Sisters.
"The majority of my work experiences have been centered around social services," Green said.
An educator from the Center for Women and Families inspired Green to pursue working with those who have experienced sexual violence. After hearing the educator speak, Green said she knew she wanted to be involved.
Faculty Support
IU Southeast Dean of Student Life Seuth Chaleunphonh says Green's background will provide programming the support it needs.
"With her experience, she will be able to fully understand the resources available and create what is needed through her education background and community work experience," Chaleunphonh said.
Green also said her personal relationships played a part in her pursuit to help victims of abuse.
"I've had family and friends who have been impacted in various ways by domestic violence and sexual assault so it's relevant to my personal relationships," said Green.
But she said all of her experiences have helped strengthen her.
"As I learned more I began to move from being a bystander unsure of how to help to someone who could help empower others," she said.
Chaleunphonh said he is confident in Green's abilities to make the program efficient. He attributes not only her experience, but also her character and passion.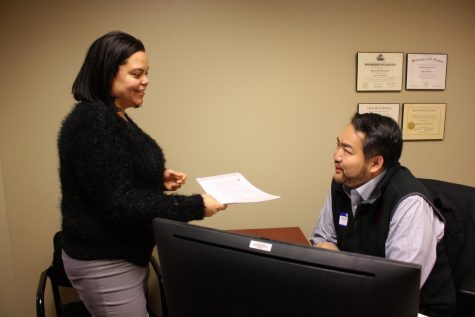 "She is energetic and relates well with young adults and parents," said Chaleunphonh. "She is passionate about these issues and will approach our students and campus partners professionally and in a caring way."
Results from Resources
IU Southeast was awarded the grant after a campus-wide survey was conducted to get statistics on sexual violence.
"About three years ago, through another IU grant, we conducted a needs assessment that would broaden the need for prevention education over a five year plan," said Chaleunphonh,  "We have administered a campus climate survey and developed a student-centered peer prevention program, a prevention task force, and improved our policies to make it easier for victims to report."
The IU Southeast Campus Climate Survey was conducted in March 2016. It showed, of the 12 percent of the campus population surveyed, that 6 percent of both men and women thought sexual misconduct was an issue on campus. Seventy-one percent of participants identified as female and 29 percent identified as male.
Non-consensual touching, stalking, and sexual harassment were reported as the most common types of abuse. Fifty percent of the participants said that the incidents happened off campus.
Chaleunphonh says the grant will go towards working on these issues and help Green fulfill her duties as grant project coordinator.
"The grant provides IU Southeast with a full-time position that can expand and take our program to the next level with best practice, coordinated community response, and more ownership from our broader community to support prevention, bystander intervention, and inform our community to be aware of our tendencies to support a victim-blaming culture," said Chaleunphonh.
The grant lasts for three years. Green says the first year is designated to planning.
"She is patient to understand strategic planning and will build up the community support needed to complete the initiatives we have proposed in the grant," said Chaleunphonh.
Green plans to help establish a campus Coordinated Community Response Team and help recruit, train and supervise peer educators. She hopes to develop programs and workshops while also implementing campus-wide initiatives.
She is looking forward to all the opportunities that will be offered to prevent sexual violence from happening and help those who have already experienced it.
"I think it's exciting to hold this position," said Green. "I believe there's a chance for me to help contribute to a lot of the violence prevention efforts already occurring on campus but to also implement new prevention resources that could also pave the way for other IU campuses to benefit from as well."
Green has already begun planning out strategies for the year ahead.
"In the first year I think it will be important for me to meet with students, staff and members of our larger community to help build relationships and so that people can put a face to my position and what I'll be doing," said Green.
She said she hopes to share what she's learned with the community, but her ultimate goal is to keep IU Southeast a safe environment for all.