The cutting controversy of logging in Indiana state forests
Logging in Indiana state forests has diverted conflict between government programs and environmentalists for years, but potential change is seen on the horizon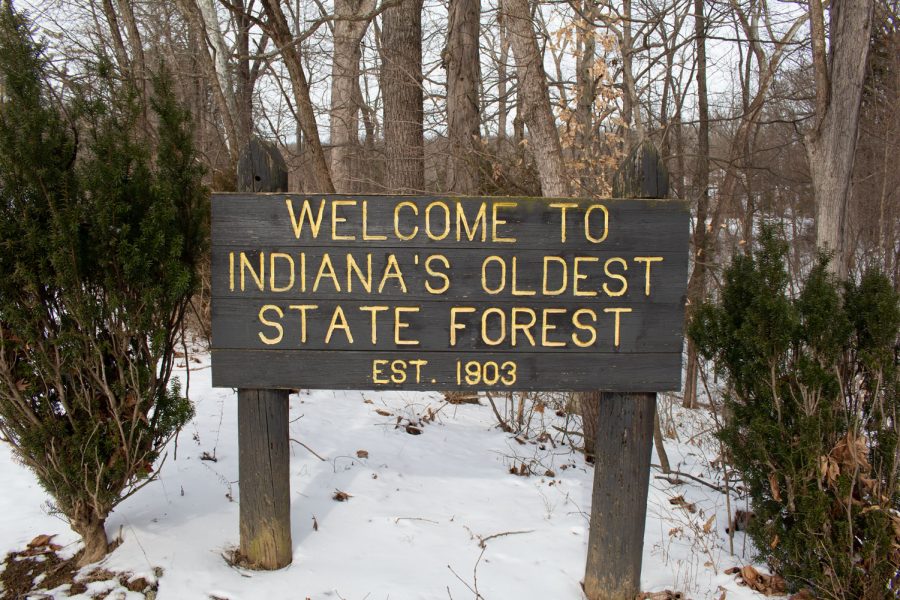 The management practices in Indiana state forests adhere to national and international sustainability criteria, but controversy regarding logging regulations of public forestland remains intact.
Southern Indiana is home to some of the largest public woodlands in the state, including Clark State Forest, Harrison-Crawford State Forest, Ferdinand State Forest, and Pike State Forest. A recent report by Indiana Forest Alliance (IFA) questions the reasoning for logging Indiana state forests and the economy that surrounds it.
The majority of the logging in Indiana is done in the southern part of the state, according to Rae Schnapp, Ph.D., IFA Conservation Director and the study's main author. According to the IFA, most of the logging done is on private woodland, but approximately three percent is done on public woodland. Controversy has surrounded the issue for years because of the difference of opinion amongst the Indiana Department of Natural Resources Division of Forestry (DOF) and environmentalists.
Schnapp said the DOF's 2015-2019 Strategic Plan dictates an average volume of 14 million board feet of timber to be sold from state forests each year.
"They say that this is sustainable because the forest will grow by more than that amount, but that isn't the same as having old growth in our forests," Schnapp said. "The forest is certainly a renewable resource, but there are a lot of questions about the purposes of our state forests. There's a whole lot of private forestland in Indiana that is supplying the timber industry. It raises questions about why our state government is in the business of essentially competing with private landowners."
Indiana law under state forest management, section one, requires that the Indiana Department of Natural Resources protect and conserve timber, water resources, wildlife and topsoil in forests operated and owned by the DOF. The DOF is required by law to handle and remove timber that has substantial commercial value in a manner that benefits the growth of saplings.
Why our state forests?
"The Division of Forestry is logging our state forests for a couple of reasons. It has a lot to do with their budget," Schnapp said. "A part of their funding was cut in 2008 with the property tax restructuring. They decided to make up the difference of that with timber harvest. Before that, they were harvesting some timber but now they're harvesting about four times more," Schnapp said.
Forest resources such as water, wildlife, herbaceous plants, archaeological sites, historic features, geological features, soil and trees are all protected and conserved by the state forests. The DOF has the responsibility of managing these resources, as well as logging management for Indiana's 5.1 million acres of forestland. About 15 percent of Indiana's forestland are under public ownership, while the remaining 85 percent are privately owned.
"
I'm not going to say you're wrong as long as you understand that the forests currently adhere to the most stringent sustainability logging criteria"
— Randy Hunt, IUS biology professor and coordinator of the sustainability program
According to an Indiana law created in 1903, state forests are to be managed for mixed purposes including the equal enjoyment and guaranteed use for future generations. Schnapp doesn't hesitate to question the purpose of logging in Indiana's state forests today.
"It says in statute that we're supposed to be managing our forests for future generations. It raises a lot of questions about, you know, what does that really mean? Are we managing it so future generations can sell off the timber? I don't think so," Schnapp said. "It has a lot to do with providing habitats for species that live in deep forest environments and making sure that those species are still here for future generations."
External forces
Randy Hunt, IUS biology professor and coordinator for the sustainability program, has been following this issue for years. He said that the logging companies are very aware of the sustainability issue.
"You understand that a logging company can't be in business if there's no timber 50 years from now. They are audited," Hunt said. "When they do a cut, there's someone there that's external auditing."
For 10 consecutive years, the DOF has met nationally and internationally recognized standards for sustainable forestry management by the Forest Stewardship Council and the Sustainable Forestry Initiative program. The two independent audits evaluate the DOF annually.
"The way the forests are currently managed, barring the worst outcomes of climate change and to the best state of the art science, I can assure you that you could come back in a thousand years and there will be healthy, vibrant forests in the current logging areas," Hunt said. "They're doing it sustainably. That's what sustainability means. We're utilizing a resource in a way so that the same resource will be available for future generations."
The IFA wants to see the DOF reduce the timber harvest in Indiana state forests by a significant amount. Schnapp said in the meantime, if there is going to be a timber harvest, the state "should be getting top dollar" for the public resource.
"That way we would have to harvest less," Schnapp said. "We could get by with harvesting far less."
Remi Bowman, junior at IUS majoring in biology, worked seasonally for the forestry service at Jefferson Memorial Forest in Kentucky. After her time working for the forestry service, she concluded that everything is interconnected when it comes to forest environments.
"It's not just about how many trees there are," Bowman said. "It goes into other species like insects, animals, and mushrooms… so it's not just affecting the soil. It goes into much more. You have to think, even if you could hypothetically grow trees fast enough to be sustainable, what is it doing to the other parts of the forest?"
The price of the dead
According to a Purdue University public opinion survey of Indiana residents, 95 percent of Hoosiers approve of removing trees to protect woodlands from disease and fire.
Salvage logging is taken into account when the DOF is managing forestland and deciding what market-value price the cut timber should be sold. According to the DOF, the periodic removal of trees in managed harvests opens the forest floor to sunlight, which allows new trees to develop. Logging by "single-tree selection, which targets mostly stressed, diseased and declining trees, is part of managing for these conditions in the backcountry area."
Controversy lies in the question of why salvage logging is necessary.
"After a windstorm or something when trees have been uprooted and downed, even salvage logging is not necessary," Schnapp said. "The dead wood is a huge part of the forest ecosystem. It provides shelter and food for many species that are the foundation of the forest food chain. So I think that it's kind of easy to lose sight of the fact that dead wood is really important."
However, Hunt says a lot of what they're logging is not valuable timber for selling and there's two reasons why the state is not getting top dollar.
"Number one, when you go into some areas and do what they call 'single-tree selection,' well that's expensive to do. So if you're telling a timber company that we're going to sell them trees but they're going to be able to cut seven trees per acre, that's expensive," Hunt said. "Number two, you're also going to have to do salvage timbering which means removing dead and diseased trees which aren't worth much at all. That brings down the overall sale value. They're doing all this with an overall management strategy."
A chance for change
The issues surround logging in Indiana state forests has been debated in the legislature for several years. It's still early in the legislative session so not all the bills have been filed, but there are currently at least four bills pertaining to state forest management.
The IFA thinks the time for change is now.
"I think legislators are looking for a solution because they're hearing a lot from their constituents that this is not acceptable," Schnapp said. "One of the proposals is especially new and different. It prescribes a public planning process for each state forest property so that people who live nearby would have more of a voice of how the state forests are managed and what the priorities are."
Schnapp says things happen quickly during the legislation, so she's not sure of the proposal number or the date of the committee hearing yet.
Hoosiers wishing to get involved should examine the facts, according to Hunt.
"If you still held the position that instrumental value is that we should eliminate logging all together, I would support that. Because you, your world view, and your value system have a right to that," Hunt said. "I'm not going to say you're wrong as long as you understand that the forests currently adhere to the most stringent sustainability logging criteria."
Indiana University Southeast students wishing to learn more about environmental issues should direct their attention to the new BA and BS majors in the sustainability program. Already successful, the program currently has 32 majors after the university projected only six. Students can choose amongst environmental, social or economic focuses. The program currently resides in natural sciences but has the potential to be be housed in any school should it grow large enough.
According to Bowman, valuing Indiana state forests is the first step Hoosiers should take to understand what's going on environmentally. She thinks it's "crucial to understand how important they are."
For more information regarding forest management laws and the Division of Forestry, visit the Indiana Department of Natural Resources website.
To follow up on Dr. Rae Schnapp's report, or keep up with state forest management bills in legislature, visit the Indiana Forest Alliance website.
For more information regarding the sustainability program at Indiana University Southeast, visit the Sustain IU website.
This story was edited February 11, 2019 to remove an incorrect figure added into the story during editing.