Brewing and Booming
The humble beginnings of Coffee Crossing and how the local coffee shop is expanding further
A college student  opens the doors to a hustling coffee shop filled with cheerful baristas and order his or her drink of choice and then sits down, hoping to get some work done. The local coffee shop chain, Coffee Crossing, has been filled with people working, studying and hanging out for 15 years and has not stopped growing since.
Alan Butts, founder and owner of Coffee Crossing had the idea when he was leaving Northside Christian Church one night and saw the strip mall being built on Charlestown Road.
"I just pulled in the parking lot one night and prayed about it and went home and told my wife I think we're supposed to open up a cafe across the street from church" Butts said.  
Butts thought it was obvious that Charlestown Road was going to be a busy area even before Meijer or the movie theater were there. He said it "just made sense" there was going to be a lot of activity in that part of New Albany.  
Before opening up Coffee Crossing, Butts had no experience in the coffee or restaurant world. At the time, he was a highschool teacher of biology and physics.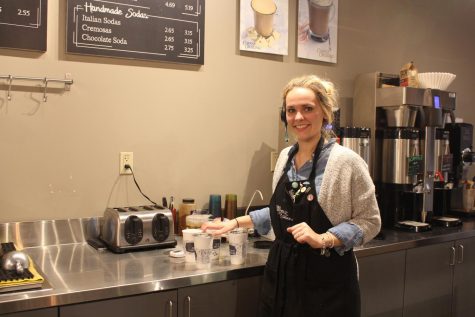 According to Butts, he said he stepped out in faith and opened the location on Charlestown Road in June of 2003. At the time, his two daughters were in elementary and middle school. Currently, his daughters and a son-in-law now work for the company, making Coffee Crossing a family-owned business.
Opportunities for Growth
In August of 2015, the Jeffersonville store opened on Patrol Road. Butts chose that location and said they knew it was going to be "the hot place where everything is happening and we knew tons of people were going to be relocating out there because of the River Ridge supersite."
Many businesses opened up large facilities along Highway 62 in Jeffersonville, bringing in many workers to the area.
"It's where opportunity met what's happening locally," Butts said.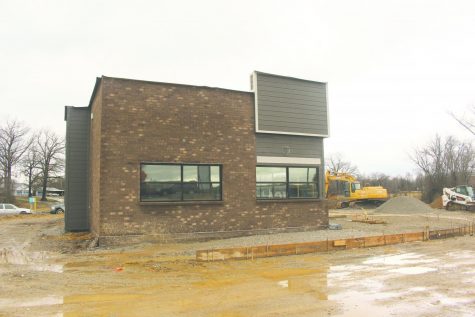 They were baking goods out of the back of the Jeffersonville store until the end of 2016 when their sister store, 410 Bakery, opened in downtown New Albany. 410 Bakery makes all of the pastries for all of the Coffee Crossing stores and uses coffee from Coffee Crossing.
In 2016, the Coffee Crossing on Talaina Place off of Grant Line Road opened. Butts said that location was chosen mainly because of proximity to IU Southeast and it was an opportunity to have the first ever freestanding location.
"It's been a very successful location for us," Butts said.
Additionally, he is opening another store in Sellersburg and Butts said he is hoping it will open in March. One of the reasons for that location is that it is right across the street from Ivy Tech Community College.
"The traffic count there is similar to [Grant Line] and when I was doing the research, it turns out that the student population is much closer than I thought it was in size to IUS," Butts said.
The Mission Statement
With three current locations, Butts said the company is dedicated to their mission statement, which is "to make the finest drinks in the warmest atmosphere by the friendliest staff imaginable."  
As they run the business, Butts said they try to match up every decision they make with the mission statement to see if it applies.
He said they feel like each part of the mission statement is equally important and all three pieces help create the experience the customer gets when they are in the store.
"That's the product that we sell – is that experience, not specifically just the coffee." Butts said.
Working on homework and sipping a handcrafted drink, Lydia Greene, Coffee Crossing customer and college student, said, "I like the atmosphere and I like that the people here are so incredibly kind and welcoming."
Savannah Sikele has been a barista there for three years and loves the aspect of community interaction. "We get to know the customers and their lives and it's such a cool thing; I think it's neat that it's not just a job opportunity," Sikele said.  
Beyond the stores, Coffee Crossing is involved with the community by having donations for different nonprofit organizations, trivia nights open to anyone, and seminars about coffees and teas.
In the future, Butts said he wants to get involved more with local schools and keep engaging with the community. As far as opening up more stores in the future, Butts said, "If there's opportunities, we want to be positioned to take advantage of them."