Grenadiers reloading for another chance at NAIA World Series
Halfway through the season, IUS baseball looks to win RSC with young core, veteran leadership
Note from the author: All stats and records are accurate as of 3/14/2019
Last season, the IU Southeast baseball team finished the year with a 41-14 record, their third straight season of 40-plus wins, winning their seventh River States Conference regular-season title in 11 years. They were eliminated from the RSC tournament by Point Park University but had already secured a berth to the NAIA Opening Round.
The Grenadiers rolled past #20 Westmont (11-1) in the double-elimination tournament before falling to #3 St. Thomas (6-1) and William Carey (6-2) to end the 2018 campaign, graduating 15 seniors, five of which were elected to the RSC all-conference first team.
"Last year was extremely emotional. When you think of loss, you think of losing games," Head coach Ben Reel said of last year's senior class. "My mind is on the human resources part, so those guys I spent 48 months of my life with, this season has been different because they aren't here."
In November of 2018, the RSC preseason coaches poll selected the Grenadiers to finish second in the regular-season standings.
Freshmen and Sophomores Galore
Taking the place of last year's senior class is a large core of sophomores and freshman, many of whom are penciled into Reel's lineup on a regular basis. Leading this group of underclassmen are sophomore catcher Brody Tanksley and freshman outfielder/DH Derek Wagner.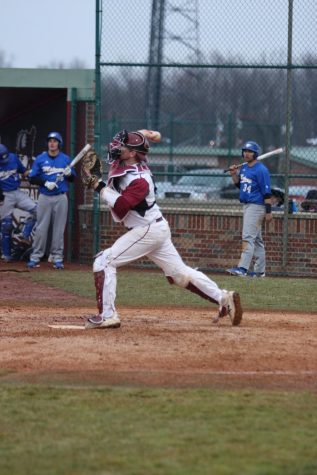 Batting from the third spot in the lineup regularly, Wagner is currently hitting .292/.388/.400 with two home runs and 20 RBI, leading the team in both categories as a true freshman out of Tri-West Hendricks High School in Indiana.
"The college game is definitely a step up from high school," Wagner said. "With the games being broadcasted, staffs from other schools have knowledge of you before you arrive. They look for things such as pitch type and locations you struggle with and use it to their advantage."
Along with Wagner and Tanksley are the middle infield duo of sophomore second baseman Clay Woeste and freshman shortstop Daunte Duchello, who are both penciled into the starting lineup regularly.
The majority of the young core includes a small army of pitchers, including sophomores Brenden Bube and Cameron Harvey, transfers from Taylor and Indiana Wesleyan Universities respectively, in addition to Grant Bradley, Peyton Bledsoe, Trevor Reynolds and Jacob Frenkel.
Freshman pitchers include Western Kentucky transfer Chas Adams, Owen Evans, Jacob Morley, Eli Helton, and Chase Castor.
Senior Leadership
Along with the underclassmen is an experienced group of seniors, led on the mound by 6-foot-7 right-hander Jack Wohlert and 6-foot-1 left-hander Andrew Yates. Both are among the top pitchers in the conference in ERA, opponent's batting average, hits allowed per game, and walks allowed.
Jack Hawkins is serving as the team's closer this year as Yates moved into the starting rotation, which also includes Max Gray, a senior transfer from Tennessee Wesleyan.
On the field and at the plate, the senior class is led by first baseman Cody Maloon, who currently leads the team in hits (25) and total bases (32) as the Grenadiers' primary cleanup hitter.
Rounding out the Grenadier class of 2019 are utility players Jordan Branz, Daniel Brescia, Tyler Warmath, and Dalton Mitchell.
Coaching Additions
The Grenadiers have also seen additions to their coaching staff, bringing in Christian McHatton as associate head coach. McHatton comes to the Grenadiers after serving a similar role — as well as a year as an interim head coach — at RSC rival Brescia following a prolific playing career with the Bearcats.
"I've known Coach Reel for several years as I played against Ben for four years while also coaching against him for three," McHatton said.
"I'm getting to learn from one of the best in the game and to be surrounded by coaches that have a high desire to be successful. I felt this was the right move for me and my coaching career." Christian McHatton, associate head coach
In addition to McHatton, the Grenadiers also welcomed a pair of Seans; Sean Godfrey, a New Albany native who served as a hitting coach before earning a position as a hitting instructor in the Houston Astros' organization.
Sean Repay comes to the Grenadiers with a substantial coaching resume, having previously coached at Louisiana State University Alexandria as well as professionally. Repay is also a coach for the Bismarck Larks of the Northwoods League, a summer college league.
Finally, the Grenadiers welcome another Reel to the staff, Coach Reel's father Brian, whom the players have affectionately nicknamed "Pops."
Conference Competition
The Grenadiers are 14-9 overall so far, as well as 4-2 in RSC play, tied for second in the conference standings with Point Park University. IU Kokomo, in their program's third year of existence, sits atop the standings with a perfect 6-0 conference record.
Point Park, who finished last season ranked #15 in NAIA, were picked to win the regular-season title as they returned 10 out of 11 pitchers from their 2018 staff, which was second in NAIA in ERA (2.85). This year, they are led by junior right-hander Ryan Huber, who leads the RSC with a 1.84 ERA.
Other teams who could contend for the conference title include the University of Rio Grande, who lead the conference with a .303 team batting average, 9.21 hits per game and 128 RBI. The Cougars of IU Kokomo lead the league with a .486 slugging percentage and 8.26 runs scored per game.
"Our conference from where it started when I came 13 years ago [compared to] where it is now, it's like 'Wow, that's impressive,'" Reel said.
Improving Every Game
As the team consists of mostly underclassmen, inexperience has shown itself in games on numerous occasions this season. Through their first six games, which included then #19 University of the Cumberlands, #15 Bryant College, and #14 Campbellsville, the Grenadiers struck out 53 times.
Despite the inexperience, the young Grenadiers take away something from each and every game, regardless of the outcome.
"Whether we win or lose we always have to take something away from each game," Wagner said. "It's the little things that will end up deciding the outcome of the game. That's why it's so important to make sure we understand what we did wrong and focus on how to improve whatever it was."
While the youth of the team can bring weaknesses often associated with inexperience, the athleticism of the Grenadiers helps them. Coach Reel has made it clear that the team's biggest strength is chemistry, which is shown in the players both on and off the field.
"Our team loves each other. I wear my heart on my sleeve as a person so I'm open, honest, and transparent," Reel said. "I think that in turn promotes an environment of trust and loyalty. There's not a lot of skeletons in the closet, which can lead to the antagonist of team chemistry, which is dissent."