Fighting for food and family in southern Indiana
Two unique local organizations combat different aspects of poverty
A young woman walks a baby laden stroller down the street. In the stroller, along with the baby, are a few small shopping bags filled with light, prepackaged foods. Without access to a car, she can only carry the bare necessities back to her house. The rest of her money goes to renting out a small one bedroom apartment. With winter coming up, she has little extra to spend on keeping her newborn child in warm clothes.
In the past ten years in southern Indiana, 35 to 40 percent of all single mothers live below the poverty line. Fresh Stop market and Choices Life Research center offer valuable resources to the large amount of single mothers below the poverty line.
Both charities offer unique resources for those in poverty, including clothing for young children and fresh vegetables for healthier diets.
Fresh Stop Market
According to its website, Fresh Stop Market is "akin to a cross between a fruit and vegetable flash mob and a family reunion." It serves fresh vegetables straight from the farm to anyone that wants them. It has started what they call a food justice ministry, in which anyone who wants fresh vegetables can get them, no matter their financial situation.
The market is based on a sliding scale where families can pay what they can afford and walk away with a basket full of farm fresh vegetables. The scale ranges from families that can't pay at all, to a $40 share for those that want to give extra for families in need.
Even customers that can pay just the normal $25 share help cover the costs of those who cannot afford the vegetables. Families that can afford the whole cost can also choose to sponsor a lower income family for a whole season so that they don't have to pay anything at all.
All of the produce is bought wholesale from local farmers around Kentucky and Indiana. Each market has different produced depending on what was harvested. It can range from vegetables like corn and bell peppers to fruits such as strawberries or apples. A local chef volunteer also attends each market to showcase a simple recipe including some of the fresh vegetables from the market for guests to sample.
"You cant get fresher, organic produce anywhere in the state… I mean fresh from the dirt, to your table… what more can you ask for? Especially to areas where there's nothing there for people to eat except garbage," said Eneitra Battie, the volunteer chef at the New Albany Market.
Karyn Moskowitz is the head of the Fresh Stop Market movement. She was tasked with increasing the availability of fresh produce in the west part of Louisville, KY.
"There were hungry people around me and it seemed like the most unjust thing I've ever seen. In such a wealthy city, that we would have people… just because of how much money they had and where they lived, not be able to buy fresh local organic food. To see so many of my friends and neighbors get… chronically ill, It drove me," Moskowitz said.
Moskowitz decided to start a market where people can pool their resources to allow everyone access to the produce after seeing a similar system in Cleveland, OH.
"What we really pioneered here in our region is community leadership," continued Moskowitz. "And that the majority of the shareholders would be families that otherwise couldn't get this food."
Sarah Dugan, a resident of New Albany who has been with the program since 2016, is one of the main volunteers at the New Albany branch. She started at one of the branches in Louisville before volunteering to help start a new market in New Albany.
"I was somebody who was on WIC for a while whenever my son was first born and it used to be so humiliating whenever you would go up to the WIC office and people assume you just don't know any better… or that if you are based in poverty it's because of some lack of moral fiber on your part or a lack of knowledge," Dugan said.
Before she had volunteered at the Fresh stop market, Dugan had struggled as a single mother to provide healthy food for her child. She could only carry small items from the grocery store back to her apartment because she didn't have a car and had to carry everything home on her child's stroller. Fresh stop resonated deeply with her when she found out about the organization.
"Getting this opportunity whenever I started as a volunteer, I was just thinking, 'this is what's missing from the whole model of trying to help people in accessing healthy food," continued Dugan. "It's assuming that they want to make the healthiest choice for their family instead of assuming that they… will go spend all of their benefits on polar pops and candy," Dugan said.
Last year, the New Albany branch alone had over 1800 families attend the market according to Dugan. This year, they have increased the number to about 2200 families. No one is ever turned away, no matter how little they can pay.
"I love the fresh vegetables, they're very good for feeding my grand kids. It's really made a difference," said Anita Rodriguez, loyal patron of Fresh Stop Market.
Rodriguez has been going to the New Albany Fresh Stop Market since it opened in 2016. She has seen a positive influence in her diet as well as her grandchildren's because of the accessibility of the market.
"I just hope it keeps going on, because I love it, I look forward to it every year, I hate it when the season ends," Rodriguez said.
While Fresh Stop markets help bring families healthy food, another organization helps young mothers clothe their children and gives parenting tips to help them raise their children in a healthy environment.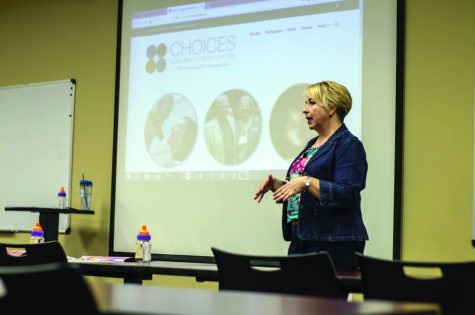 Choices: Life Research Center
Choices offers services to low income families with young children and women who are pregnant and considering keeping the child. The center has been open since 2004 and consists of over 120 volunteers in two locations in southern Indiana. They have around 560 clients and have received 3113 visits this year alone.
The main focus of Choices is showing mothers with unplanned pregnancies the options available to them. They also help lower income families have resources for taking care of their children.
Services are offered for women in any stage of pregnancy. The Center offers pregnancy tests and STI tests as well as free limited ultrasounds.
According to SVC Pregnancy Center, a limited ultrasound is an ultrasound to check on the health of a child. It does not determine the gender of the child, It just makes sure the fetus has implanted in the uterus and if it has a heartbeat. It is a good resource to see if a pregnancy is viable.
They also offer one on one advising by a volunteer with new mothers and mothers-to-be to walk them through the process of raising a child. There are classes available for fathers who need mentoring or encouragement. Although they do not have an Abortion clinic on site, they will also explain the abortion process to the women and give abortion counseling if requested.
"What we are here for is any family that's experiencing an unplanned pregnancy, and we're here to promote parenting or adoption and we do that by helping and partnering with the families or the mom or the dad to help them clothe and diaper their child," said Amy Smith, coordinator of the Choices boutique.
Smith has volunteered at Choices since 2011. She started out as a part time helper with her oldest daughter after her daughter visited Choices during a school field trip. Today, she works at the organization full time and oversees washing and sorting all the clothes donated to the ministry. Choices also has a partnership with Goodwill. Any unwanted clothes that they have are donated to Goodwill in exchange for redeemable vouchers that are given out in the boutique.
"Now, we don't meet every need but we kinda help fill in the gaps if they are waiting for that next check."

Ashley Smith, Choices coordinator
The boutique uses "boutique bucks" that clients can spend on clothes, toys, diapers and nursery equipment in the center's shop. They can acquire more money to spend in the shop by attending the one on one meetings or workshops informing them on raising their children in a healthy way.
"We have clients that are young, and we have clients… in their early forties… People may think of it as just for teens but its not. Some of them are married, some are not… we have several nationalities that attend here… it's all over the map… Anyone is welcome," Smith said.
No One Left Behind
This theme of anyone being welcome runs through both organizations to their very cores.
Jay L. Zagorsky, a research scientist at Ohio State University states, "Poverty as measured by the US government plummeted in the 1960s after President Johnson declared a US 'war on poverty.' Since the mid-1970s however, progress on the war has stopped and poverty goes up and down as the economy goes up and down."
Since the progress of fighting poverty in the United States has stagnated, local charities have become a large part of that war.
"Local organizations are very important for helping reduce the impact of short-term problems," Zagorsky said.
Both Fresh Stop Market and Choices help hundreds of families with fresh vegetables, clothing, and parenting help. One of these reasons is because they find a way. They don't let monetary problems get in the way of helping the people who need help.
This philosophy has paid off for both organizations. Both have opened new places of operations in the past few years and are continuing to grow. Choices just opened a new branch in Corydon, IN. While Fresh Stop Market has grown to over 17 stations across three cities.
With their success, more and more families are getting access to resources they need, especially the large percentage of single mothers trying to support their young children.