Local Restaurant Pays it Forward
8th Street Pizza in downtown New Albany embraces the 'pay what you can' concept so no one leaves hungry
"The food is secondary to what we do. It's about the relationships," said Jeff Minton, founder of 8th Street Pizza. The boutique pizza shop has a different clientele and philosophy than most restaurants, enabling the homeless population to eat based on the kindness of others.
Being the only 'pay it forward' pizza shop in southern Indiana, Minton said 8th Street Pizza made their niche in the area by having a "horrible business model, but a great ministry model."
Milton worked for Domino's Pizza for 20 years and retired with them many years ago. About two years ago, Minton saw a pizza oven in the back of a debilitated kitchen in a building owned by Clean Socks Hope.
Clean Socks Hope is a charity that is 8th Street Pizza's parent company and was looking for a way to sustain itself when Minton noticed the pizza oven. Minton and others spent the next six weeks tasting product and working with Sofo Foods, a local Italian distributor.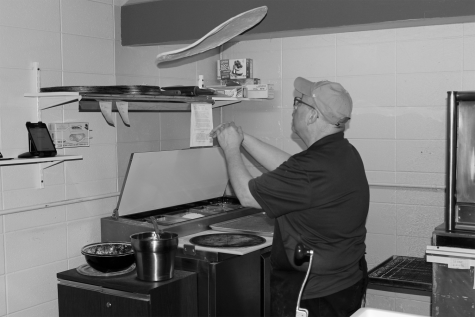 Kyle Sanders, freshman business major at IU Southeast, recently had pizza from 8th Street Pizza at a meeting he attended. "8th Street Pizza was delicious and made me want to go to the actual place and get it myself," Sanders said.
8th Street Pizza, located in the old Robinson Nugent building on 8th Street, has a unique look and a unique way of doing business.
Paying It Forward
"The pizza shop works as a way that we can pay our bills and works as a way to feed the hungry," Minton said. "In a really cool byproduct, we've hired our first employee in the pizza shop and he was a former homeless gentleman."
Setting out to reach the homeless population, 8th Street Pizza is a place where everyone is welcome. The employees at 8th Street Pizza and Clean Socks Hope have relationships with the community and they specifically know the homeless by name.
Even people that are not homeless, but can only afford to pay for half of their meal go to 8th Street Pizza because of the relationships there.
The 'pay it forward' concept enables customers to pay the entire bill with money or to pay part of the bill with money and empty the garbage. Some people cannot pay at all and they are able to eat because of the kindness of others.
"We tell the people at the tables to pay what you can afford, pay for the bill, and pay it forward; if you can't afford anything, we'll take care of that too." Minton said.
IUS Alum, Tyler Pavey, has worked with Minton for a year now and Minton helped out Pavey by giving him a location for his music school. Pavey said, "Doing everything you can for people who can't do anything in return is selfless and that's how I would sum up Jeff Minton and his two ministries, as selfless.
Beyond the Pizza
8th Street Pizza is able to help people in the community by feeding people and building relationships. Minton said there are nine soup kitchens in New Albany, so it is rare that people go hungry.
"It's not a hunger problem, it's always about broken relationships," Minton said. When new people go to the pizza shop, someone will sit down and get to know him or her.
Before opening a pizza shop, Clean Socks Hope opened a coffee shop with the purpose of sitting down with somebody new and sharing life together.
Minton said that the pizza shop is a "social ministry idea" and is the third place for people. He said that people spend their time at work, home and somewhere else.
The desire of the pizza shop is to be the third place for people, where people can "break bread and build relationships," Milton said.
In the future, 8th Street hopes to open a full restaurant closer to the river in downtown New Albany. They would continue to run the part-time boutique, but the restaurant would be a typical restaurant, donating back to the community for charities and churches.
The pizza boutique is open from 4  to 8 p.m. on Wednesdays, 11 a.m. to 2 p.m. on Thursdays, 11 a.m. to 8 p.m. on Fridays, and 4 to 8 p.m. on Saturdays.