Stand for applause
Chancellor Wallace honors members of Southern Indiana and IUS
On April 6, the 2019 IU Southeast Chancellor's Medallion Dinner was held at the Horseshoe Casino in Elizabeth, IN.
The Chancellor's Medallion is a prestigious scholarship presented by the Chancellor of IU Southeast. To date, 51 awards have been presented. Hundreds of Southern Indiana's and greater Louisville's top business, civic and educational leaders attend the dinner each year.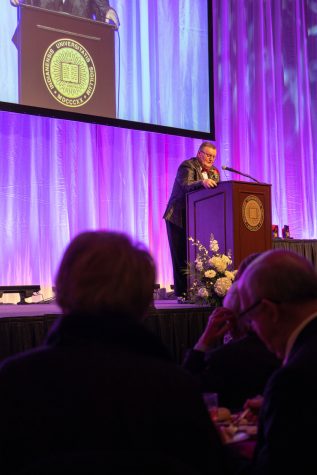 The night began with a keynote by Chancellor Ray Wallace. He started by congratulating the winners of the Medallion scholarships and awards, as well as recognizing many students and faculty for their contributions to IU Southeast over the past year.
Chancellor Wallace's speech was followed by a short remark by John Applegate, the executive vice president for Indiana University affairs.
After Applegate congratulated the winners, the previous Junior and Senior Chancellor Medallion scholarship winners were called on stage and given their awards.
"Getting this scholarship really changed my life and allowed me to graduate debt free," said Amanda Goodridge, one of the junior scholarship recipients.
Goodridge also gave some advice for upcoming students who may consider applying.
"Apply. If you don't apply, you won't win, and that's a lot of people counting themselves out without realizing how much they are doing," Goodridge said. "If you do apply, you realize a lot more about yourself."
Following the scholarship presentations, False Alarm, an a capella group from the IU Southeast school for performing arts performed an intermission. The group performed at the Chancellor's Medallion the previous year as well.
"It's awesome that we get an audience this big," said Vincent Thomas, one of the students in False Alarm. "The Chancellor has always supported the music department at IUS… any time he wants us to play a show, we'll come."
The intermission concluded with a live auction that raised nearly $24,000 for future Chancellor's Medallion scholarship winners. A few of the most sought after items included a Bourbon Tasting experience and two tickets to Hamilton at the Kentucky Center.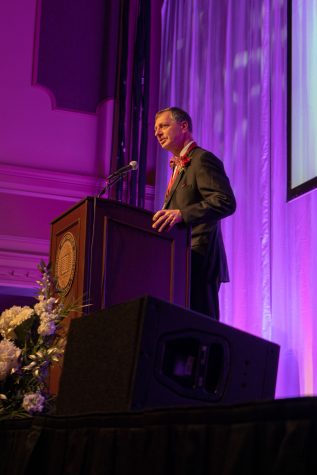 The evening concluded with the acknowledgment of the 2019 Chancellor's Medallion recipients. The three recipients this year were Wendy Chesser, Jerry Finn and Alice Miles. The recipients were recognized for their contributions to the community of Southern Indiana. Each recipient gave a short speech after they received their award.
"Just the realization of what an incredible community we have and the good people who are in it that are making a difference… To be able to serve with them and so many others made this award exceptional," Jerry Finn said.
After the event, Chancellor Wallace talked about the positive effects the Medallion has on the IU Southeast campus.
"It [This event] means ongoing support in all strata of society," Chancellor Wallace said. "We'll get all three of these [recipients] on campus to talk to students. Students can learn from this."