Epkey's squads load for RSC Tournament
IU Southeast tennis squads come back from slow season start, prepare for deep postseason run
Starting in the fall of 2018, the IU Southeast men's and women's tennis squads embarked on a 2018-19 campaign that started slowly. Rain-outs and matches against several schools ranked in both NAIA and NCAA put both squads under .500 early on.
Once the spring portion of the season rolled around, both teams warmed up alongside the weather as River States Conference play commenced. Both the men and women raced out to 2-0 records in conference action before spring break.
With spring break out of the way, the Grenadiers look to finish off the regular season strong and make a push for the postseason.
Men's Tennis
The men's tennis team started the fall portion of the season slow, going 1-2 amidst rain postponements, with losses to then #23 Indiana Wesleyan and Bellarmine. They started the spring portion with losing efforts against #13 Tennessee Wesleyan and #9 Campbellsville, as well as a pair of defeats at the hands of Ball State.
From then on, the Grenadiers heated up, winning six of their next nine matches to improve to 8-10. They are currently one of the top teams in the RSC rankings, holding a 2-1 record in conference play.
"Honestly, it's not any one or two players that are key for us," head coach Joe Epkey said. "Our entire roster top to bottom has been playing a very significant role in our current position."
Their roster includes a quartet of juniors, led by Garrett Fensler at #1 Singles and Jeffersonville native Brock Winchell at #2 Singles. Along with those two is the program's lone senior Alec Bates, a graduate transfer who spent his first three collegiate seasons at Hanover.
"The season is long and you'll always have your ups and downs as a team, but come conference time will we all be at our best," Fensler said. "I can't wait to see what we do come conference time."
Rounding out the Grenadiers roster are juniors Daulton Fensler and Sam Venter, sophomore Bradley Cross, and freshmen T.J. Brady and Jerid Inman.
When the regular season culminates, Epkey knows that his team will have to contend with heavy favorite Asbury, who is looking to win their eighth straight RSC regular-season title, as well as their sixth RSC championship title in eight seasons. The Grenadiers fell to the Eagles in the regular season last Thursday in a 9-0 sweep.
The Eagles are led by two-time RSC Player of the Year Joshua Turnquest. The junior from Nassau, Bahamas is currently ranked #15 in the Intercollegiate Tennis Association's NAIA singles Top 50 and ranked #25 in doubles along with teammate Julian Tellez.
Epkey also believes IU East and Midway are a threat, but continues to have the utmost confidence in his team.
"We might be in the best position to pull off the upset this year [against Asbury]," Epkey said. "I know if we play our best tennis we have a great shot at being able to win the regular season and tournament [titles]."
Epkey's confidence has become contagious among his players, especially the upperclassmen, who have come up just short against Asbury in the past couple seasons. They said winning their first conference tournament title since 2016 is possible.
"Asbury will be tough for us, but there's no reason we can't beat them," Fensler said. "This is the best overall team I've been a part of since I've been here and I can't wait to see what we do come conference time."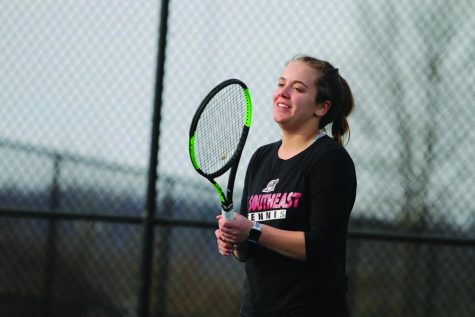 Women's Tennis
In a similar fashion to the men's team, the women's squad battled weather en route to a 1-3 record in the fall portion, losing their first three matches to Hanover, #11-ranked Indiana Wesleyan, and Bellarmine before finishing the fall slate with a 9-0 sweep of Oakland City on October 27.
They followed that by beginning the spring portion with three straight losses to Tennessee Wesleyan, #21 Campbellsville, and Wright State, dropping their record to 1-6. From then on, they won seven of their next eleven matches, including RSC victories over Midway, Brescia, and IU Kokomo.
Leading the way for the Grenadiers is a trio consisting of sophomore Lauren Winchell and seniors Alexis Applegate and Anne-Marie Mattox, their top three singles players respectively.
"The women's tennis team is looking as strong as it has all year at the right time," Epkey said. "[They] have stepped up and really [have] been working hard on a daily basis in practice and it is showing up in our results."
The rest of the roster includes senior Emily Mitchell, junior Jeannie Soto, sophomore Camille Greenwell, and freshman Hallee Miller.
Epkey said that Greenwell had not been with the team much this season, but hopes to have her back by season's end. Despite her absence, the Grenadiers have been able to remain near the top of the RSC rankings, only a half game behind top-ranked Asbury.
"It's never easy losing players but each and every girl has stepped up and worked extremely hard," Applegate said. "We have a lot of tough girls and we know we can compete with anyone."
Similar to the men's side, the women's RSC tournament features Asbury as the heavy favorite. The Eagles are currently undefeated in RSC play and are looking to win their fourth consecutive RSC tournament title.
The Grenadiers will also have to compete with IU East, who are also currently undefeated in RSC play. The Red Wolves are led by sophomore Thais Mendez, who was previously #1 singles for West Liberty University. The native of Vena del Mar, Chile, is currently ranked #43 in the ITA's NAIA Singles Top 50.
Despite the stiff competition, the Grenadiers remain confident that they can compete for their first regular season title since 2015 and first RSC tournament title since 2013.
"I am confident that we will make a run at the RSC tournament this year. Every year since I've been a student at IUS we have been in the tournament or have been in the finals," Mattox said. "I do believe we could definitely pull off a win and potentially get a bid to National Tournament."
Both men's and women's RSC tournaments get underway on April 26. For more information, go to www.iusathletics.com