More than an instrument
Southern Indiana craftsman masterfully creates custom guitars in his basement from scratch
Wood chips rain onto the floor of a well-lit cement room as a hand plane drags across a board roughly shaped like a guitar. Across from the work table, another guitar hanging from the ceilings glistens from a fresh coat of finish in the fluorescent light. This is not a company that produces hundreds of guitars in a day, this is Lee Mabe's basement.
About the Artist
Mabe has played guitar since he was eight years old. When he wanted to upgrade his guitar to a higher-end model, he was surprised by the cost of a single instrument.
Instead of buying a guitar, Mabe bought a book. It detailed the steps of building a guitar from scratch. He was so enthralled by the process that he read the entire 400-page book twice.
Mabe soon found a place in California that sold guitar kits that came with all the parts required to make his own guitar.
"I was just amazed, I had taken woodworking in high school, and I had forgotten how much I enjoyed woodworking and was just addicted from that point on," Mabe said.
Ever since he finished the first kit, Mabe has made custom guitars from scratch.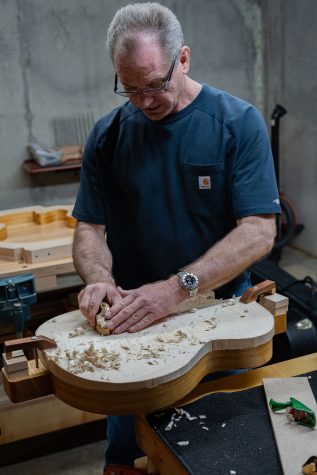 Today, he makes and repairs guitars full time from his basement. His recent achievements include making a custom harp Guitar for popular Vietnamese Artist Mai Khoi.
Let's Talk About Wood
Before any project, Mabe sits down with his client requesting a guitar. He asks them the type of sound they are looking for, what sound they like, and other questions about how they want their guitar to behave.
"The biggest thing is gathering information about where it's going to be used, not only the type of guitar since I build jazz and acoustic and harp guitars. But to make sure it fits that person… I work with them to find what instruments they play, what works for them and what they like different," Mabe said.
Mabe then chooses the wood to make the guitar based on the customer's needs. Spruce and cedar are some of the more common woods he uses because they are easy to work with and have well-rounded tones. If it is a rarer wood, Mabe sources the wood from other companies.
When the wood arrives, Mabe stores it in his basement for a few weeks to make sure it acclimates to the climate in his basement and is free of cracks and blemishes.
When making guitars, he uses quarter sawn wood; a specific cut in which the grain is oriented the same way. This helps make the wood more stable and keeps it from cracking.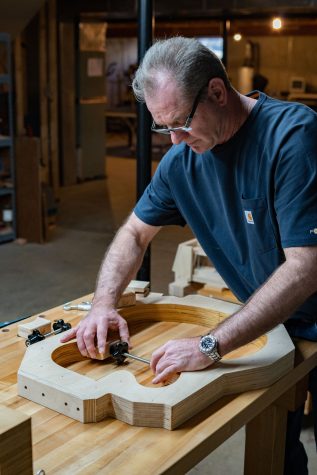 Parts of the Body
Mabe creates a wooden mold for the shape of the guitar body to rest in. He has made different molds based on the type of guitars he builds, and new customers sometimes require a new mold to be built.
After the mold is built, Mabe glues two cuts of wood together and cuts out the general shape of the front and back plates for the guitar. He then uses hand planes to thin the plates and get the exact thickness he wants by using precise measuring tools.
Next, he glues thin slats of wood called braces to the insides of both plates. Depending on how they are placed and what wood he uses, it can change the tone of the finished guitar. The braces also give the guitar more structure, keeping it from flexing too much. Mabe carves them down to make them thinner and lighter while still retaining the structure.
"It leaves the brace strong but lightweight, you're really maximizing the vibration," Mabe said.
After the bottom and top plates are finished, Mabe uses heated pipes to bend the thin strip of wood used for side walls to match the mold he has picked out. The walls are then clamped onto the mold so they retain their shape until they are glued. A small ribbed wood called curfing is glued to the inside of the walls of the guitar which gives more surface area to glue on the front and back plates.
After the glue has set, the body of the guitar is ready to be sanded. Sanding slims down the guitar and gives it a slight curve, so that the guitar is domed and gives the overall instrument more strength.
Mabe then uses a router to make all the trim on the sides flush before moving on to the neck of the guitar.
A pocket is cut in the top of the body for the neck. The wood for the neck has already been cut and glued, as well as hand carved to fit snug in the cut made in the guitar. To finish up the neck, the fingerboard and frets are glued on.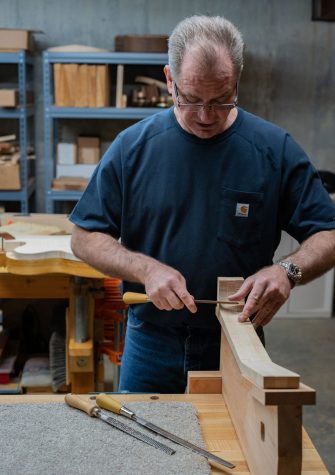 Final Touches
To finish the guitar, Mabe sprays the guitar with a finish that cures for about 4 weeks before getting buffed and polished to a shine.
The final piece before stringing the guitar is adding the bridge.
"At that point you have to locate the bridge, which if you mess this up you've messed up a lot… because you put… the bridge on the top and score around it with a razor … without veering off across the top. And then you scrape that finish off down to the bare wood without chipping it out and then you glue the bridge exactly there," Mabe said.
It takes about three months for Mabe to make a fully finished guitar from scratch. Two months are spent building the guitar, and another month is spent letting the finish set after it has been applied.
"It's been a lot of work, but I've gotten so much better now that I gave myself the opportunity to put the time in it, I've come eons from where I was," Mabe said.
Support From the Fans
Lee Mabe's wife and son both support his woodworking endeavors. Mabe first started making guitars before he married his wife, Tonya. When she learned about his hobby, she was blown away by the fact that he could make custom guitars from normal pieces of wood.
"I find it amazing that he could basically watch VCR tapes and read a book or a manual and turn out these beautiful guitars. He's had some trial and error along the way, but he's pretty much self-taught. It was a talent you don't see many people have," Tonya said.
Lee's seventeen-year-old son, AJ, also admires the passion his father has for his craft.
"I think it is cool my dad does this stuff; it gives him a hobby and I think… it's kind of underrated."
Cigar Boxes and Rubber Bands
Bill Sutherland is one of Mabe's lifelong friends, and also his first and and most loyal customer. Over the past fifteen years, Sutherland has ordered three guitars from Mabe.
"It's something about his guitars, the spirit of the maker is absolutely encoded into the product when you're talking art, because what lee's doing is art. It's not just building a guitar… He agonizes over every little detail," Sutherland said.
Sutherland has known Mabe for almost fifty years. They met in the early seventies and quickly bonded over their love of guitars.
"We were pre-teens… he taught me the beginning riff to Day Tripper on guitar," Sutherland said.
Over the years, the two moved on and lost connection. Sutherland bought and ran the same music store that he first took lessons in as well as playing in "Goodnight Maxine," a band that played in the Louisville area.
"One day Lee comes in and tells me he's decided to start making guitars, I was like 'cool I'll be your first customer,'' fully expecting to get something that was going to amount to a cigar box with rubber bands on it," Sutherland said.
"
To have somebody who could pretty much buy any [guitar] that they want come back to you three times and say 'build me something' is really complementary and it's also very encouraging because it's a really tough racket, you work insanely hard and you stress of the most idiotic minutia… when you get done and you string it up, you get so sick of that one instrument sometimes"
— Lee Mabe
Two years later, Mabe came back with a fantastic sounding guitar that blew Sutherland away. Sutherland had Mabe make two more over the following years, one was even made from an old mahogany pew from Sutherland's father's church. Besides Mabe's excellent craftsmanship, Sutherland also commented on his down to earth personality.
"He's the finest fellow, but he's too humble for his own good, I get after him all the time… he's just a very humble person."
As one of Mabe's most frequent customers, Sutherland's business has meant a great deal. Not only does it show support, but it also encouraged Mabe to continue making guitars.
Lee can be reached by email at Lee@mabeguitars.com or visit his website www.mabeguitars.com