Banned Books Week
Campus and community librarians celebrate the annual event, talk about censorship
The IUS Library will begin its celebration of Banned Books Week September 22. The annual celebration highlights the value of free and open access to information.
According to David Grogan, director of advocacy and public policy for the American Booksellers Association, Banned Books Week "brings together the entire book community — librarians, booksellers, publishers, journalists, teachers, and readers of all types — in shared support of the freedom to seek and to express ideas, even those some consider unorthodox or unpopular."
Conception
Banned Books Week was launched in 1982 in response to a sudden surge in the number of challenges to books in schools, bookstores and libraries. This year's theme emphasizes two points: "Censorship leaves us in the dark" and to "keep the lights on."
Jen Weidner, IU Southeast alumni who graduated with her degree in psychology and criminal justice in 2013, works as a librarian at the Jeffersonville Township Public Library. Each month, they select different books on certain topics and certain people to feature. Weidner takes care of this and for September has assembled a display of widely popular banned books.
"I always heard about book burnings and banned books," Weidner said. "I never realized that it was really a thing. Then when I was in school we had to do a lot with the American Library Association and they have a whole constitution basically about the freedom to read."
Weidner supports the protection of banned books, and said while any reader is free to challenge a book they do not like, most libraries will not remove it from their circulation.
"[The American Booksellers for Free Expression's] mission is to promote and protect the free exchange of ideas, particularly those contained in books, by opposing restrictions on the freedom of speech." Grogan said.
Celebration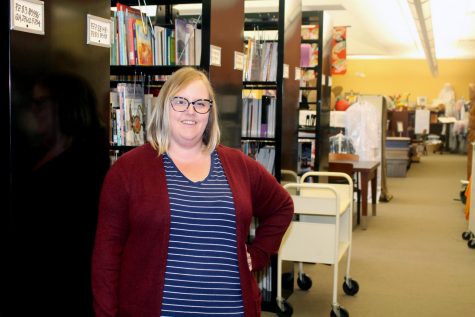 Librarian Courtney Block helped curate the IUS Library's banned books collection. She said it is important to celebrate banned books week.
"Celebrating banned books week not only highlights the fact that this happens, [but we] also use it as an opportunity to highlight these books that are constantly challenged and constantly banned," Block said.
The process of a book getting banned is not a lengthy one. As Block explained, books go through different stages of getting banned and their fate is often decided by a school board or a public library.
"Most of the time those are the two institutions that you will see where that comes up. Books can be challenged but the deciding body can decide to keep the item, or they can decide to ban it," Block said.
"If you ask somebody, 'well why do you think this needs to be banned about Harry Potter' for instance, they'll say 'well it's promoting witchcraft and demonology.' [Then] you might say to them, 'can you please point out to me the specific passages that are really offensive to you,' that's usually where the conversation ends."
Consequence
Weidner, Block and Grogan emphasized that many times, the censoring of books that feature diverse perspectives can contribute to close-mindedness and ignorance.
"It's extremely negative because it's just indicative of close-mindedness, [and] it's eliminating representation from literature which I think is always a bad thing," Block said.
"I think we've all read a book that we see ourselves in and it makes us feel better about ourselves and I think that when you ban books you're taking away those opportunities and those moments."
Grogan said the fight to preserve the right to read is as crucial now as ever.
"In recent years, the attacks on the right to read have become bolder, as legislatures have introduced bills that would eliminate crucial safeguards for the right to read books that some people find offensive."
"People have a right to read the materials they wish to read. The fight for free expression is as urgent as ever," Grogan said.