Club Spotlight: Chemistry Club
Chemistry Club plans for the semester and tests a hypothesis of student involvement at monthly meeting
Snacks, soda and a passion for science filled room 110 in the Physical Science building as the IUS Chemistry Club held its second meeting of the fall semester on Thursday, October 3.
Katie McCoy, club president and junior chemistry major, detailed upcoming events for the 22 science enthusiasts in attendance. McCoy was elected president last year and has been involved with the club for two years.
Upcoming Events
The club is attending three volunteer events at the Kentucky Science Center: "Chem Day" on Oct. 25, "Coral Ridge Day" on Oct. 31 and "Maker Day" on November 23. There, club members volunteer with the local American Chemical Society (ACS) chapter to help children have fun while learning science.
McCoy also announced plans for a distillery tour in the near future. The specific distillery has not been decided, but McCoy said the last distillery tour was her favorite club event so far.
"We went on the Angel's Envy distillery tour," she said. "All of the people who attended had a great time together and we really got to know one another during that event while learning some fun information in regards to chemistry."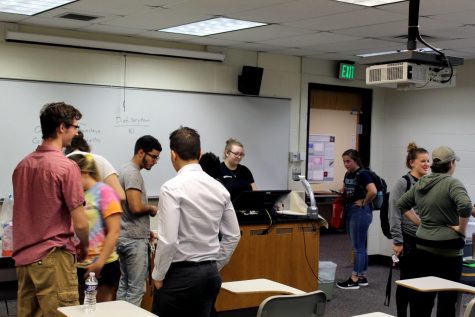 Activities
In addition to distillery tours and volunteering with the ACS at the Kentucky Science Center, McCoy said the club holds a "Thunderblast" event during Thunder Over Louisville. The club frequently helps out with science fairs at local high schools.
"We've attended science events like the Science Olympiad at North Oldham Middle and High schools, as well as the science event at Jefferson County High School," she said.
Chemistry Club has also coordinated with the Sustainability Club to pick up trash at the Falls of the Ohio and Charlestown State Park. Additionally, McCoy said the club hopes to hold a movie night this year.
Unofficial Club
Chemistry Club is not an official, IUS-sponsored campus organization because it does not meet the school's requirements. McCoy said the club doesn't meet the volunteer hour requirements, and most officers are unable to attend the required officer training events.
McCoy said while it does present roadblocks related to fundraising and awareness, being unofficial is part of the club's charm.
"We are a self-driven and motivated club without following through with what the university requires," she said. "We plan our own events and elections and made our own connections with different science members in the community for volunteering."
Faces Old and New
Katelyn Vance, biology senior, has been involved with Chemistry Club for several semesters, having previously served as president for a year. Vance said her favorite event occurred during National Chemistry Week last year, when the club helped with a science fair at Jefferson County High School in Louisville.
"We got to work with other schools to have a whole bunch of kids come through and they just got to learn science and do experiments," Vance said.
October's meeting was the first attended by Danny Powell, biochemistry and pre-pharmacy sophomore. Powell joined the club this semester, after being unable to attend meetings due to his class schedule last semester.
Powell said he looks forward to a lot of the events in the next few months.
"I'm excited about [going to] the Kentucky Center," Powell said. "I just really like volunteering."
Getting Involved
Chemistry Club meetings are currently held on the first Thursday of each month in Physical Science, room 110, from 12:15 p.m. to 1:15 p.m. McCoy said all who are interested in science, volunteering and friendship are welcome to attend.
"We are a club built on friendship and good hard work," McCoy said.
"And food, everyone loves that we always have food."