New SGA president appoints vice president, associate justice and probationary senators
The Student Government Association held its weekly meetings on Friday, Sept. 27 and Friday, Oct. 4
The IU Southeast Student Government Association discussed the appointment of new members, recruitment and budget proposals at their meetings on Friday, Sept. 27 and Friday, Oct. 4. The meetings were the first ones to be opened to the public since the resignation of SGA's executive board.
Grant Hill was appointed SGA president after the resignation of former president Rachel Ronau. Ronau's vice president, Mitchell Henry, also resigned.
According to a press release given to The Horizon by the SGA, Associate Justice John Pillow was appointed as Chief Justice at the same Executive Session where Hill was appointed SGA President.
Sept. 27 Meeting
At the meeting on Sept. 27, Hill approved a new budget proposal created by SGA Treasurer and Senator Stephanie Devore.
"Our budgetary committee made changes to accommodate and help the students more," Devore said. "We reduced some of the wages to allocate them to other lines of funding."
Hill also spoke about his plans for recruitment. He said his plans for recruitment involved getting the SGA's name out to the students.
"A lot of people still don't know what we do or who we are," Hill said.
Hill's goal for after recruitment is to have eight or nine senators total as opposed to its current total of three.
Oct. 4 Meeting
At the SGA meeting on Oct. 4, the most important order of business was appointing new members into their positions. Senior history and political science major Christian Thomas was appointed as SGA vice president.
"I love working with people," Thomas said. "I love just sitting down and having a conversation with someone and working something out whether there is a disagreement there or not."
Thomas also said he would like to focus on the issue of hazing on campus during his time as vice president.
"I really don't like hazing. I know that it might not be out in the open but a fair amount of it goes on here," he said. "I'd like to use the position of vice president to do whatever I can to help alleviate that issue not only at IU Southeast but across the entire Indiana University system."
Another issue that Thomas would like to focus on is sexual assault.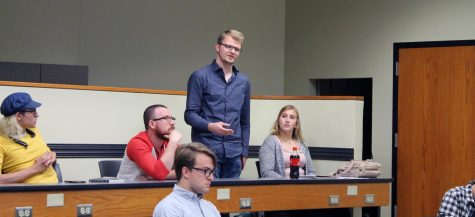 "I would also like to make both our campus and the entire Indiana University system a safer place in regards to sexual assault and to make a more inclusive and safer environment for survivors of sexual assault," he said.
Senior english and secondary education major Garrett Gilles was appointed as SGA Associate Justice.
Gilles' qualifications include leading a student organization for two and a half years as both secretary and president, being a part of the Week of Welcome committee for two years, and working with multiple student organizations and assisting those organizations with their constitutions.
New Senators
Kameo Costello, Zachariah Hulsman, William Snawder and Olivia Wells were also all appointed as SGA Probationary Senators.
Hulsman stated that he has one goal during his role as probationary senator.
"With this position I hope to increase the inclusivity on campus," Hulsman said.
Wells has one goal as well, although her goal pertains to something different but equally as important.
"One of my goals after making it into the senate is not only influencing growth but also measuring growth," Wells said.
During the officer reports section of the meeting, SGA President Grant Hill congratulated the new members on their new positions.
"I am very glad to see all of these new faces and I hope we can all work together in a very harmonious fashion." – SGA President Grant Hill