One-woman show at the Ogle
How one professor revitalized the IUS theater department
Two towers, each standing two and a half stories high, sat on both ends of a two-story castle. This set, spanning 60 feet wide, was designed by Theater Professor Rebekkah Meixner-Hanks, for a production of "Once Upon A Mattress."
"Our production of 'Once Upon A Mattress' was really impressive because of the scale of it," Meixner-Hanks said.
Around 1995, Professor Rebekkah Meixner-Hanks took her first step on the road that would lead to a professional career in the business of theater. For a time she trained others in the drama industry, which led her to the decision that she would pursue a master's degree in Theater, to which she received a scholarship from the University of Louisville.
Arrival at IUS
In the fall of 2005, her interest in the arts brought her to the theater department of IU Southeast. Originally, her plan was to keep the teaching position for a couple of years and then move north, closer to home. However, shortly after she began working at IU Southeast, the campus began to feel more like a place she could call home.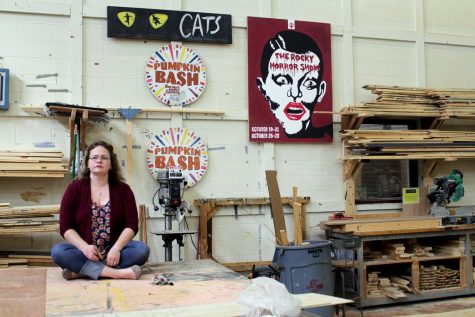 She realized she had found the perfect combination of situation and location. She was home, a place she could grow and make a difference. The road forward would prove to be a challenge, albeit a rewarding one, according to Meixner-Hanks.
There have been some very trying times in the theater department — there was a period of about a year when she was the only full-time faculty member.
"I used to joke that I'd have my faculty meetings in my pajamas because it was just me and myself," Meixner-Hanks said.
Even though that was a difficult time, Meixner-Hanks said she channelled the energy of her college years — remembering the sections that captured her attention, drew her in and excited her. With these thoughts in mind, she restructured parts of the theater department and include some of the elements from her own positive experiences in past theater classes.
In her time as a professor in the theater department, Meixner-Hanks has filled several roles including technical director, scene designer, lighting designer, costume designer and sound engineer.
A well-rounded teacher, she utilized her teaching skills by teaching a number of theater classes including theater appreciation, theater history 1 and 2, stagecraft, lighting design, scene design, costume construction, stage makeup, African American theater, stage management and theater practicums.
Help Arrives
Just over a decade ago, Meixner-Hanks acquired some help in the form of a new professor she hired named Jim Hesselman. Hesselman worked more in the realm of performance which mixed well with Meixner-Hanks' technical skillset. The two ran the department together and still do to this day, as Hesselman is now the dean of the School of Arts and Letters.
"I wouldn't be here today if it wasn't for Rebekkah," Hesselman said. "She has given the program stability and students the ability to fail in a safe environment which is what they need in order to grow."
On the Stage
The first show Professor Meixner-Hanks developed for a stage production at Indiana University Southeast was "Noises Off," a comedy by Michael Frayn about a bunch of slightly inept actors rehearsing for a stage production without a lot of luck, that she was able to repeat a decade later.
Bringing the play to life required a two-part stage set including a two-story house that sat on a 40-foot turntable. Maneuvering the enormous set could have been a nightmare, but she knew exactly how to handle it.
"We had to spin it three times during the show and the way I designed it made it to where we were able to move it with only four people." Meixner-Hanks said.
"
I wouldn't be here today if it wasn't for Rebekkah. She has given the program stability and students the ability to fail in a safe environment which is what they need in order to grow."
— Jim Hesselman, dean of the School of Arts and Letters
Out of all the shows Meixner-Hanks helped to grace the stage at Indiana University Southeast, two of her favorites have been "Equus" and "Waiting for Godot." While Equus, written by Peter Shaffer, is a drama that was based on a real event, the story was more about what happened and why.
"Waiting for Godot" is the story of two men waiting for a third who never appears, but are drawn into conversations about a variety of subjects with several other men who stop to talk.
"Those were actually two shows that were bucket list shows of mine and I was very fortunate at the time to be able to do them," Meixner-Hanks said.
Off the Campus
Professor Meixner-Hanks has stretched her talents beyond IU southeast towards the East Coast. In North Carolina, she worked with Lees-McRae summer theater program. Three IU Southeast alumni were also part of the talented staff during the summer theater program.
At Florida State University, she usually helps with a production for children. The most recent show she designed was an exception. It was an adult production of "Eurydice," a Greek myth of death and love.
A talented professional, Meixner-Hanks frequently assists with University of Louisville's African American Theater and has worked with several other local theaters as well. She is continuing her work in the theater department at IU Southeast this semester, and said she has no plans of leaving anytime soon.