IUS releases annual Clery Act statistics
Looking at 2018 crime statistics and efforts to help prevent the numbers from growing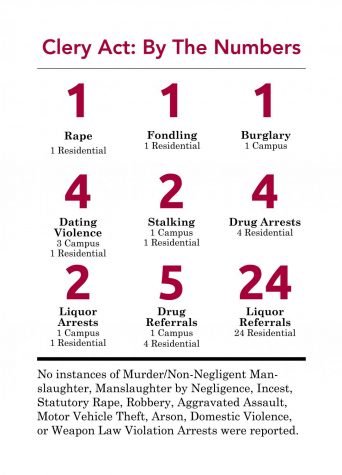 One rape incident, four dating violence incidents, two stalking incidents and one fondling incident were reported on the IUS campus in 2018, according to the Clery Act data released earlier this month. 
Indiana University released its 2019 Annual Security and Fire Safety Report on Oct. 1. The report consists of information and data required to be collected by the Jeanne Clery Disclosure of Campus Security Policy and Campus Crime Statistics Act, better known as the Clery Act. 
"Referrals for Disciplinary Action – Drug/Liquor Law Violations" were the most reported issues at IU Southeast in 2018 with a combined 29 violations. This number is down from 2017, where there were 49 such reported incidents. Of these violations, only six arrests were made. 
Travis Huntley, Indiana University Police Department (IUPD) lieutenant, said most of the crimes are drug and liquor related every year. 
"By and large, this is a very safe campus," Huntley said. "We do not get a lot of criminal activity here — the vast majority of our crime reports for this campus are alcohol referrals." 
Clery Act Explained
According to studentaid.ed.gov, "the Clery Act is a federal statute requiring colleges and universities participating in federal financial aid programs to maintain and disclose campus crime statistics and security information." These include a variety of crimes such as rape, drug and alcohol arrests, dating violence and others. 
The law is named after Jeanne Clery, a 19-year-old Lehigh University student who was raped and murdered in her residence hall in 1986. The murder of Clery sparked backlash against unreported crime on campuses across the country since campus crime reporting statistics did not exist at the time. 
There are four requirements for the Clery Act: annual security report, crime log, timely warnings and crime statistics. Campuses must publish their Annual Security Reports by Oct.1. 
The police or security departments of each campus must keep a crime log of reported crimes, which is required to have the most recent 60 days of information. 
"
By and large, this is a very safe campus. We do not get a lot of criminal activity here."
— Travis Huntley, IUPD lieutenant
Huntley said he must report every crime in the crime log. 
"Every day I have to post 60 days of our latest crime report, our daily crime log," Huntley said. "If somebody comes in and says their wallet got stolen, even if five minutes later somebody comes in and turns in that wallet, I still have to report it as a theft." 
The Clery Act also requires campus police maintain the previous eight years of crime statistics that occur on campus, in residential facilities, off-campus buildings and on public property. 
In 2014, it became required for campuses to report instances of  domestic violence, stalking and dating violence. 
What is Dating Violence? 
Dating violence is controlling, abusive and aggressive behavior in a romantic relationship, according to The National Center for Victims of Crime. It is not limited to physical violence; it can include verbal, emotional, physical or sexual abuse. 
Controlling behavior includes actions such as not letting a person socialize with friends or a person not letting their significant other go out without them being present. These actions and verbal abuse such as constant belittlement can be reported to the police as dating violence. 
There were four reports of dating violence at IU Southeast in 2018, compared to three filed in both 2016 and 2017. 
Crime Prevention at IUS 
IU Southeast takes part in campus security awareness and crime prevention programs such as crime education and prevention displays, which are normally set up during the first week of every semester in the University Center. 
IU Southeast offers at least one self defense class each semester. All students and faculty can attend the class, which offers instructions and demonstrations on self defense. 
IUPD is made up of police officers certified by the State of Indiana. They are required to meet all state mandated training and are granted full police powers by the State of Indiana.
If there is suspicious behavior on or around campus, IUPD can be reached at (812) 941-2400. Their office is located in University Center North Room 027.