Polly's Freeze continues to dish out sweet service after 67 years of business
Employees and owners of Polly's Freeze share what the business means to them and to the community
Polly's Freeze, the famed Georgetown ice cream stand, closed for the season after celebrating its 67th year of business Sunday, Oct. 20.
In 1952, Polly's Freeze opened as a local roadside stand outside Georgetown, Indiana. After 67 years, Polly's Freeze still strives to serve good food and great service to the local community.
Carol Boyle, an IU Southeast alumna and employee of Polly's Freeze since 1987, celebrated her fourth season of owning Polly's Freeze with friends in 2019.
"Over time, Polly's has changed internally and externally to meet the demands and satisfaction of customers," Boyle said. "The employees and I strive to create a positive atmosphere where people can unwind and enjoy time with their families."
To keep up with the changing times, Polly's Freeze joined social media to keep customers informed and sells t-shirts to promote the business.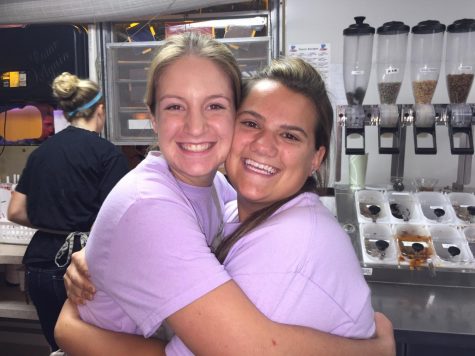 Boyle said a main goal of the restaurant is to create a special bond with all the employees. "We are a family here," she said.
Andrew Truong, a resident of Georgetown, IN, said Polly's Freeze was his first job. He has worked there for about two years and is now a manager.
"The atmosphere is great and the friendships you make with other employees are long-lasting," he said.
"Working at Polly's has taught me to have a sense of community and respect for those who are a part of it," said manager Emily Aschbacher, an IU Southeast alumni.
Popular Design
Polly's Freeze is known for its retro '50s design. In Sept. 2019, a production crew shot scenes at the ice cream stand for a trailer of a World War II series that will be pitched to Netflix, Amazon Prime and Hulu.
"When the crew asked me if they had permission to shoot scenes at the restaurant, I was astonished," Boyle said. "The crew had to paint over the parking lot and take down some of the signs to make it more authentic to their time frame, but it was a neat experience. They even let me take a picture of the set."
"There was a young man in 2018 that came and asked me if he could do a photo shoot depicting our neon sign in the background," Boyle said.
Boyle said the man was an aspiring singer and songwriter and he wanted the sign to be his album cover.
Moving Forward
"The legacy is what's important. You can go anywhere in the country and people know where you work," said Connor Lopp, manager of Polly's Freeze.
Lopp looks forward to 2020 and what it has in store for the business.
"Polly's has changed, but it has only gotten better. And it will continue to get better with age," Lopp said.
The ice cream stand plans on reopening in March of 2020 to continue celebrating their sweet success.